Mako Brimob riot: What we know so far
News Desk

The Jakarta Post
Jakarta |

Wed, May 9, 2018

| 11:36 am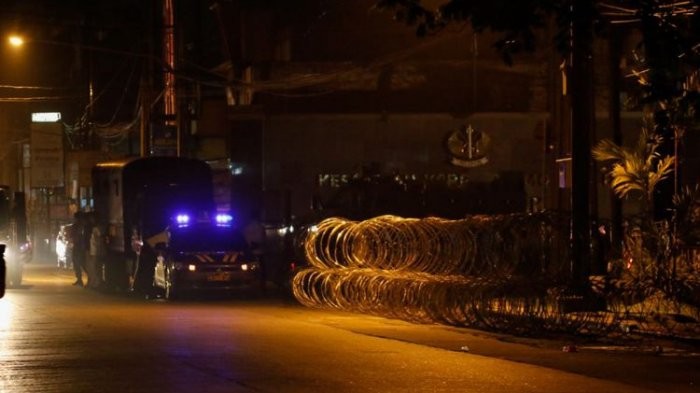 Barbed wire is installed at the entrance to the National Police Mobile Brigade (Brimob) headquarters in Depok, West Java, following a riot on Tuesday night. (Warta Kota/Maulana Mahardihka )
On Tuesday evening, a riot broke out at the National Police's Mobile Brigade (Mako Brimob) detention center in Kelapa Dua, Depok, West Java. The location is currently under lockdown, causing heavy traffic, according to kompas.com.
Early reports stated that a shooting had occurred during the incident and that an undetermined number of personnel from the police's counterterrorism squad Densus 88 may have been killed, although the claims remain unconfirmed.
Pictures showing inmates holding firearms have circulated on social media, as well as tweets saying that terrorist group Islamic State (IS) had claimed responsibility for the riot.
Here is what we know so far:
What happened?
On Tuesday evening, journalists began receiving reports of a riot involving terrorist convicts at Mako Brimob. National Police spokesperson Brig. Gen. M. Iqbal confirmed the news nearing midnight, saying that the police were still handling the situation.
After midnight, pictures began circulating on social media, depicting several detainees holding firearms, a black IS flag, nursing wounds and holding hostages.
IS Reports Ongoing Clashes Inside Prison in Jakarta, Provides Photos of Fighters and Seized Weapons https://t.co/GwGCEzwtZ2

— SITE Intel Group (@siteintelgroup) May 8, 2018
Mako Brimob and surrounding areas were secured and civilians were prohibited from coming closer to the area. Brimob officers began to secure the surrounding streets, extending extra security to a nearby church and hospital.
A hostage situation is reportedly still ongoing, although it has not been confirmed.
What sparked the riot?
According to the Jakarta Police, the riot started as early as 19.30. One of the detainees asked for food that had been brought by a family member, but the food was kept by another police officer. The detainee became upset and provoked others to protest and began rioting, starting in Block B and C. They broke down the walls and prison bars and went to the investigators' room, where they began assaulting officers investigating new detainees.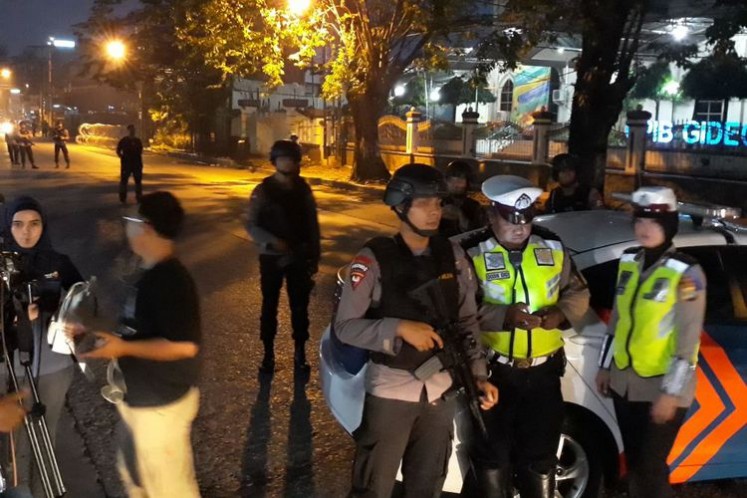 Police officers cordon off a road in front of the Police Mobile Brigade headquarters (Mako Brimob) in Depok, West Java, on Wednesday morning following a riot inside the Mako Brimob detention center. (Kompas.com/Abba Gabrillin)
Who are the detainees at Mako Brimob?
The detainees at the Mako Brimob detention center are terrorist suspects and convicts.
Jakarta governor Basuki "Ahok" Tjahaja Purnama, who is serving a two-year sentence for blasphemy, is detained there for security reasons. His sister and former personal assistant confirmed his safety. Ahok is currently detained in a different block to the terrorist suspects and convicts.
Have there been any casualties?
Brig. Gen. M. Iqbal said at a press conference early Wednesday morning that there had been no fatalities, but that several police officers had been injured. Four injured police officers were brought to the nearby Bhayangkara Hospital, as reported by detik.com.
He asked the public not to trust any information or photographs circulating on social media. A tweet mentioned that IS had claimed to have killed 10 personnel from Densus 88.
On Wednesday afternoon, the police have announced that five Mobile Brigade (Brimob) members have been killed while another officer is being held hostage. One terror detainee was also killed during the incident after making repeated threats and attempting to steal a police weapon.
Is IS really involved?
IS often claims responsibility for terrorist attacks across the globe, but its involvement in this riot has not been confirmed.
A video circulated online shows detainees supposedly at Mako Brimob pledging loyalty to IS leader Abu Bakr al-Baghdadi.
Previously, a smaller riot broke out in November 2017 and there were reports that the police had found a black IS flag inside a cell. However, National Police deputy chief Comr. Gen. Syafruddin dismissed the report, as reported by kompas.com.
Terrorism expert from the Institute for Policy Analysis of Conflict (IPAC) Sidney Jones confirmed that pro-ISIS Indonesians might be behind the riot, as "they've been causing trouble for some time at [Mako Brimob]."
What happened since Wednesday afternoon?
On Wednesday night, armed members of the Densus 88 anti-terrorism squad have surrounded the detention center. At least four people have been deployed to negotiate with the convicts. The hostage was released late at 2 a.m. on Thursday morning in exchange for food, the police said. All 155 prisoners were immediately transferred to Nusakambangan prison island.
The hostage, Snr. Brig. Iwan Sarjana, is a member of Densus 88. He had injuries and bruising to his face and body.
Five police officers who were killed have been given posthumous promotions for their service. A police report seen by The Jakarta Post shows that four of the dead officers had deep wounds to their necks. Only one victim was found to have a bullet wound to the head.
The House of Representatives is considering increasing the National Police's budget next year to empower the institution. President Joko "Jokowi" Widodo underlined that the state and the people of Indonesia will not tolerate terrorism.
The detention center has since been processed as a crime scene. Early indications suggest that the prisoners seized the killed officers' weapons and obtained more by breaking into the evidence storage. The Islamic State (IS) previously claimed that prisoners involved in the riot were its "fighters", but police continue to deny any connection.
A police officer, Chief Brig. Marhum Prencje, 41, was stabbed to death on Thursday night by an alleged terrorist Tendi Sumarno, 22, from Tanjung Siang in West Java, who was shot to death immediately after the stabbing incident.
The court hearing scheduled for Friday morning in the terror trial of the most prominent ideologue in the Islamic State (IS) movement in Indonesia, Aman Abdurrahman, has been postponed for "technical difficulties".
Police have shot to death two suspected terrorists who were among four people traveling from Bandung to Mako Brimob on Thursday morning to "help the rioting prisoners". The police warned of other terrorist groups monitoring the situation near Mako Brimob to kill police officers.
Note: The story has been updated on Wednesday at 16.15 to include the number of casualties. The story has been edited on Friday at 16.30 to include some updates on what happened since Wednesday afternoon.
Topics :
Join the discussions