Trump Jr. says he didn't tell his Dad before meeting Russians
Steven T. Dennis and Billy House

Bloomberg
Washington, United States |

Thu, May 17, 2018

| 06:31 am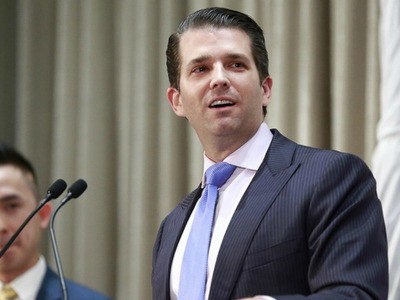 Donald Trump Jr. delivering speech at the opening of the Trump International Tower and Hotel on Feb. 28, 2017 in Vancouver. (AFP/File photo)
Donald Trump Jr. said he didn't tell his father before meeting with Russians who promised to deliver damaging information about Hillary Clinton, according to transcripts of interviews released Wednesday by the Senate Judiciary Committee.
"I did not collude with any foreign government and do not know of anyone who did," the president's son said in the interview with the committee's staff on Sept. 7, 2017. He said he was skeptical about the value of such a meeting and "as it later turned out, my skepticism was justified."
Trump Jr. said Russian lawyer Natalia Veselnitskaya told him only "very generally about individuals connected to Russia supporting or funding Democratic presidential candidate Hillary Clinton or the Democratic National Committee."
This marks the first time that Trump Jr.'s account of what unfolded has been made public. Judiciary Chairman Chuck Grassley had announced in January he would release the transcripts of the private staff interview with Trump Jr. and others who attended the meeting.
As soon as reports of the June 2016 meeting surfaced last summer, it became the focus of questions about possible collusion between Donald Trump's presidential campaign and Russian efforts to interfere in the presidential election, issues under investigation by Special Counsel Robert Mueller. Even Republicans on the House Intelligence Committee who staunchly rejected that portrayal criticized the decision to take the meeting as poor judgment.
"I appreciate the opportunity to have assisted the Judiciary Committee in its inquiry," Trump Jr. said Wednesday in a statement released by a spokesman. "The public can now see that for over five hours I answered every question asked and was candid and forthright with the committee."
About 2,500 pages of documents were released on Wednesday, including the interviews with Trump Jr. and Rob Goldstone, a music publicist who arranged the meeting and said in text messages it was part of a Russian government effort to aid the Trump campaign. Among those attending was lobbyist and former Soviet counterintelligence officer Rinat Akhmetshin.
Akhmetshin told Senate interviewers that Trump Jr. led the meeting, telling them, "He was definitely in charge." After small talk about the view from Trump Tower and a recent win in the primaries, the younger Trump got down to business, Akhmetshin said, telling the Russian visitors, "So I believe you have some information for us."
Others attending the meeting were Paul Manafort, then the chairman of Trump's presidential campaign; Trump's son-in-law, Jared Kushner; Ike Kaveladze, a California businessman who was born in Russia; Akhmetshin; and Anatoli Samochornov, serving as a translator for Veselnitskaya, who doesn't speak fluent English.
The documents also included interviews with Akhmetshin, Kaveladze and Samochornov. Veselnitskaya also submitted written answers to the committee.
Kushner, who Grassley previously said had been "spooked" out of testifying, and Manafort, who has since been indicted on money laundering and assorted other charges, did not appear before the committee.
Kushner did provide the panel with a 12-page statement, also released by Grassley.
The Trump campaign has dismissed the meeting as part of a bait-and-switch Russian lobbying effort to amend a 2012 law known as the Magnitsky Act that placed sanctions on Russians over human rights abuses.
Last July, when the New York Times published a report about the meeting, a statement was crafted aboard Air Force One as the president returned from Germany.
The statement's assertion that the meeting primarily concerned a program for adopting Russian children turned out to be false when emails revealed that Trump Jr. had agreed to the meeting after being offered damaging information on Clinton.
Last December, Trump Jr. told House lawmakers that he couldn't answer questions about what he told his father after the meeting, citing attorney-client privilege, Adam Schiff, the top Democrat on the House Intelligence Committee, said afterward.
Schiff said Trump Jr. invoked the privilege because his lawyers claimed that the discussion with his father took place in the presence of legal counsel, which Schiff and other Democrats argued is a situation not covered by the privilege.
Trump Jr. also met behind closed doors with the Senate Intelligence Committee.
Join the discussions