32 migrant workers from NTT die abroad in 5 months
News Desk

The Jakarta Post
Jakarta |

Mon, May 21, 2018

| 06:19 am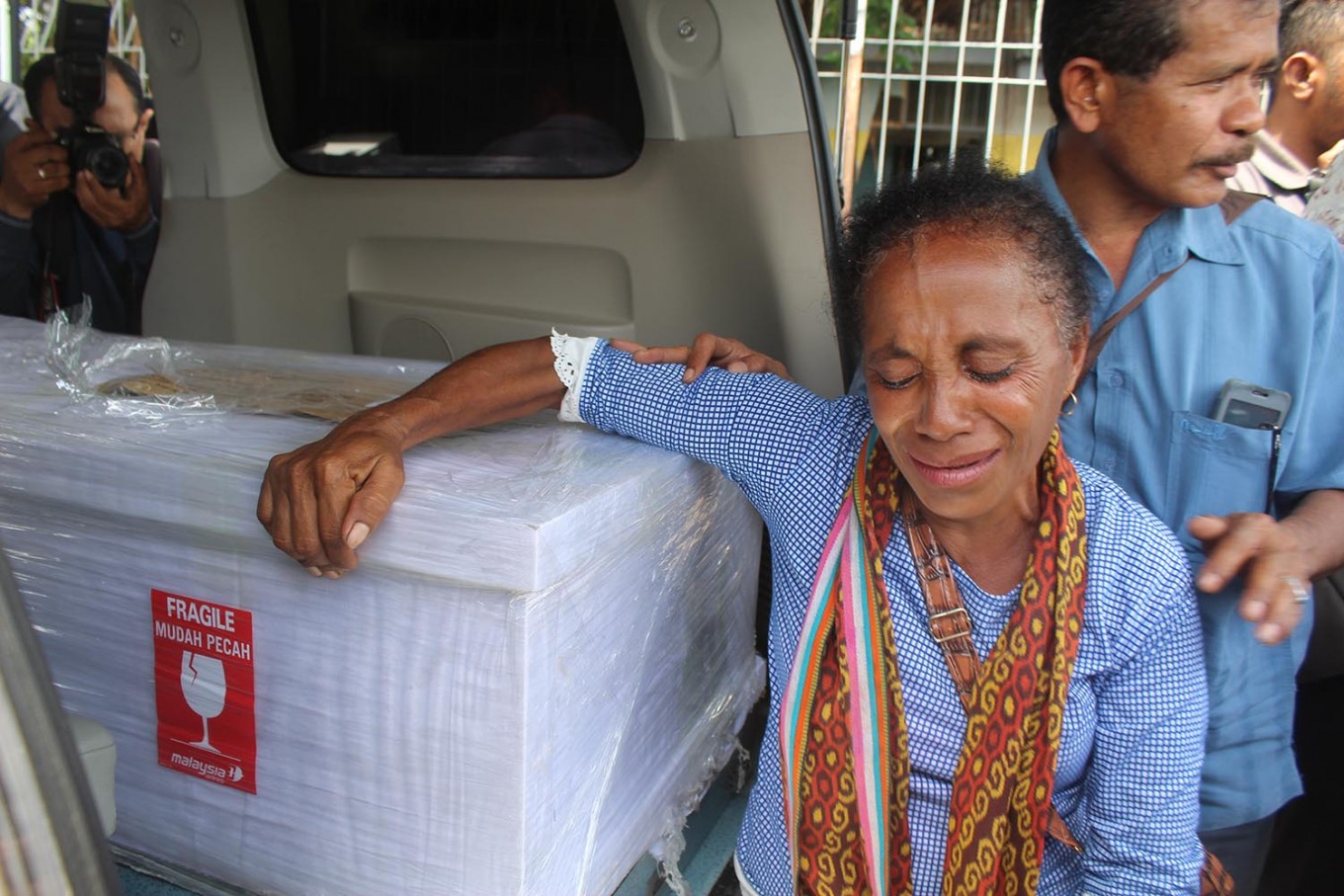 Petronela Koa hugs the coffin of her niece Adelina Sau at El Tari airport, Kupang, East Nusa Tenggara province on Feb. 17. The body of Adelina, the migrant worker who was reportedly abused to death by her Malaysian employers, was buried on Sunday in her home village of Ebi, Oenino district, South Central Timur regency, on Sunday. (JP/Djemi Amnifu)
At least 32 migrant workers from East Nusa Tenggara (NTT) have died at their respective workplaces in the first five months of this year due to various reasons, ranging from illnesses and snake bites to torture, according to the Kupang Migrant Workers' Placement, Protection and Monitoring Agency (BP3TKI)
From the total, 31 died in Malaysia while the remaining one died in South Africa, Kupang BP3TKI acting head Siwa said as quoted by kompas.com.
Read also: Indonesia demands justice for Adelina
They comprised 24 men and eight women.
Nineteen had died from illnesses, two from drowning, one in a workplace accident and one from a snake bite. One person was tortured to death, Siwa added, and one was murdered.
The remaining seven are undergoing an autopsy to reveal their cause of death.
"We're in the process of returning their bodies to their families in NTT," he said.
In February, a migrant worker from NTT, Adelina Sau, died in Malaysia after her employers allegedly tortured her to death.
According to the agency's data, 31 migrant workers died at their workplaces in 2013. The number dropped to 21 people in 2014 but has been rising since then: 28 people in 2015, 49 people in 2016 and 62 workers in 2017. (vla/evi)
Topics :
Join the discussions