Explosive material, weapons seized at Riau University
Rizal Harahap

The Jakarta Post
Pekanbaru |

Sun, June 3, 2018

| 02:20 pm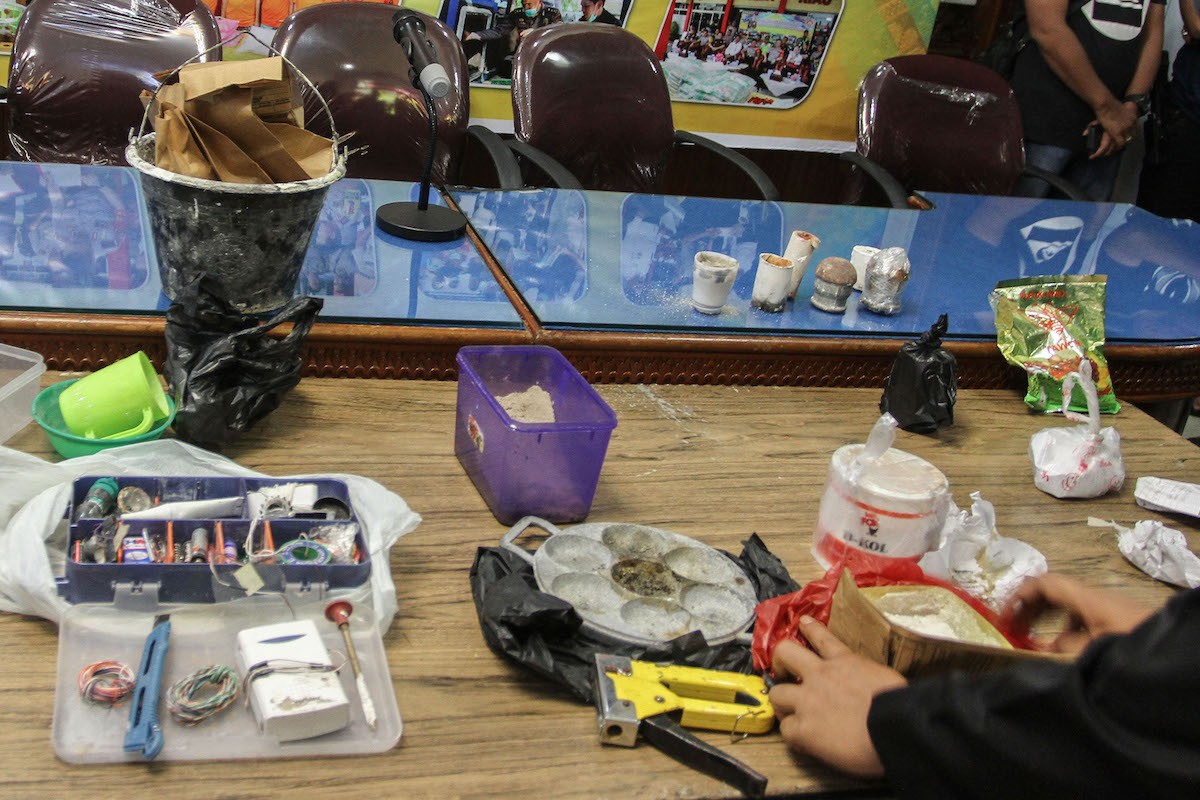 A Riau Police Mobile Brigade (Brimob) officer arrange evidence during a press conference following a raid at Riau University in Pekanbaru on Saturday night. The police said they found explosive material on campus. (Antara/Rony Muharrman )
Along with the arrest of three Riau University alumni during a raid at the campus' Gelanggang Mahasiswa FISIP building on Saturday, the National Police's counterterrorism unit, Densus 88, also seized several weapons and explosive material, police say.
Riau Police chief Insp. Gen. Nandang said four bombs had been defused, which reportedly had similar explosive power to the ones used in the terror attacks in Surabaya, East Java, last month. The police also confiscated gunpowder, two bows along with eight arrows and several hand grenades.
"The bombs were allegedly constructed by the suspect [identified as Z]. Z graduated from the Tourism Department and allegedly learned how to make explosive devices from the internet. He allegedly used social media to teach others [to make bombs] and to campaign for suicide bombings," Nandang explained.
Alongside Z, later identified as Muhammad Nur Zamzam, who enrolled to the university in 2005, the two other alumni are Rio Bima Wijaya from the Communication Science Department and and Orandi Saputra alias Kalek from the Public Administration Department who enrolled in 2002 and 2014, respectively.
They had been staying in the Gelanggang Mahasiswa FISIP building for a month, Nandang added. They are from Indragiri Hulu and Kampar regencies in Riau.
Police said Zamzam allegedly planned to blow up Riau Council and House of Representatives buildings. (vla)
---
Editor's note: The earlier version of this article contained a mistake about the number of suspects. On June 2, the police arrested three alumni of Riau University but only declared one, identified as Muhammad Nur Zamzam or Zamzam, a suspect. The other two, Rio Bima Wijaya and Orandi Saputra alias Kalek, were arrested but as of Monday afternoon have not been named suspects. We have also updated the names of the arrested men.
Join the discussions