Authorities urged to investigate killing of tame elephant in East Aceh
Hotli Simanjuntak

The Jakarta Post
Banda Aceh |

Mon, June 11, 2018

| 03:29 pm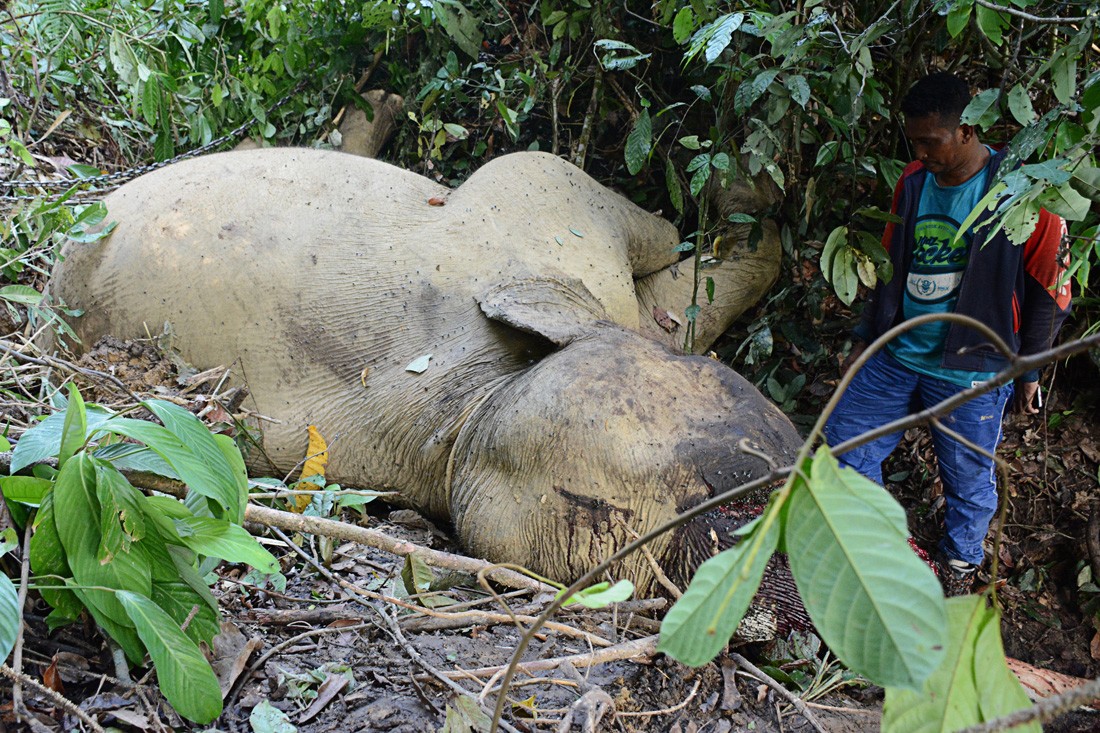 Wildlife crime: A local resident looks at the body of Bunta, a male elephant that was killed at Conservation Response Unit (CRU) Serbajadi in Bunin village, Serbajadi district, East Aceh, on June 10. (Antara/Al Mahdi)
Authorities in Aceh have been urged to immediately complete their investigation into the killing of a tame elephant in East Aceh, Aceh, and take legal measures against illegal ivory trade.
"I hope the police can complete their investigation into this case so it will never again happen to other elephants," said East Aceh resident Muhammad Adam on Sunday.
Bunta, a 27-year-old male elephant from Conservation Response Unit (CRU) Serbajadi in Bunin village, Serbajadi district, East Aceh regency, Aceh, was found dead on Sunday. One of its tusks had been removed.
(Read also: Elephant killed for ivory in East Aceh)
Adam said the elephants at CRU Serbajadi helped to prevent conflicts between local residents and wild elephants entering their land.
"This is really upsetting and cannot be tolerated. We [the local residents] have suffered great losses from the elephant's death because the number of tame elephants that can help prevent conflicts with wild elephants has continued to decline," said Adam.
Aceh Environment and Natural Forests Foundation (HAKA) secretary Badrul Irfan said the killing of the tame elephant was a serious problem that must be resolved immediately.
"Law enforcers must immediately investigate this problem. Maximum legal sanctions must be imposed against them," said Badrul, who heads the Leuser elephant patrol team in Aras Napal, Besitang, North Sumatra.
"Bunta's death is a great loss. I ordered for the heightened monitoring of all CRUs and the Saree elephant conservation center in Aceh Besar regency," Aceh Natural Resources Conservation Agency head Sapto Aji said. (ebf)
Join the discussions