Trump reaffirms commitment to ASEAN
Tramaditya Salim

The Jakarta Post
Singapore |

Tue, June 12, 2018

| 12:49 pm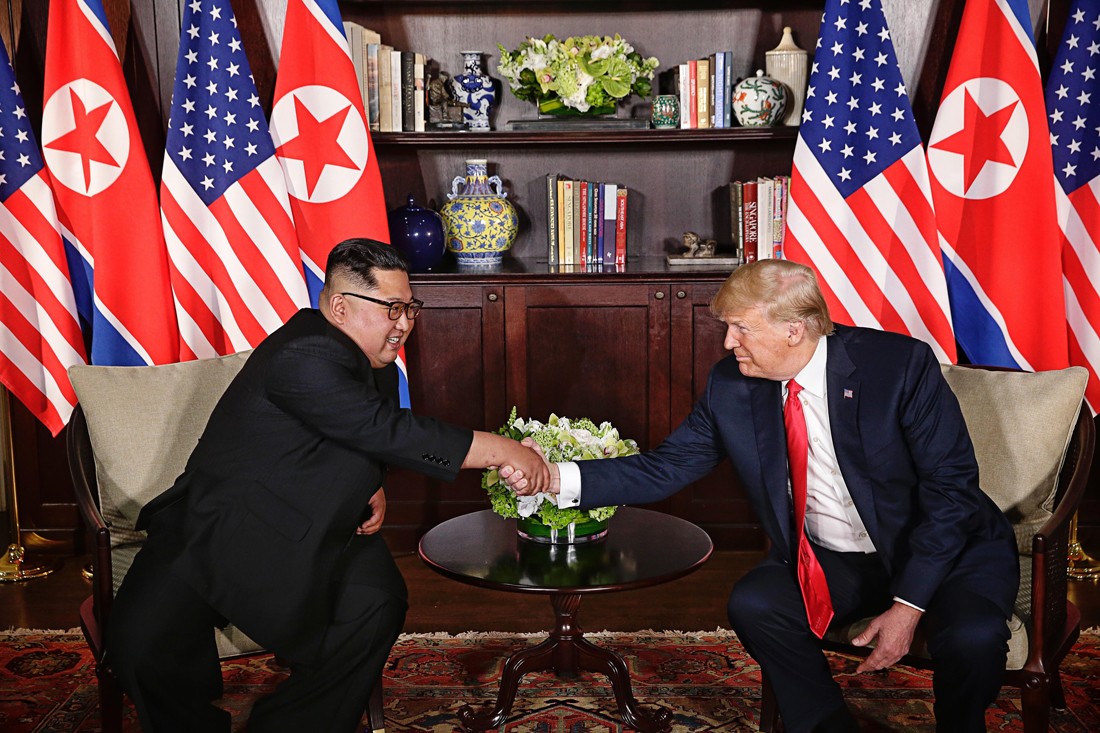 North Korean leader Kim Jong-un (left) shakes hands with US President Donald Trump (right) as they sit down for the historic US-North Korea summit at Capella Hotel on Sentosa Island in Singapore on June 12 in a photo released by the Straits Times. (THE STRAITS TIMES/AFP/Kevin Lim)
US President Donald Trump has expressed his country's continued commitment to engaging Southeast Asia, the Singaporean Foreign Ministry said in a media statement, following a tête-à-tête meeting with Prime Minister Lee Hsien Loong at the palace on Monday.
"President Trump [...] expressed the US' continued commitment to engage the region and his support for Singapore's Chairmanship of ASEAN," the statement said.
"In this regard, President Trump accepted the invitation from President Halimah Yacob to make a state visit to Singapore in November 2018, in conjunction with the 6th ASEAN-US Summit and 13th East Asia Summit".
(Read also: Trump's national security adviser back in fold at Kim summit)
On the face of it, the US has only recently shown renewed interest in engaging Southeast Asia, after Trump attended last year's APEC leaders' meeting in Vietnam and touted a "free and open Indo-Pacific", shorthand for concerted efforts with allies like India, Japan and Australia -- and now ASEAN -- to balance China's rapidly expanding sphere of influence in the region.
Last week, senior officials from Australia, India, Japan and the US met in Singapore on the sidelines of the ASEAN-centered senior officials meetings and reaffirmed "shared support for a free, open and inclusive Indo-Pacific region", a US State Department press release stated.
"The four countries reiterated strong support for ASEAN centrality and ASEAN-led mechanisms in the evolving regional architecture, and affirmed the indispensable role of regional institutions in the Indo-Pacific."
Despite acknowledging the group's centrality in the "regional architecture", Washington has yet to fully dispel doubts that it has put the region on the back burner. It has yet to nominate an envoy to ASEAN, one of three pledges made by US Vice President Mike Pence during a visit to Jakarta last year, which would reassure ASEAN that the US would continue engagement in the region.
Trump is in Singapore to attend the US-North Korea summit with North Korean leader Kim Jong-un on June 12. (ebf)
Join the discussions