Trump's national security adviser back in fold at Kim summit
Tramaditya Salim

The Jakarta Post
Singapore |

Tue, June 12, 2018

| 11:44 am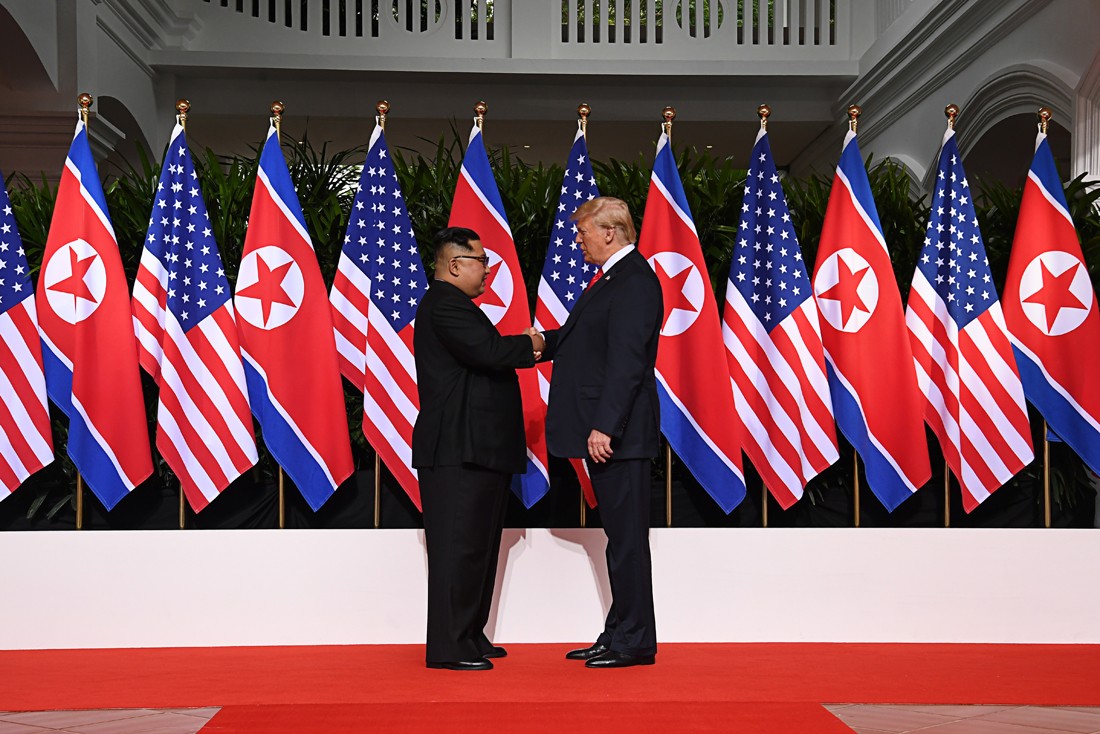 US President Donald Trump (right) shakes hands with North Korea's leader Kim Jong-un (left) at the start of their historic US-North Korea summit, at the Capella Hotel on Sentosa island in Singapore on June 12. (AFP/Saul Loeb)
United States national security adviser John Bolton, who almost jeopardized plans for a historic summit between the US and North Korea three weeks ago, has rejoined President Donald Trump for an extended bilateral meeting with North Korean leader Kim Jong-un.
Bolton was seen accompanying Trump and Secretary of State Mike Pompeo, who had closely coordinated with North Korea on plans for Tuesday's summit.
Pyongyang had earlier criticized the hawkish Bolton, who called for it to give up its nuclear arsenal in a deal that would mirror Libya's abandonment of its weapons program. Libyan leader Muammar Gaddafi would later be killed by US-supported militants in 2011.
North Korea rejected any suggestion of a Libya model, Reuters reported.
In a letter published by the White House on May 24, Trump said he was scrapping the summit after threats by the North to pull out over what it regarded as confrontational remarks demanding unilateral disarmament.
(Read also: Kim-Trump summit commences with handshake)
When the summit was back on again, Bolton had reportedly been sidelined from further summit preparations.
Trump has since dismissed the Libya model and, through White House Press Secretary Sarah Sanders, said he would use a "Trump model" instead.
The US president had also backed off from using a "maximum pressure" campaign on the North - a point Bolton has bullishly echoed - although US officials insisted the ongoing negotiations were still in step with the strategy.
Bolton was seen again at the summit on Tuesday and took part in the extended bilateral meeting between Trump, Kim and their senior officials.
It remains unclear whether his presence has influenced the US approach.
Trump and Kim might still agree on a declaration to end the 1950-53 Korean War, which was concluded with an armistice.
Ahead of the two leaders' tête-à-tête at the beginning of the summit, Kim said he was willing to work in close cooperation with Trump. It would be challenging, but he would be willing to do it, he said.
"It has not been easy to get here," Kim said through a translator.
"The old prejudices and practices worked as obstacles on our way forward but we overcame them and we are here today"
After their one-on-one meeting, Trump said the two have "a terrific relationship". (ebf)
Join the discussions