'Mudik': Indonesia's annual mass exodus
Devina Heriyanto

The Jakarta Post
Jakarta |

Thu, June 14, 2018

| 07:30 am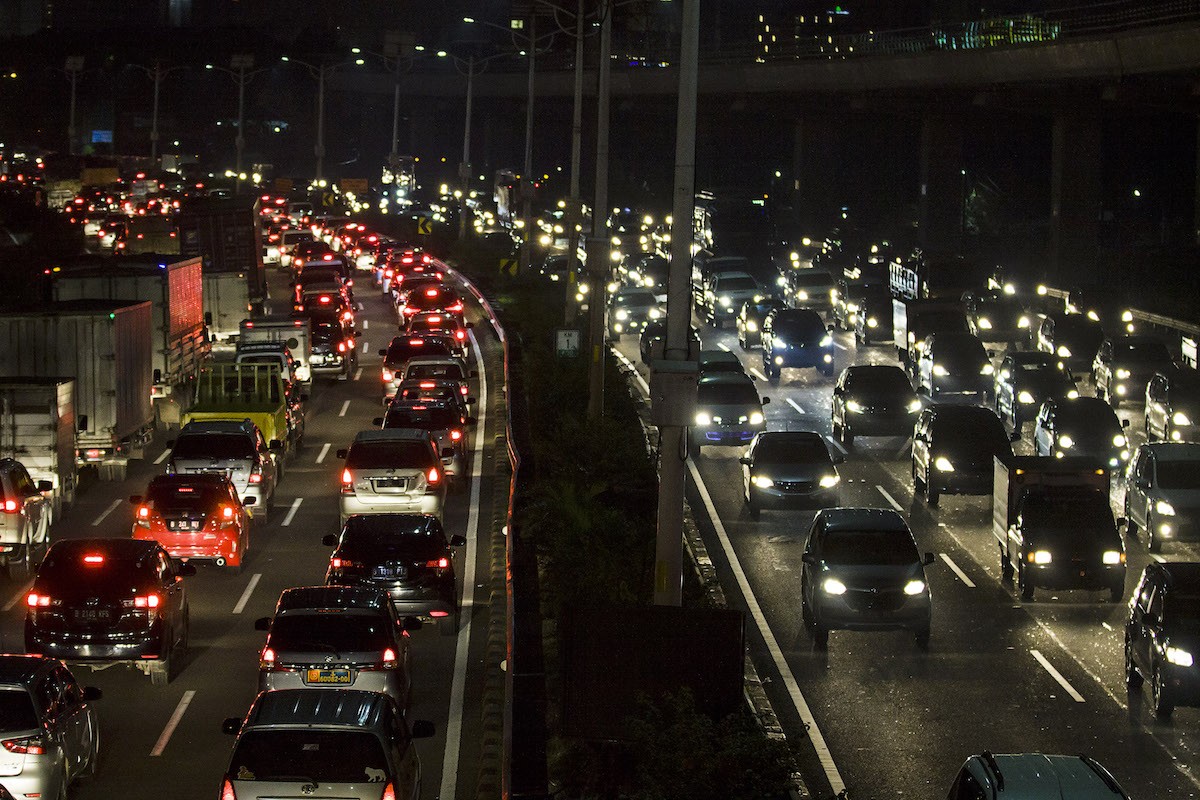 Private cars are still the favorite because travelers prefer to get around by car or motorcycle once they reach their families' homes and public transportation modes remain comparatively unreliable and inefficient in both urban and rural areas. (Antara/Galih Pradipta)
In the lead up to the Idul Fitri holiday, which concludes the month-long fasting month of Ramadhan, Jakarta's streets will be relatively empty. State-owned toll operator PT Jasa Marga has predicted that more than 1.4 million cars would leave Jakartavia toll roads during the Idul Fitri mudik (exodus) season, which started last weekend, a 3.6 percent increase from last year.
Idul Fitri is the most important religious holiday for Muslims while mudik is Indonesia's biggest annual mass exodus and, arguably, one of the biggest transportation challenges the predominantly Muslim nation faces.
Here are some facts about mudik:
What is mudik?
Mudik refers to the annual mass homebound exodus around the time of Idul Fitri. An overwhelming majority of Indonesians are Muslims and thus celebrate Idul Fitri. The most popular way to celebrate Idul Fitri is by gathering with extended family and performing religious rituals together, typically in the family's hometown.
History lecturer at Sanata Dharma University Silverio Raden Lilik Aji Sampurno stated that mudik has existed since the ancient Majapahit Kingdom and Islamic Mataram Kingdom periods, as reported by kompas.com. At the height of Majapahit rule in the 14thcentury, many of its officials were sent to other regions and that at one time they had to return to meet with the king. Unlike the Islamic Mataram Kingdom, Majapahit was a Hindu-Buddhist kingdom and therefore did not celebrate Idul Fitri, but the homebound exodus has nevertheless been linked to mudik.
However, the term mudikonly become popular in the 1970s. The term might come from the Javanese phrase mulih disik, meaning to go home for a while after migrating somewhere, explained Silverio. The Betawi people in Jakarta refer to the Javanese exodus as mudik, a simplification of going back to udik (village).
Indonesia's transmigration policies have resulted in many people living away from their hometowns. This began as far back as the Dutch's resettlement program in 1905, which aimed to provide cheap labor for their plantations in outer islands such as Kalimantan and Papua. The program was replicated after independence and reached its peak during the New Order period, leading to social conflicts, loss of indigenous lands and ecological problems, according to scholar C. M. O'Connor in the journal Population and Environment.
How many people will mudik?
The Transportation Ministry estimated that at least 20 million people would go on mudik trips this year, according to detik.com. Some 8.5 million homebound travelers are predicted to travel by motorcycle, while 8 million will travel by bus and the remaining by private cars.
Despite the long distances, traveling by motorcycle is a popular choice for its affordability.
Why mudik is a big deal in Indonesia?
Mudik is an important affair given the amount of people and vehicles involved and the infrastructure and facilities needed to ensure the journeys are as efficient and safe as possible. Many traffic accidents happen during mudik season and gridlock is common, even on toll roads.
In 2016, extreme gridlock near the Brebes exit gate, dubbed "Brexit", stretched more than 20 kilometers and lasted for more 12 hours -- sparking media outcry and public concern.
Safety is a major concern, both as travelers often spend hours on the road without adequate rest and because vehicles often do not meet safety standards. For instance, the Jakarta Transportation Agency's ramp checks found that of the 2,899 buses examined in the city, 1,540 buses, or more than half, were unsafe and forbidden to operate.
What has the government done to ensure mudik runs smoothly?
This year's mudik has been praised by many as "the smoothest mudik" compared to previous years. The opening of new toll roads has provided alternative routes for motorists that typically pack Java's northern coast (Pantura) highways every Idul Fitri mudik season.
To alleviate congestion during mudik, this year the government decided to extend the collective leave-day period for civil servants, a policy that can also apply to the private sector. Soegijapranata Catholic University transportation expert Djoko Setijowarno said the longer holiday period provided flexibility for travelers, and, combined with the opening of new toll roads, helped make this year's mudik better.
Transportation Minister Budi Karya Sumadi revealed that the number of vehicles traveling on national non-toll roads on Java's northern coast had decreased by 20 percent compared to previous years, as quoted by detik.com. Budi said many people had chosen to use toll roads or public transportation instead.
Topics :
Join the discussions