Indonesians feel safe, have confidence in police: Gallup
Devina Heriyanto

The Jakarta Post
Jakarta |

Mon, June 18, 2018

| 02:38 pm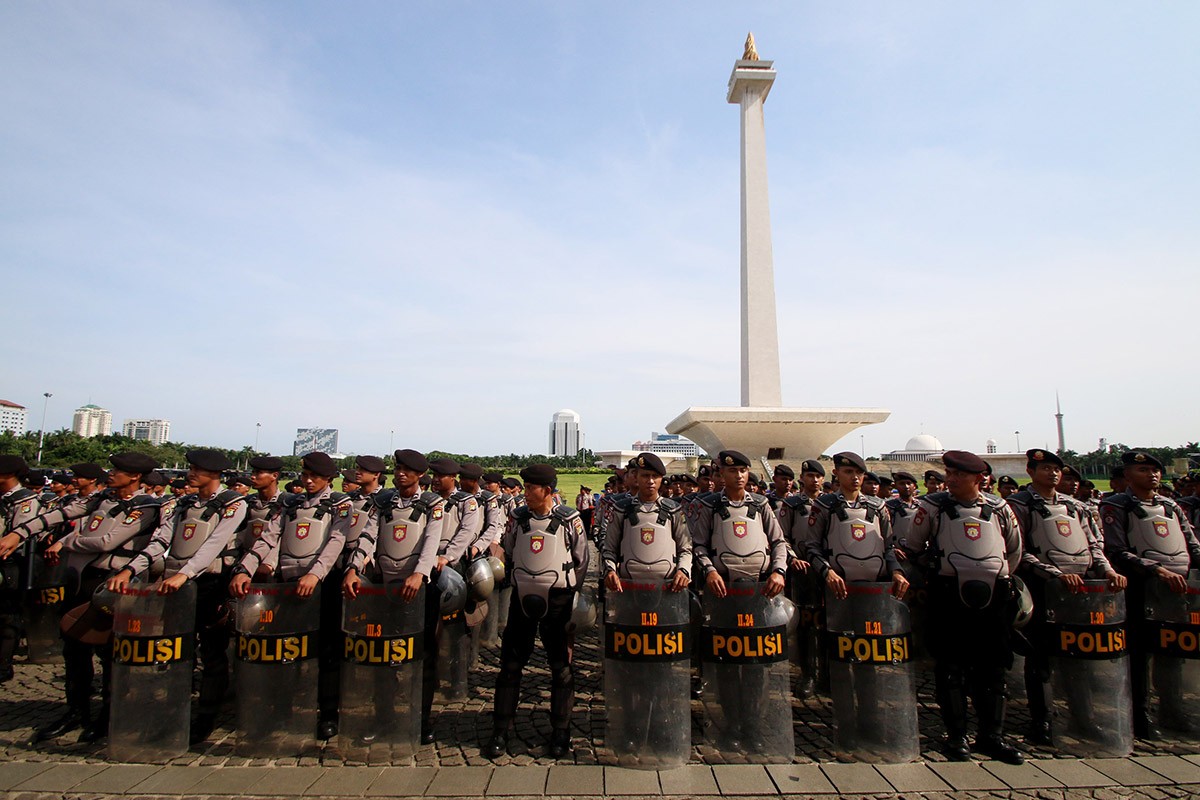 Participants were asked whether they felt safe walking alone at night, had confidence in the police, had property stolen from them or their family and whether they had been mugged in the last 12 months. (Antara Photo/Rivan Awal Lingga)
The 2018 Global Law and Order report compiled by consultancy Gallup found that Indonesia was among the safest countries in the world, ahead of many developed countries in East Asia and Europe.
The report was based on a survey of approximately 1,000 people in 142 countries.
Participants were asked whether they felt safe walking alone at night, had confidence in the police, had property stolen from them or their family and whether they had been mugged in the last 12 months.
More than two-thirds of people worldwide have confidence in their police forces and feel safe walking alone at night.
Thirteen percent had property stolen from them or a family member in the past year, while 5 percent experienced assault or robbery.
Singapore is at the top of the Law and Order Index, scoring 97 out of a possible 100, followed by Norway, Iceland, Finland and Uzbekistan. Indonesia ranks 9th with a score of 89, below Switzerland and Canada (both 90) and just above Denmark, Slovenia, Luxemburg, Austria, China, the Netherlands and Egypt (all 88).
However, Indonesia does not make it into the top 10 countries where people feel safest walking alone at night. Gallup does not reveal the details of perceptions on each indicator.
Countries with the lowest scores are Venezuela ( 44 ), Afghanistan ( 45 ), South Sudan ( 54 ), Gabon ( 55 ) and Liberia ( 56 ). Venezuela and Afghanistan are also where people feel least safe walking alone at night, with only one in every five comfortable doing so. Gallup noted that Afghanistan's result reflected a worsening security situation compared to the previous year.
At the regional level, East Asia tops the list, scoring 87, just above Southeast Asia ( 86 ) and the United States and Canada ( 85 ). South America and the Caribbean and Sub-Saharan Africa are considered the least safe, scoring 62 and 68 respectively.
Topics :
Join the discussions