Prabowo accuses Jokowi govt of weakening TNI
Nurul Fitri Ramadhani

The Jakarta Post
Jakarta |

Thu, June 21, 2018

| 11:56 am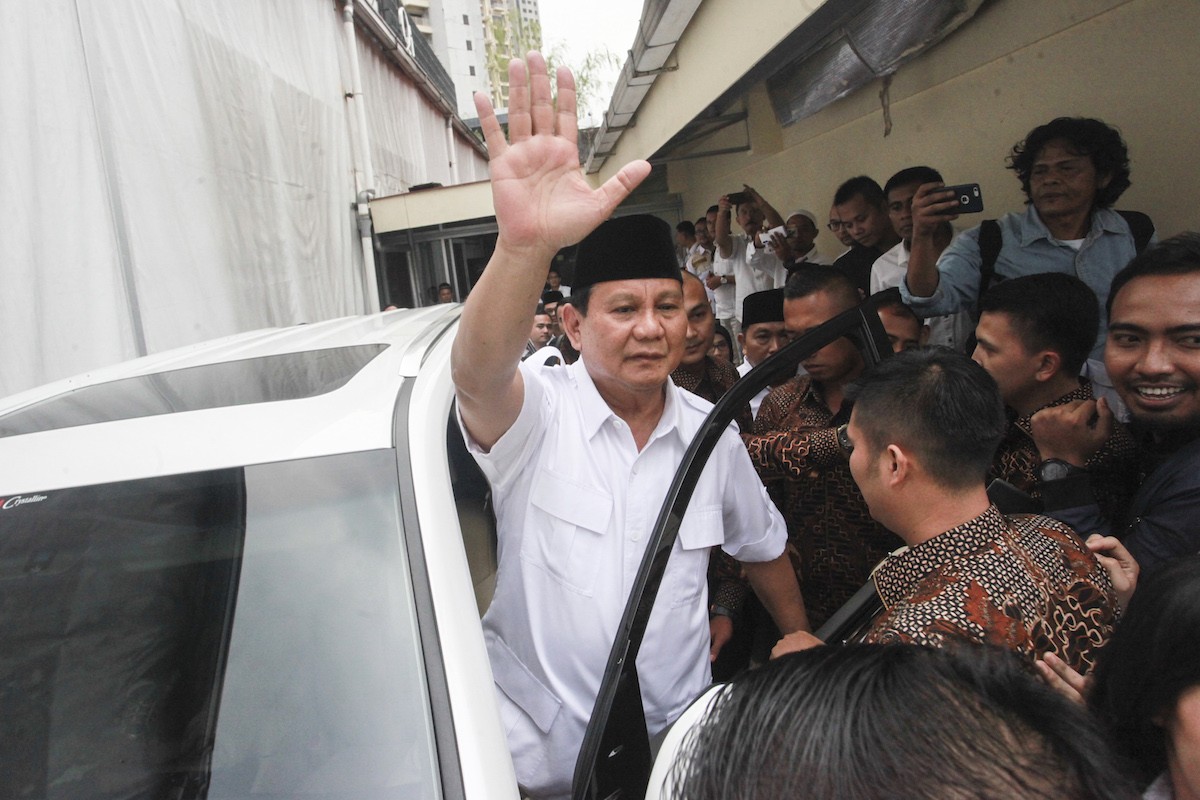 Gerindra Party chairman Prabowo Subianto (Antara/Muhammad Adimaja)
Gerindra Party chairman Prabowo has accused the government of trying to weaken the Indonesian Military (TNI) and putting the country at political risk.
The retired military general made the remarks on Tuesday in a 40-minute live streaming video that addressed Gerindra cadres on his official Facebook fan page.
"The TNI is weak, our Navy and Air Force are weak, our resources have been seized. As a result, our economic condition grows worse and burdens the people," Prabowo said in the video.
Gerindra deputy chairman Ferry Juliantono said that Prabowo meant to criticize the government for favoring the National Police instead of the TNI. For example, he added, the government did not give the TNI a greater counterterrorism role in the new terrorism law,.
He also pointed to the recent inauguration of Comr. Gen. Iriawan, a high-ranking officer in the National Police, as acting West Java governor.
"The government seems to treat the police as its 'golden boy'," Ferry said on Wednesday.
In his video, Prabowo also said that these days, money could buy power, and pointed to massive corruption in the current administration.
"There is a power that sees itself controlling and determining who can be regents, mayors, governors – even the next president," said Prabowo.
"Our [state] institutions are weak. As a result, our political power is at stake," he added.
Prabowo also satirized President Joko "Jokowi" Widodo for frequently distributing aid packages of staple foods to the people to increase his popularity. "But that does nothing to improve our economic sovereignty," he said.
The ruling Indonesian Democratic Party of Struggle (PDI-P) criticized Prabowo's remarks, saying that he had no solid data behind his arguments.
"Prabowo's opinions about the TNI and our economic condition are inaccurate. He did not refer to any data or analysis. [It is] more a subjective judgement," said Andreas Pareira of the PDI-P central executive board.
Andreas, who is also a member of House of Representatives Commission I overseeing defense, also rebutted Prabowo's criticism, pointing to the professionalism of the modern-day TNI.
"The military is now more professional than during Prabowo's era. It is now more focused on the defense sector. We provide them with the best facilities and best weaponry," he said. (evi)
Topics :
Join the discussions