Another Prabowo ally defects to Jokowi
News Desk

The Jakarta Post
Jakarta |

Fri, July 6, 2018

| 09:41 pm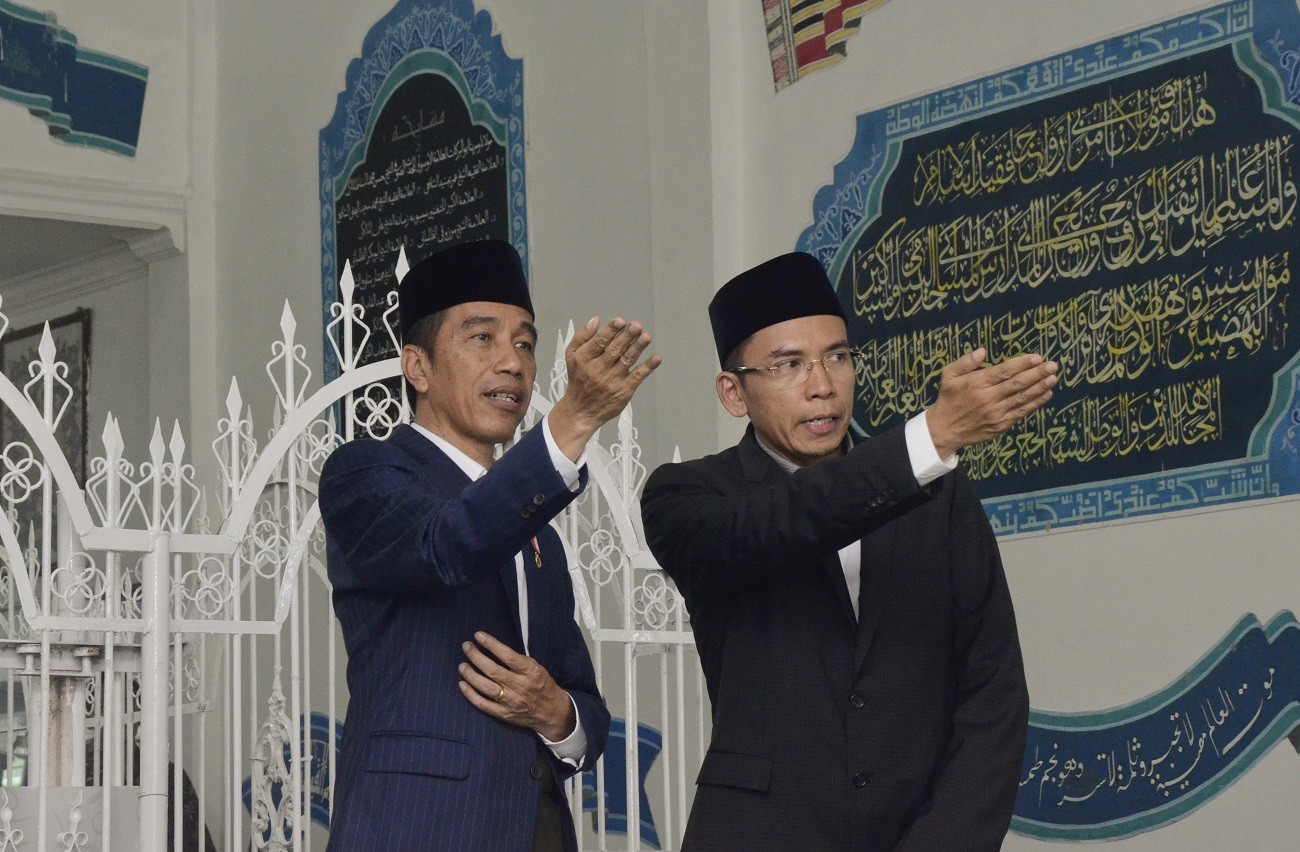 President Joko "Jokowi" Widodo (left) and West Nusa Tenggara (NTB) Governor TGB Zainul Majdi (right) visit the grave of national hero Maulana Syekh TGKH Muhammad Zainuddin Abdul Majid at the Nahdlatul Wathan Islamic boarding school in Pancor, East Lombok, NTB, in this November 2017 file photo. (Antara/Ahmad Subaidi)
President Joko "Jokowi" Widodo has a new ally.
He is Muhammad Zainul Majdi, widely known as Tuan Guru Bajang (TGB), the popular West Nusa Tenggara governor who had joined Prabowo Subianto's campaign for the 2014 presidential election.
TGB is by no means the first Prabowo ally to defect to Jokowi's camp ahead of the 2019 presidential election, but he is arguably one of the most important allies Jokowi could get to ensure his reelection.
Jokowi's Indonesian Democratic Party of Struggle (PDI-P) welcomed TGB's decision, saying his support could significantly boost Jokowi's electability, particularly among Muslim voters in West Nusa Tenggara, a Prabowo stronghold.
In 2014, Prabowo won 72 percent of the vote in the province. With TGB now on his side, Jokowi is expected to narrow the gap with Prabowo.
TGB could also help Jokowi fend off any political campaign to cast doubt on his credentials as a Muslim leader. The governor holds a degree in Islamic theology and Qur'anic exegesis from the prestigious Al-Azhar University.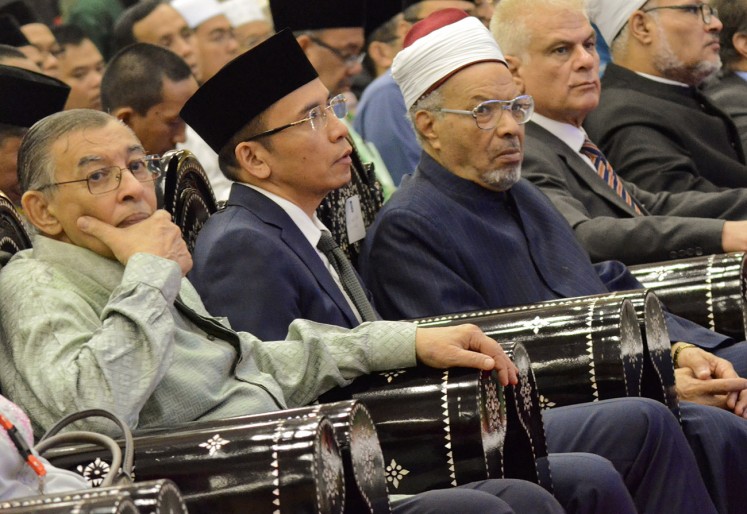 West Nusa Tenggara (NTB) Governor M. Zainul Majdi (second left) sits next to World Association for Al Azhar Graduates (WAAG) deputy chairman Syeikh Muhammad Abdul Fadil Al Qusi (third left) and renowned Indonesian Muslim scholar Quraish Shihab (left) during the opening of the International Conference of Al Azhar Alumni at the Islamic Center in Mataram in October last year. (Antara/Ahmad Subaidi)
With his credentials as governor and a Muslim scholar, TGB has been tapped as a possible presidential candidate by Islamist groups linked to the sectarian rallies against former Jakarta governor Basuki "Ahok" Tjahaja Purnama.
"We hope that [...] TGB's support for Jokowi will strengthen the grassroots," PDI-P executive Hendrawan Supratikno said as on Thursday, quoted by tempo.co.
TGB declared his support for Jokowi's reelection on Wednesday, saying Jokowi deserved another term. "I think five years are not enough to realize the whole vision and mission of the program. It takes around two terms."
His decision has cost him the Islamists' support and ignited rumors he is now being considered as Jokowi's running mate.
Jokowi is said to be looking for a vice presidential (VP) candidate with a military or Islamic background to balance out his image as a non-military and nationalist candidate.
During a recent visit to the offices of The Jakarta Post, TGB said he was ready to run for election. "Anyone has to be ready."
Jokowi has yet to name his VP candidate, with just weeks to go before the General Elections Commission (KPU) opens the registration for the presidential election, in August.
A top politician close to the President, who declined to be named, said Jokowi had considered TGB but was likely to pick a Nahdlatul Ulama (NU) figure as his running mate instead.
NU is the nation's largest Islamic group. TGB, meanwhile, is the head of Nahdlatul Wathan, a local Islamic group in West Nusa Tenggara. (ist/ahw)
Join the discussions