Shootout occurs in Papua's Nduga during police food drops
Nethy Dharma Somba

The Jakarta Post
Jayapura |

Thu, July 12, 2018

| 06:24 pm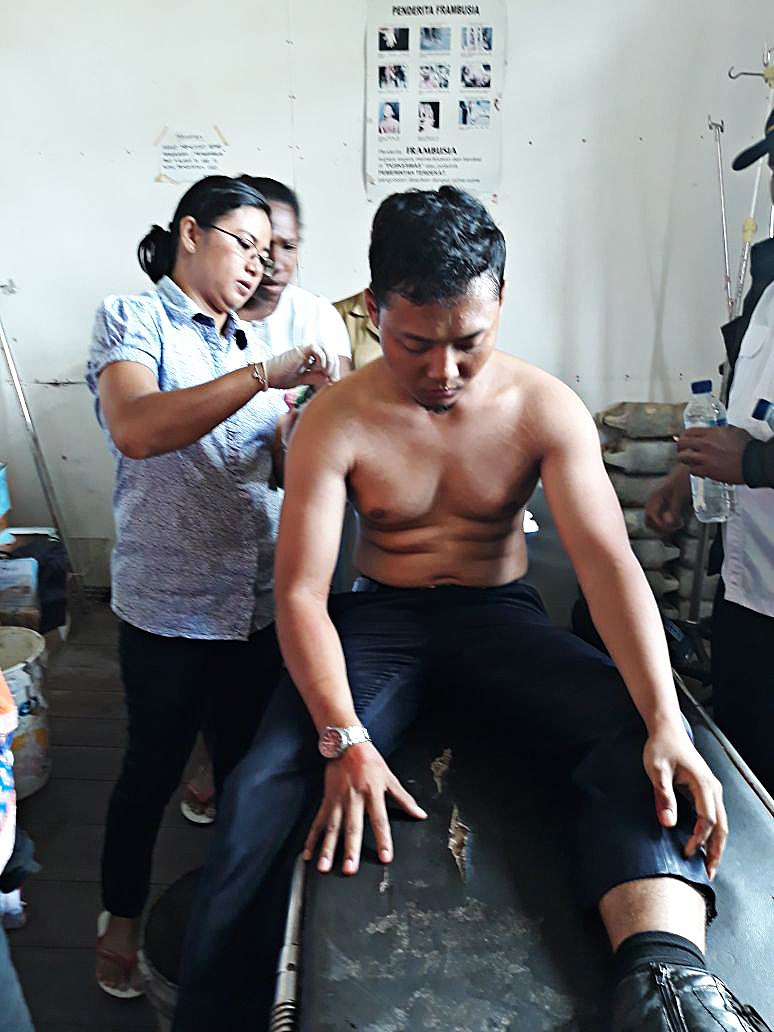 In this file photo, pilot Ahmad Abdillah Kamil, 27, receives medical treatment at the Kenyam health clinic in Nduga, Papua, after suffering gunshot wounds to his back in a shooting incident on June 25, 2018. The Twin Otter aircraft he piloted from Wamena Airport, Jayawijaya, was fired on shortly after it landed at Kenyam Airport in Nduga. (Courtesy of the Jayawijaya Police/File)
A shootout between unknown armed assailants and the Police's elite Mobile Brigade (Brimob) broke out in Nduga regency in Papua on Wednesday.
The incident started when the assailants, who the authorities are referring to as an armed criminal group (KKB), began to open fire at a police helicopter while it was dropping food for Brimob officers deployed at camps near Alguru village to hunt down the people responsible for two shootings in the regency last month, the Papua Police said.
"The helicopter was fired at by the KKB, which already controls Alguru village. The shootout broke out later," Papua Police spokesman Sr. Comr. AM Kamal said on Thursday. ''The helicopter is not an attack helicopter, but a chopper used for carrying food drops and evacuation missions."
No one was injured in the incident in Nduga, he said.
The Brimob platoon, which normally comprises between 30 and 50 personnel, is moving closer to Alguru village as they suspect about four armed groups to have fled to the village following the two attacks at Kenyam Airport in June.
On June 25, a rented commercial Twin Otter aircraft carrying election material and police personnel was fired at by unidentified assailants shortly after it landed at Kenyam. The pilot suffered a gunshot wound to his back, and three residents died allegedly in an ensuing firefight between the gunmen and security personnel.
The incident came only three days after another Twin Otter carrying 16 passengers from an airport in Mimika regency was fired on when it landed at Kenyam. The co-pilot suffered shrapnel wounds to his ankle. (ipa)
Join the discussions