Third coalition at stake after Muhaimin's maneuver
Kharishar Kahfi, Nurul Fitri Ramadhani and Yulia Savitri

The Jakarta Post
Jakarta/Palembang |

Mon, July 16, 2018

| 09:07 am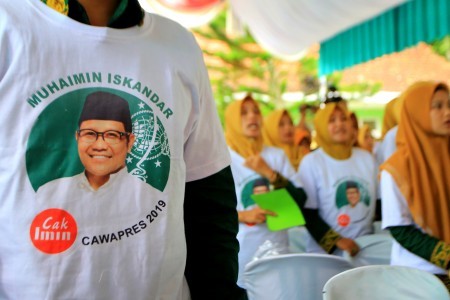 Members of Nahdlatul Ulama's muslim organization join a declaration event supporting Muhaimin Iskandar as a vice president for 2019 presidential elections in Bahrul Hidayah Islamic boarding school in Banyuwangi, East Jav on Feb, 17, 2018. (Antara/Budi Candra Setya)
A plan to establish a third coalition for the 2019 presidential election by midsized political parties may now be at stake after National Awakening Party (PKB) chairman Muhaimin Iskandar announced his party's support for incumbent President Joko "Jokowi" Widodo.

Muhaimin made the statement on Saturday in Palembang, South Sumatra, while he was accompanying Jokowi, who visited a number of sports venues for the upcoming Asian Games — a rare presence since Muhaimin does not hold any position in the government.

"I hereby state, bismillah [in the name of God], that the PKB endorses Jokowi's candidacy in 2019 [the election], hoping that the second term will bring prosperity to the people," Muhaimin said while announcing support in front of Jokowi and PKB secretary-general Abdul Kadir Karding.

The PKB was among two parties in the pro-government coalition that had yet to officially endorse Jokowi. The PKB, along with midsized parties the Democratic Party and the National Mandate Party (PAN), has instead been floating the idea to form a third coalition to field an alternative candidate to challenge the presidential bids of both Jokowi and the Gerindra Party's Prabowo Subianto.

But doubt lingers about whether Muhaimin's endorsement is genuine since it was not the first time that Muhaimin declared such support for Jokowi's reelection bid. All announcements were made in less formal events, unlike what other parties did.

Muhaimin is also known to have eyed the vice presidential slot in exchange for his support in the 2019 race — which is widely seen as important to Jokowi given that his PKB is the unofficial political arm of Indonesia's largest Islamic organization, the Nahdlatul Ulama (NU).

There have been reports that the PKB may leave the pro-government coalition if Muhaimin is not selected, particularly after Jokowi revealed to the public that he had recently narrowed his potential vice presidential candidate list to five names.

But on Saturday, Muhaimin said he had told PKB members as well as NU members and clerics to be patient regarding Jokowi's vice presidential candidate, and handed over the decision on the matter to Jokowi and the coalition. "I'm optimistic that my name is among the ones currently in Jokowi's pocket."

Jokowi responded by saying, "I have to tell you as it is, that Muhaimin Iskandar is among the names [I considered]."

Hasto Kristiyanto, the secretary-general of the ruling Indonesian Democratic Party of Struggle (PDI-P), of which Jokowi is a member, was quick to laud the PKB's move, saying Muhaimin "made the decision at the right time".

He said the PKB's support was the outcome of a meeting between Muhaimin and PDI-P chairwoman Megawati Soekarnoputri on July 10. "During the meeting, Megawati did ask Muhaimin to join [the coalition] soon. She even repeatedly said Muhaimin had been seen as a relative."

Democratic Party secretary-general Hinca Panjaitan said Muhaimin's endorsement of Jokowi, however, failed to intimidate other parties that have been considering forming the third axis, saying alliances would now become more fluid as the registration period for presidential candidates draws near.

"[The third axis] will soon appear when either Prabowo or Jokowi announces his running mate," Hinca said.

Muhaimin and the PKB are known to have established communication with Gerindra.

Arya Fernandes of the Centre for Strategic and International Studies (CSIS) said the formation of the third axis for next year's presidential candidate might face an uphill battle in order to be realized, particularly after Muhaimin's maneuver.

"The third axis requires one party each from Jokowi's and Prabowo's sides to leave their respective coalition to form a new one. However, there are no indications of such a thing recently."

He added that there would be a slim chance of Muhaimin retracting his statement and leaving Jokowi's side.
Topics :

Join the discussions