Hot spots detected in Sumatra ahead of Asian Games
Rizal Harahap

The Jakarta Post
Pekanbaru |

Tue, July 17, 2018

| 06:15 pm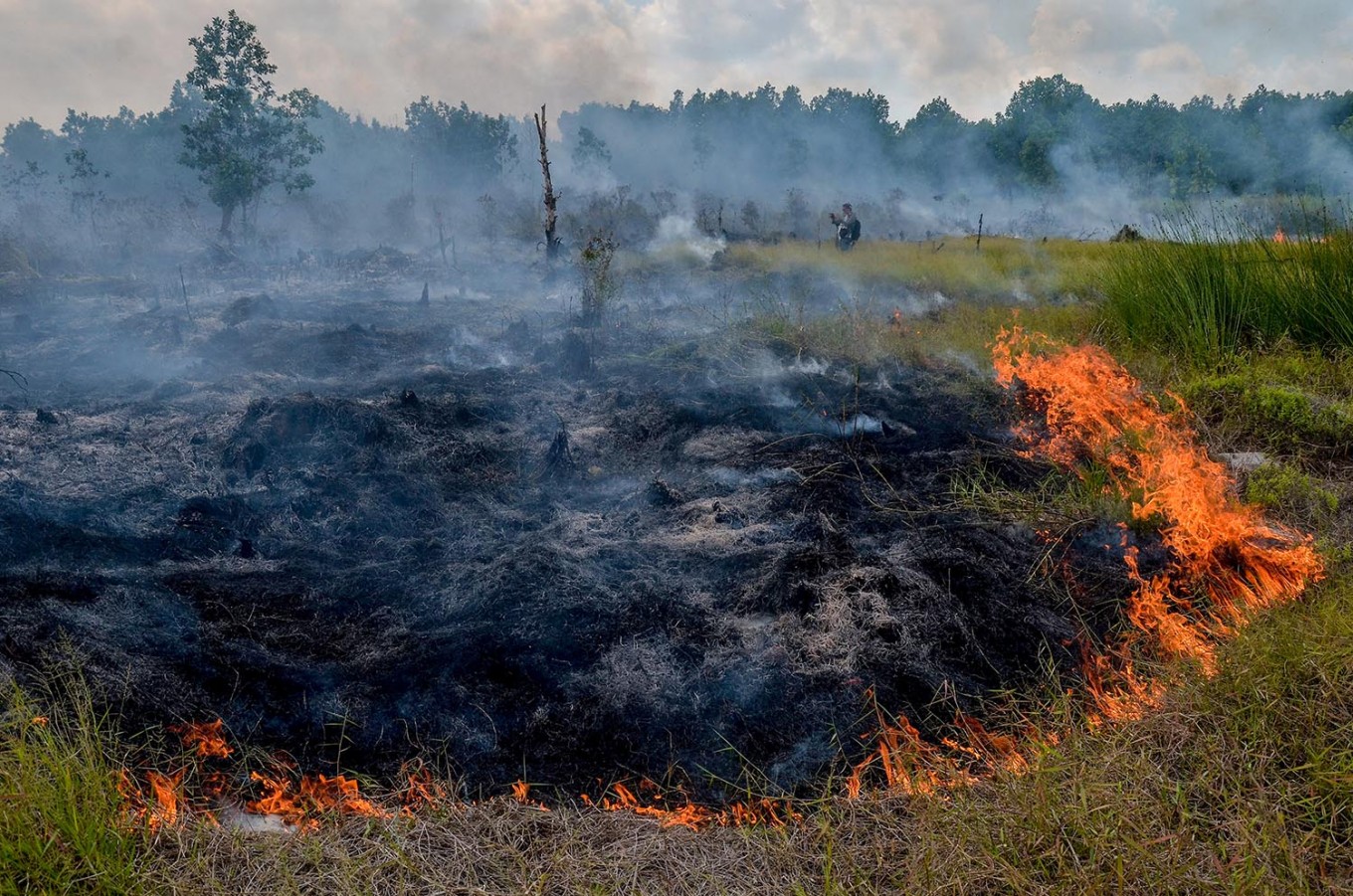 Smoke rises from a peatland fire in Pekanbaru, Riau province, on Feb. 1, one of 73 detected hot spots causing haze on the island of Sumatra. Haze is an annual problem in caused by fires set in forests and on carbon-rich peatland to clear land for oil palm and pulpwood plantations. (AFP/Wahyudi)
The government has detected 29 hot spots in Riau in the past two days and responded by sending helicopters to extinguish the fires to secure the Asian Games, which will be held in Jakarta and Palembang in South Sumatra in August.
The Pekanbaru Meteorology, Climatology and Geophysics Agency (BMKG) reported Tuesday morning that Terra and Aqua satellite readings showed the 29 hot spots were in four regencies and municipalities in Riau province. The most hot spots, 15, were detected in Dumai while another seven were in in Rokan Hilir regency, six in Bengkalis and one in Siak.
"Twenty-four of them have a level of certainty higher than 70 percent, meaning the hot spots very likely are fires," said Marzuki, BMKG Pekanbaru's data and information head.
Marzuki said the number was higher than on Monday morning, when only 12 spots with a high level of certainty had been detected. He said on Monday afternoon that no more hot spots had been detected.

Across Sumatra Island, Riau had the most hot spots, the data showed. On Tuesday morning, the satellite detected 15 hot spots in Lampung, two each in South Sumatra and Bangka Belitung, and one each in North Sumatra and Bengkulu.
"Riau had the most hot spot numbers since Sunday afternoon, when 16 in six regencies were detected," Marzuki went on.
The head of Riau Disaster Mitigation Agency (BPBD), Edwar Sanger, said the Riau Forest Haze Task Force had deployed five helicopters to extinguish a fire in Dumai. Four were from the central government and one from Sinarmas Forestry.
"We flew from Pekanbaru to Dumai at 6:30 a.m. local time to conduct water bombing," said Edwar.
"We are working hard to keep Riau free of haze to make the Asian Games in Palembang and Jakarta a success," he went on.
Edwar said he had yet to calculate the size of areas affected by fire.
His office closely monitor three areas, namely Rokan Hulu, Rokan Hilir and Dumai. It has not rained in the three regencies in the past 10 days.
He warned the public about very dry peatland, telling people not to clear land for farming using the slash-and-burn method.
The Riau administration has extended the Forest Fire Alert status to Nov. 30 this year. Since the beginning of this year, nearly 2,000 hectares of land has been burned in Riau. From January to May, Riau detected 283 hot spots in 11 out of 12 regencies and municipalities. (evi)
Topics :
Join the discussions