Ex-convict Tommy to run in legislative contest
Nurul Fitri Ramadhani

The Jakarta Post
Jakarta |

Wed, July 18, 2018

| 08:10 pm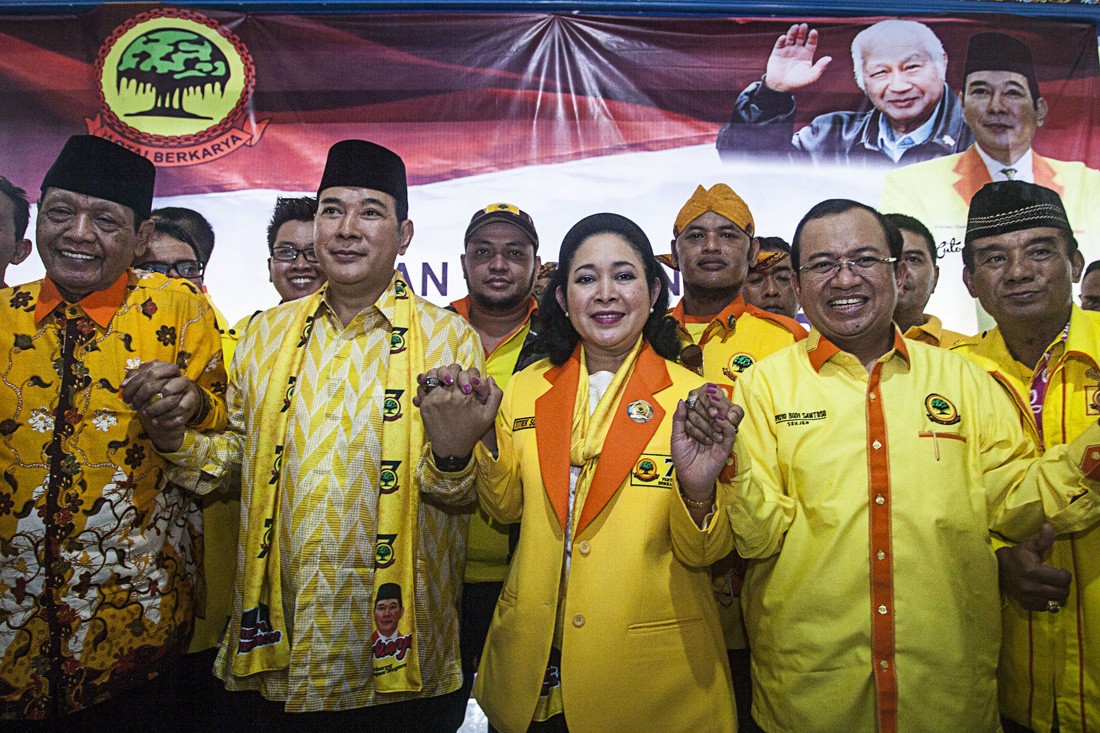 New ally: Berkarya Party chairman Hutomo Mandala Putra, aka Tommy Soeharto (second left), the party's secretary general Priyo Budi Santoso (second right), and new cadre Titiek Soerharto (center), and a number of party members, take a picture after a press conference in Bantul, Yogyakarta, on June 11. (Antara/Andreas Fitri Atmoko)
The youngest son of former president Soeharto, Hutomo Tommy Mandala Putra, popularly known as Tommy Soeharto, has registered as a legislative candidate with the Berkarya Party despite his legal track record.
In the 2019 legislative election, Tommy will represent the Papua electoral district. His older sister Siti Hediati Hariyadi, or Titiek Soeharto, will also run in the election through the same party for the Yogyakarta electoral district.
"The party has assigned our chairman, Tommy, to contest and win the legislative election in Papua," Berkarya secretary general Priyo Budi Santoso said, claiming that many people in Papua missed the authoritarian regime of Soeharto.
Following the fall of his father's regime in 1998, Tommy became entangled in a graft allegation and later the murder of a Supreme Court justice.
In 2001, however, Tommy was cleared of graft following a decision by the Supreme Court that overturned his graft conviction. However, Tommy was found guilty of ordering hitmen to murder Supreme Court justice Syaifuddin Kartasasmita, who delivered the guilty verdict for corruption in 2000.
In 2002 he was sentenced to 10 years' imprisonment for ordering the murder of Syaifuddin, but was able to walk away free in 2006.
The rules of candidacy
Article 7, Clause 1(g) of General Elections Commission (KPU) Regulation No. 20/2018 on legislative candidacy prohibits ex-prisoners who were convicted under a charge that carries a punishment of five years or more. Article 7, Clause 4, however, provides a loophole that such ex-convicts could still run as long as they had completed their sentence and were honest about their track record to the public.
Therefore, Tommy's murder conviction will not affect his candidacy as long as he has declared his track record to the public.
The legislative candidacy law also carries a regulation, in Article 4, which prohibits parties from registering ex-convicts in three specific cases: drug abuse, corruption and sexual assault against children. However, because Tommy was cleared of the corruption allegation in 2001, this article will also not affect his candidacy. (evi)
Topics :
Join the discussions