Too ugly, too smelly: Jakarta covers up 'Black River' for Asian Games
News Desk

The Jakarta Post
Jakarta |

Fri, July 20, 2018

| 11:32 am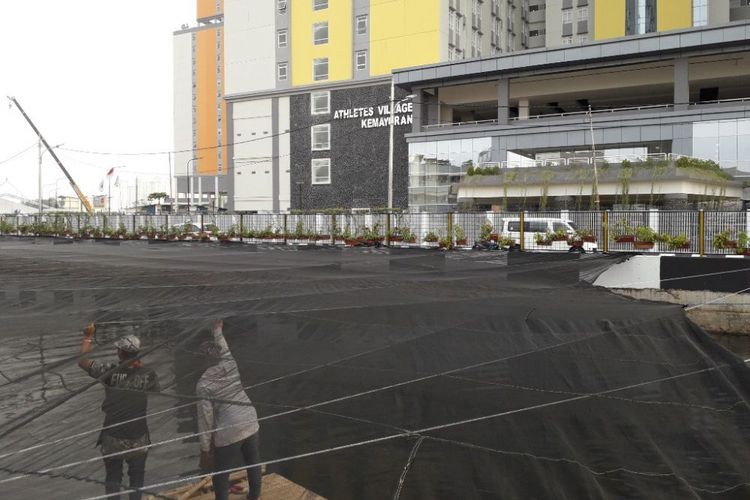 An official with the Jakarta Water Resources Agency said they needed to cover the river, as it passed the newly built athletes village in Kemayoran, Central Jakarta. (Kompas/Ardito Ramadhan D)
The Jakarta administration has covered a river so polluted it got the nickname kali item (black river) with a giant black nylon net amid concerns it would be an eyesore and too smelly for foreign athletes during the Asian Games.
Supriyono, an official with the Jakarta Water Resources Agency, said they needed to cover the river, as it passed the newly built athletes village in Kemayoran, Central Jakarta.
"We covered it, so that the dark, polluted water will be hidden from the view of international athletes," he said, as quoted by kompas.com on Thursday, adding that the effort was also expected to reduce the unpleasant smell emerging from the river.
The black netting will cover the entire length of the river, according to Supriyono.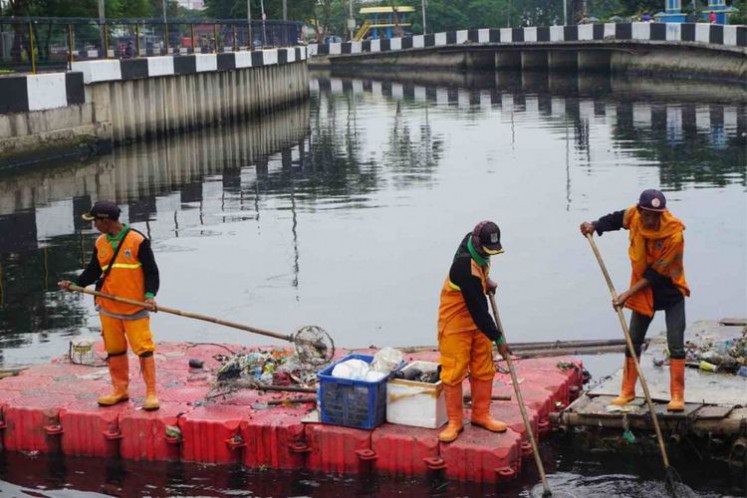 Public Facility Maintenance Agency personnel clean up the "black river" in Kemayoran, Central Jakarta, in this file photo. (Kompas.com/David Oliver Purba)
During a visit to the athletes village in February, President Joko "Jokowi" Widodo and Jakarta Governor Anies Baswedan noticed the smell from the river and agreed to find a way to make it less smelly.
The administration has used aerators and nano bubble technology to clean the river, but to no avail.
The river, which is officially called the Sentiong River, is heavily polluted with domestic waste thrown into adjacent reservoirs, according to the city's environment agency. The river also does not flow very well, the agency said, as quoted by kompas.com.
The city's decision has sparked some negative responses from the public.
Hallo pak @aniesbaswedan dan @sandiuno, kalau ada kali kotor dan bau busuk itu dibersihkan, bukan malah disembunyikan ditutupi jaring hitam. Demen banget sih kalian menyembunyikan yang busuk2.

Kalian bukan kolektor sampah, kan? 🤔https://t.co/zQpm7ppxcJ

— Yusuf Muhammad (@yusuf_dumdum) July 19, 2018
One twitter user wrote: "Hallo @aniesbaswedan and @sandiuno, if there's a dirty and smelly river, clean it up, don't hide it under black cover. Why are you so fond of hiding the rottens?"
"You're not trash collectors, aren't you?"
Kali item bercadar pula, takut keliatan auratnya sama tamu asian games. #maafbukanmuhrim

— ꧋ꦲꦧ꧀ꦢꦸꦭꦿꦺꦴꦕ꧀ꦲꦶꦩ꧀꧈ (@ABRochim18) July 19, 2018
"Kali item uses a niqab, afraid that its aurat will be seen by the guests of Asian Games. #sorrynotmuhrim," wrote another Twitter user.
Kali Item - bukannya dibersihkan malah ditutup pake jaring item.

Itu bukti pemikiran seorang pemalas. Di luar tampak bagus, di dalam busuk.

— MEY 媚 🐬 (@Kimochiii_) July 19, 2018
Another user is more cynical, writing: "Kali Item -- instead of being cleaned up, it's covered with black nets. This is a lazy thought. Looks good on the outside, but rotten inside."
The Asian Games will commence on Aug. 18 and run until Sept. 2. (ahw/rfa)
Topics :
Join the discussions