Will 'millennial' Ma'ruf and 'santri' Sandiaga change Prabowo vs Jokowi game?
News Desk

The Jakarta Post
Jakarta |

Fri, August 10, 2018

| 08:43 pm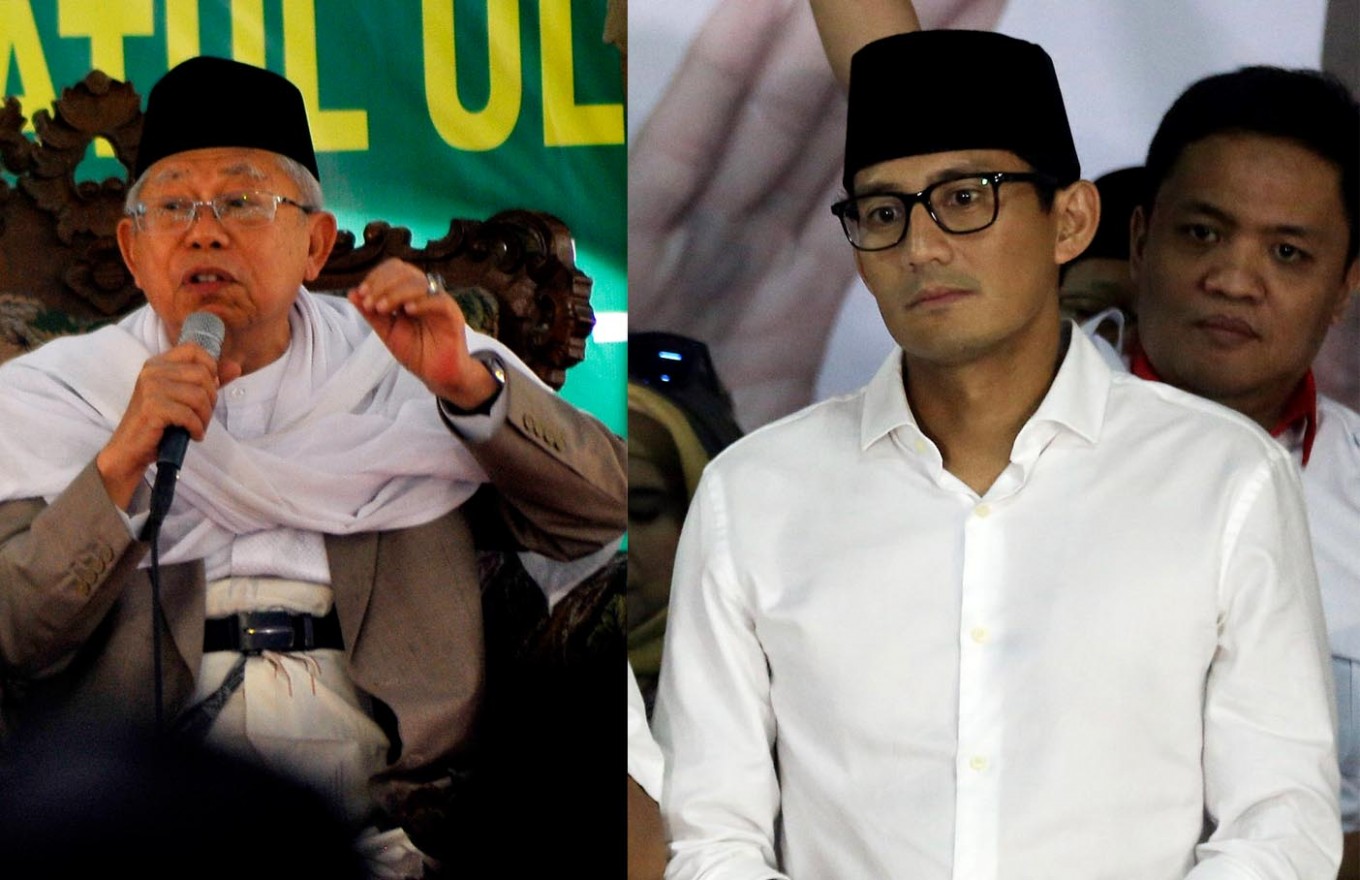 Vice-presidential candidates Ma'ruf Amin (left) and Sandiaga Uno. (Antara/ Asep Fathulrahman/JP/ Dhoni Setiawan)
The official announcement of the presidential candidates shows that the election in 2019 will be more or less a repeat of that in 2014, with President Joko "Jokowi" Widodo facing rival Prabowo Subianto again.
However, the vice-presidential candidates and all their surprising elements will perhaps change the showdown between Jokowi and the Gerindra Party's chairman Prabowo eight months from now.
Jokowi, during his speech while announcing his running mate on Thursday evening, said that his vice-presidential candidate, the Indonesian Ulema Council (MUI) chairman Ma'ruf Amin, was a leading religious figure and had great political and government experience.
The decision to pick Ma'ruf has been seen as an attempt to ease sectarian tensions that had been simmering since the 2014 presidential election and the 2017 Jakarta gubernatorial election.
However, at 75 years old, Ma'ruf is perceived as not being attractive to young people, something a top politician in Jokowi's coalition tried to rectify.
Soon after Jokowi's announcement, Oesman Sapta Oedang of the Hanura Party said that Ma'ruf could be called a millennial.
"Millennial is not just about age. It is about actions and attitude," he said, adding that the decision made for a complementary nationalist-religious ticket.
Hours later, Prabowo announced his candidacy, naming former Jakarta Deputy Governor Sandiaga Uno as his running mate. At 49 and known as an avid marathon runner, a popular pastime among young Indonesians, he is likely to be more attractive to millennials. But his non-Arabic name and his history of formal education are regarded as not being advantageous for Prabowo, also known as being more secular than religious, in wooing conservative Muslims.
Sandiaga, a Muslim, was educated in private Christian institutions, PSKD and Pangudi Luhur, and later in Wichita State University and George Washington University in the United States.
Sohibul Iman of the Prosperous Justice Party (PKS) said his formal education track record aside, Sandiaga was "a post-Islamist santri". Santri refers to students of Islamic boarding schools or pesantren.
"I guess he [Sandi] is living a modern life but he has experienced spirituality and Islam. I can say, brother Sandi is a santri figure in a post-Islamist era," he said.
A political observer from pollster Kedai Kopi, Hendri Satrio, told The Jakarta Post on Friday that it was still too early to see what kind of "political branding" each pair would use. Any attempt to dismiss Ma'ruf's venerable age as a liability and Sandiaga's non-Muslim formal education would be "normal" in political campaigns, Hendri went on.
"Later, the 'packaging' will be removed," he said.
It is too early to say which vice-presidential candidate will give the presidential candidate an advantage. "I have to say the situation is still 50:50 so far because the game is just on. We'll see how it goes," Hendri said.
However, he said Jokowi's reach to millennials would make up for Ma'ruf's age while Sandiaga's track record as a businessman would likely make a good impression in the field of the economy. Sandiaga's promise to stabilize food prices would be appealing, especially to women, colloquially called emak-emak or mothers. (sau/evi)
Topics :
Join the discussions