Pretrial hearing on dismissal of Rizieq's case postponed
Arya Dipa

The Jakarta Post
Bandung, Indonesia |

Mon, October 8, 2018

| 09:40 pm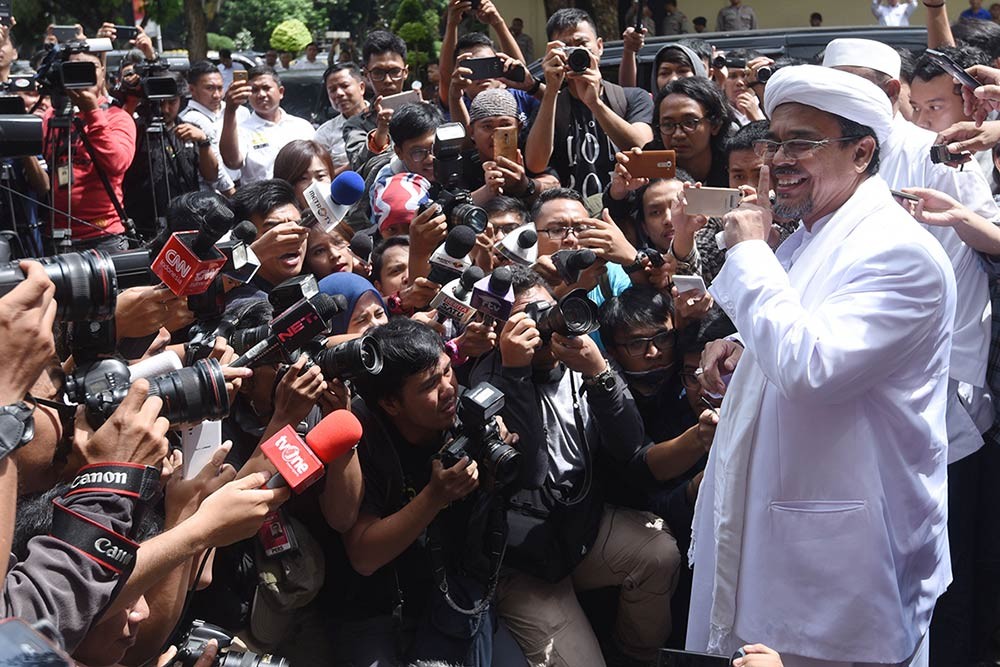 Islam Defenders Front (FPI) leader Rizieq Shihab speaks to reporters before facing police questioning at the Jakarta Police headquarters on Feb. 1, 2017 for alleged treason. The police also arrested a woman who allegedly had intimate conversations with Rizieq, and later raided her house in East Jakarta. (Antara/Akbar Nugroho Gumay)
The Bandung District Court postponed on Monday a pretrial hearing on the termination of an investigation into firebrand cleric Rizieq Shihab's alleged defamation of former president Sukarno and state ideology Pancasila.
The hearing was postponed because representatives of the West Java Police, who are the defendants in the case, failed to attend.
"The hearing is postponed until next week as we wait for the defendant's attendance," sole judge Muhammad Razzad said at the hearing on Monday.
Sukarno's daughter Sukmawati Soekarnoputri reported the Islamic Defenders Front (FPI) leader to the police in 2016, when a video of Rizieq comparing the early version of Pancasila drafted by Sukarno and the Jakarta Charter's version went viral on social media.
In the video, Rizieq says: "In Sukarno's Pancasila, faith in God is placed in the butt, but in the Jakarta Charter's Pancasila, faith in God is placed in the head. Which one is better? Sukarno's or the Jakarta Charter's?"
The police dropped the case in February, citing a lack of evidence.
Sukmawati's legal team objected to the investigation being terminated, claiming that the case fulfilled all the criteria to be brought to court.
"According to Article 184 of the KUHAP (Criminal Law Procedures Code), evidence can include witness statements, expert testimony, clues and defendant statements. We have all those pieces of evidence," Teddi Adriansyah, one of Sukmawati's lawyers, said.
Rizieq's lawyer, M. Ichwan Tuankotta, has claimed that the speech was based on Rizieq's master's degree thesis and was therefore not a crime. (kmt)
Topics :
Join the discussions