Singapore, Manila committed to keeping ASEAN safe: Duterte
Nur Asyiqin Mohamad Salleh

The Straits Times
|

Fri, December 16, 2016

| 11:33 am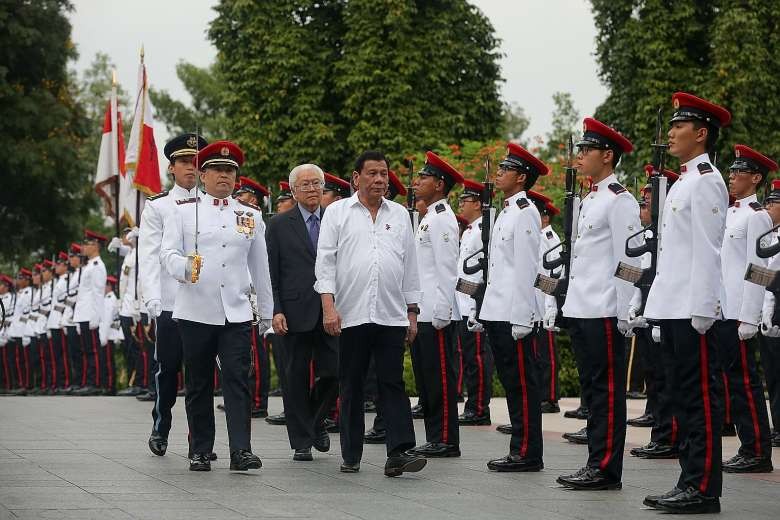 Philippine President Duterte, accompanied by Singapore President Tony Tan Keng Yam, inspecting the guard of honour at the Istana on Thursday, Dec. 16, 2016. (The Straits Times/Ong Wee Jin)
Singapore and the Philippines are committed to keeping the ASEAN region and beyond safe and secure against transnational threats, both traditional and emerging.
Philippine President Rodrigo Duterte also said at a banquet held in his honor Thursday night: "We are championing diversity and making sure the dialogue between religions and faiths forms the backdrop of a peaceful society."
The President, who is on a two-day state visit here, added that both countries are working closely as well on political issues, pursuing principled positions and the peaceful settlement of disputes, and respecting the rule of law.
"We reaffirm and respect the independence and the non-interference in the internal affairs of states," he added.
Singapore President Tony Tan Keng Yam noted in his speech that both nations, as founding members of ASEAN, share a vision of maintaining peace and stability in the region.
The Philippines will be chairman of ASEAN next year, when the regional grouping marks its 50th anniversary. It will be Singapore's turn the following year.
Tan said: "You may be assured of Singapore's support for your chairmanship."
The two leaders also paid tribute to the warm relations between their people.
Singapore receives about 700,000 Filipino tourists each year. To laughter, Tan noted how they "enjoy visiting Universal Studios and Gardens by the Bay, as well as eating satay, chilli crab and chicken rice".
Singaporeans, in turn, enjoy the cuisine and natural beauty of the Philippines, and are no strangers to Filipino artworks, which are on abundant display in the Singapore Art Museum and National Gallery.
With better connectivity between the two countries - and to the regions beyond - people- to-people exchanges can continue to grow, added Tan.
"This way, fellow Singaporeans will be able to see what my wife and I saw during my state visit to the Philippines in 2014 - a fellow South-east Asian nation that is resilient, hardy and talented."
He also underlined the history that binds Singapore and the Philippines.
When revered Philippine national hero Jose Rizal left his country in the late 19th century, Singapore was one of his first ports of call.
Between 1882 and 1896, Rizal visited Singapore four times, making detailed records of the sights and sounds of pre-independent Singapore - a valuable account of the country's past, said Tan.
Today, a memorial of Rizal stands on the grounds of the Asian Civilisations Museum.
Duterte said the presence of about 180,000 Filipinos here bears testimony to the enduring friendship between the two countries.
"Even our academic, cultural and artistic communities are productive engagements that contribute to the advancement of our identities and the strengthening of our shared values," he said.
The two countries have much to look forward to, he added.
"I say tonight we come and we look forward to a future of greater mutually beneficial collaborations," he said.
"This is a future we can chart together and aim to achieve. This is how friends should be."
Duterte will be hosted to lunch by Prime Minister Lee Hsien Loong Friday.
He will also meet Singapore business leaders and visit the Singapore Botanic Gardens, where an orchid will be named in his honor.
Before he departs tonight, Duterte will meet the Filipino community in Singapore, among whom he remains widely popular.
Topics :
This article appeared on The Straits Times newspaper website, which is a member of Asia News Network and a media partner of The Jakarta Post
You might also like :
Comments