Tens of thousands hit by severe flooding in southern Thailand
|

Fri, January 6, 2017

| 02:40 pm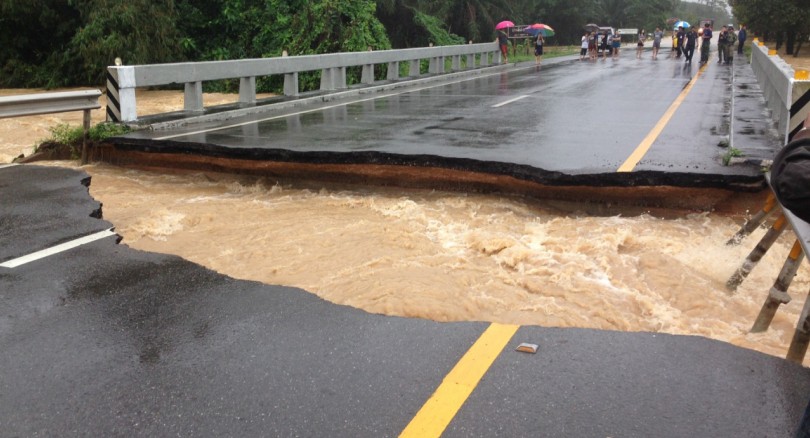 Four dead as Nakhon Si Thammarat, Trang and Phatthalung in Thailand inundated; train services disrupted. (The Nation/-)
Severe flooding continued to ravage many parts of the South including Nakhon Si Thammarat, Trang and Phatthalung provinces Thursday, affecting tens of thousands of people, damaging property and interrupting transportation. Two deaths from the flooding were reported in Nakhon Si Thammarat and Phatthalung each.
Trains to the lower South could go no further than Surat Thani as the Thung Song Train Station in Nakhon Si Thammarat had to be closed due to flooded rail tracks. Also Thursday, Transport Co Ltd suspended buses scheduled to go through the heavily flooded Thung Song district.
The company's acting managing director, Pol General Amnat An-art-ngam, said the severe flooding in Thung Song had led to the suspension of seven bus routes: Bangkok-Thung Song-Chian Yai; Bangkok-Hat Yai; Bangkok-Yala-Betong; Bangkok-Pattani-Sungai Kolok; Bangkok-Satun; Bangkok-Hat Yai-Dan Nok; and Bangkok-Hat Yai-Padang Besar.
In addition to this, four inter-provincial bus services operated by private concessionaires to Hat Yai-Chumphon, Hat Yai-Surat Thani, Hat Yai-Thung Song and Hat Yai-Nakhon Si Thammarat have also been suspended. As of 1.30 p.m., Transport Co resumed all services as the buses were able to re-route via No 401 Road through Surat Thani-Nakhon Trang, though journeys take an hour or two longer than usual. The company said those not wanting to spend more time on the bus can get refunds.
With more than 200 millimeters of rain hitting Nakhon Si Thammarat, provincial governor Charoen Thippongthada set up a disaster-prevention center at City Hall to provide aid to the flood victims. In Noppitam district torrential forest runoffs in Klong Klai of Tambon Noppitam kept rising, prompting officials to monitor the situation closely, while many roads in Tambon Krung Ching were left impassable. The Klong Klai Bridge broke, forcing residents to use sling cables to cross the canal.
Khao Luang National Park chief Wikran Tuadao warned mountainside residents to evacuate as this year's forest runoffs surpassed the previous year's levels. The bodies of Jira Onketpol and son Ekkarin were found in a car that floods had swept into the canal. Other than Thung Song, where the electricity was cut as a precaution, Ron Phibun and Phra Phrom districts were also inundated.
Meanwhile, six districts in Phatthalung province remained under water, and two deaths from drowning were reported in Khuan Khanun district – those of an 18-year-old girl and a 56-year-old man. The Phatthalung disaster-prevention office said yesterday that flooding since Monday had affected 58,676 residents in 11 districts, though property damage was still being assessed.
In Trang, forest runoffs from the Banthat Mountain Range in Na Yong district hit communities in downstream Muang district's Nakhon Trang Municipality, and caused roads to be congested with 30 to 60-centimeter high water logging. More than 10 schools suspended classes, while the outbound lanes of Phatthalung Road near Wattanapat Trang Hospital and Phraya Ratsadanupradit Monument were closed amid rising water levels.
It was reported that this second flooding had affected some 15,000 residents and damaged more than 10,000 rai of farmland in Na Yong, Huay Yot, Rassada, Muang, Wang Wiset and Palian districts – the first three of which had already been declared disaster zones.
Public transport van services for Trang-Nakhon Si Thammarat and Trang-Surat Thani were also temporarily suspended yesterday.
In Surat Thani, over 10 districts face flooding, continuous rainfall and have already been declared as disaster zones, 50 schools were closed indefinitely, while a kilometer of the Asia Highway in Tha Chana district was under 30 cm of water. Kanchanadit district's Tambon Pa Ron and Tambon Klong Sa continued being hit by Khao Luang runoffs and some residents were left marooned in their flooded homes, while many other families had to evacuate and move their belongings to higher ground.
Prime Minister Prayuth Chan-o-cha, who was cited by National Council for Peace and Order spokesman Colonel Winthai Suvaree as being worried about the victims and instructing officials to help them, is scheduled to fly to Narathiwat to hand relief bags to affected people in Rangae district today. He is set to preside over a national security meeting at City Hall today.
The Meteorological Department Thursday warned of persistent rains and flash flooding in the provinces of Prachuap Khiri Khan, Chumphon, Surat Thani, Nakhon Si Thammarat, Phatthalung, Ranong, Phang Nga, Phuket and Krabi, though the rains are set of ease off by Sunday.
Topics :
This article appeared on The Nation newspaper website, which is a member of Asia News Network and a media partner of The Jakarta Post
You might also like :
Comments