Duterte fires 2 execs on TV for delaying Skyway project
Leila B. Salaverria

Philippine Daily Inquirer/ANN
Manila |

Sun, October 15, 2017

| 10:06 am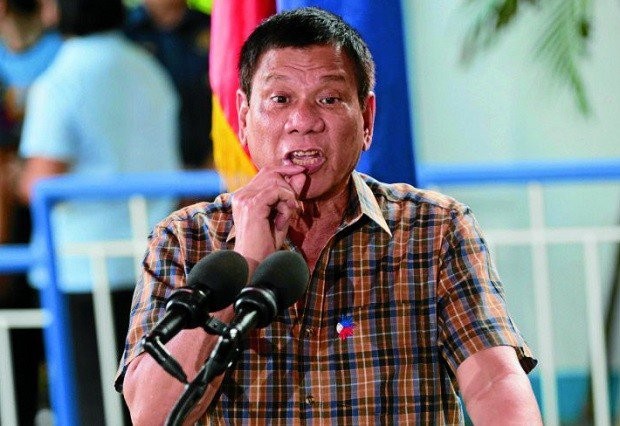 President Rodrigo Duterte, shown making a gesture in this file photo, threatens to literally eat members of the Abu Sayyaf alive if they pursue terrorism. (Inquirer/File)
President Rodrigo Duterte has ordered the dismissal of two officials of the Pasig River Rehabilitation Commission (PRRC) for delaying the completion of the Metro Manila Skyway Stage 3 Project.
"These two really did bad. They delayed the project. We are rushing to give more mobility to the people of Metro Manila. But these two sat on it for almost one year," Mr. Duterte said in an interview on government television.
The delay caused the postponement of the original completion target by two years, or 2020, and Mr. Duterte blamed the delay on the two PRRC officials, saying "I didn't like what they did."
"Cabinet members are only allowed one month to act on papers. [Agency] directors only have 15 days. These two sat on the papers for almost one year," the President said.
The President did not disclose the names of the officials, who supposedly wrote him a formal apology with the assurance that it would not happen again.
However, the President said what the two officials did was unacceptable and was a violation of Republic Act No. 3019, or the Anti-Graft and Corrupt Practices Act.
Under RA 3019, public officials are prohibited from causing any party, including the government, undue injury.
The same law prohibits public officials from neglecting or refusing to act on relevant matters or requests before their respective offices without a valid justification.
"While they sent me a letter apologizing for the delay, I'm telling them now—here on television—I have fired you actually," he said.
The third stage of the Metro Manila Skyway is envisioned to be an elevated 14.82-kilometer tollway from Buendia Avenue in Makati City to Balintawak, Quezon City.
The Skyway was also meant to connect the North and South Luzon Expressways, easing the vehicular traffic in major Metro Manila thoroughfares.
This article appeared on the Philippine Daily Inquirer newspaper website, which is a member of Asia News Network and a media partner of The Jakarta Post
Join the discussions