Duterte declares mission accomplished in Marawi
Cecil Morella

Agence France-Presse
Marawi, Philippines |

Tue, October 17, 2017

| 03:27 pm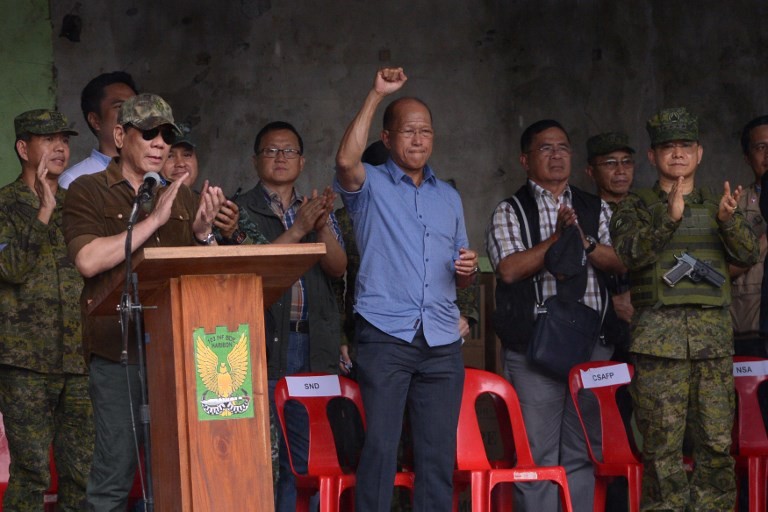 Philippines' President Rodrigo Duterte (front left) applauds as he declares Marawi city (Agence France -Presse/Ted Aljibe)
Philippine President Rodrigo Duterte on Tuesday symbolically declared a southern city "liberated from terrorists' influence" but the military said the five-month battle against militants loyal to the Islamic State group was not yet over.
Duterte led rain-soaked troops in celebration in Marawi a day after the military claimed a major breakthrough as it announced the death of the head of the Islamic State group in Southeast Asia, Isnilon Hapilon, in a gunbattle in the city.
"Ladies and gentlemen, I hereby declare Marawi liberated from the terrorists' influence that marks the beginning of the rehabilitation," Duterte said, speaking moments after explosions and gunfire were heard in the city.
Military spokesmen later clarified that the fighting against 20 to 30 remaining militants continued along with efforts to rescue about 20 hostages.
"We are going to get them very soon. We're making sure no hostages and fighters are left," Colonel Romeo Brawner, deputy commander of the task force battling the militants, told AFP.
Asked by reporters if Duterte's declaration was symbolic, Brawner said: "Yes, because we cannot really say that (the area) is 100 percent cleared because even when they declared the end of World War II, there were still stragglers".
Another military spokesman, Major-General Restituto Padilla, said Duterte's declaration was issued as a "go signal" for the start of Marawi's rehabilitation.
Pro-IS gunmen occupied parts of Marawi, the Islamic capital of the mainly Catholic Philippines, on May 23 following a foiled attempt by security forces to arrest Hapilon, authorities said.
Insurgents endured a relentless US-backed bombing campaign and intense ground battles with troops in the nation's longest urban conflict.
The military said Monday Hapilon -- who figured on the US "most wanted terrorists" list -- was killed in a dawn offensive alongside Omarkhayam Maute, one of two brothers who allied with Hapilon to plot the takeover of the city.
Duterte had said Hapilon led an IS bid to establish a Southeast Asian caliphate as the jihadists suffer battlefield defeats in Iraq and Syria.
Philippine troops were hunting down on Tuesday a Malaysian militant tipped to take over IS in the region following Hapilon's death.
Mahmud Ahmad is the top remaining target for Philippine forces as the military said he was among six to eight foreign fighters in a battle zone comprising about 60 to 80 buildings.
"Mahmud remains... one of our high-value targets in the operations being conducted," Padilla said.
Topics :
Join the discussions