How Sara Duterte can keep dad's lips 'sealed'
Eldie Aguirre and Julie M. Aurelio

Philippine Daily Inquirer/ANN
Manila |

Sun, June 10, 2018

| 09:01 pm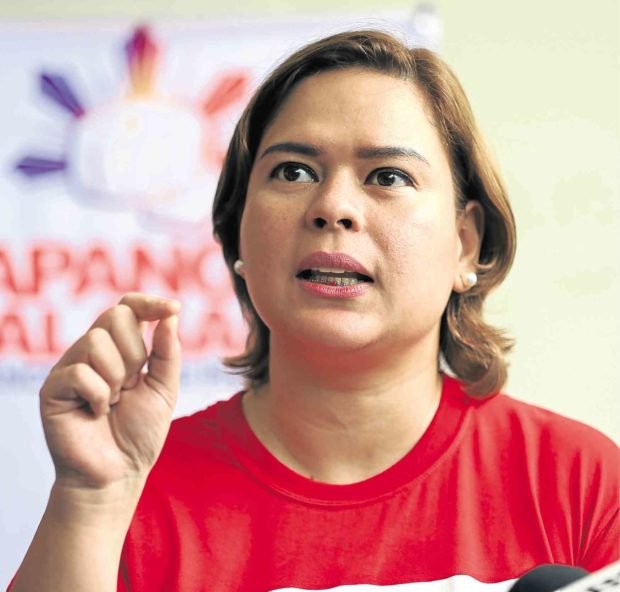 Sara Duterte Carpio (Philippine Daily Inquirer/File photo)
She's willing to play chaperone and babysitter to her father, President Rodrigo Duterte, on his next foreign trips to make sure he won't be kissing anybody on the lips anymore, Davao City Mayor Sara Duterte Carpio told reporters on Friday.
"When I heard that he always kisses women, and when I heard that he did it again in South Korea, I thought of asking the [Presidential Management Staff] to 'please, please serve me an invitation every time that there are such events,' Carpio said in an interview on the sidelines of the groundbreaking of the provincial capitol building here.
The President was roundly criticized for kissing an overseas Filipino worker (OFW) on the lips during a recent official visit to South Korea.
While Palace spokesperson Harry Roque downplayed the kiss was "just a playful act ... accepted as part of Filipino culture" and said the OFW consented to providing "entertainment" for the Filipino community during the event, it was widely seen as "inappropriate and a disrespect" to the Office of the President.
The "unequal power relations" between the Chief Executive and an OFW also made it an act of sexual harassment, netizens posted on social media.
The Davao City mayor said she was asked to join her father's South Korea trip but the plan for her to go "did not push through because they had a limited budget."
Next time, the mayor said, she'll spend her own money "[to] make sure [the President] could not kiss anyone."
Despite the flak over his controversial kiss with a married OFW in South Korea, President Duterte on Thursday again offered kisses to women who would have them.
"What about the kiss? Kiss ... If only there was a volunteer now," he told an amused crowd during the inauguration of the Mactan Cebu International Airport.
The President said he had kissed more than a thousand women on the lips during his campaigns, adding that he learned this style of politics from his late father, Vicente Duterte, who served as mayor of Danao, Cebu and later as governor of the then-undivided Davao province.
"I really embrace and kiss people," the President said. "Just don't be a pedophile. But the beautiful women, I really kiss them."
At the same event, the President denied speculations that he was in a relationship with Tourism Secretary Bernadette Romulo-Puyat, adding that he considers her a "good friend" and a "buddy."
"She is not [my girlfriend]," the President stressed.
This article appeared on the Philippine Daily Inquirer newspaper website, which is a member of Asia News Network and a media partner of The Jakarta Post
Join the discussions