Migrant CARE lambasts 'selling' of maids on Singaporean app
Dian Septiari

The Jakarta Post
Jakarta |

Sun, September 16, 2018

| 06:49 pm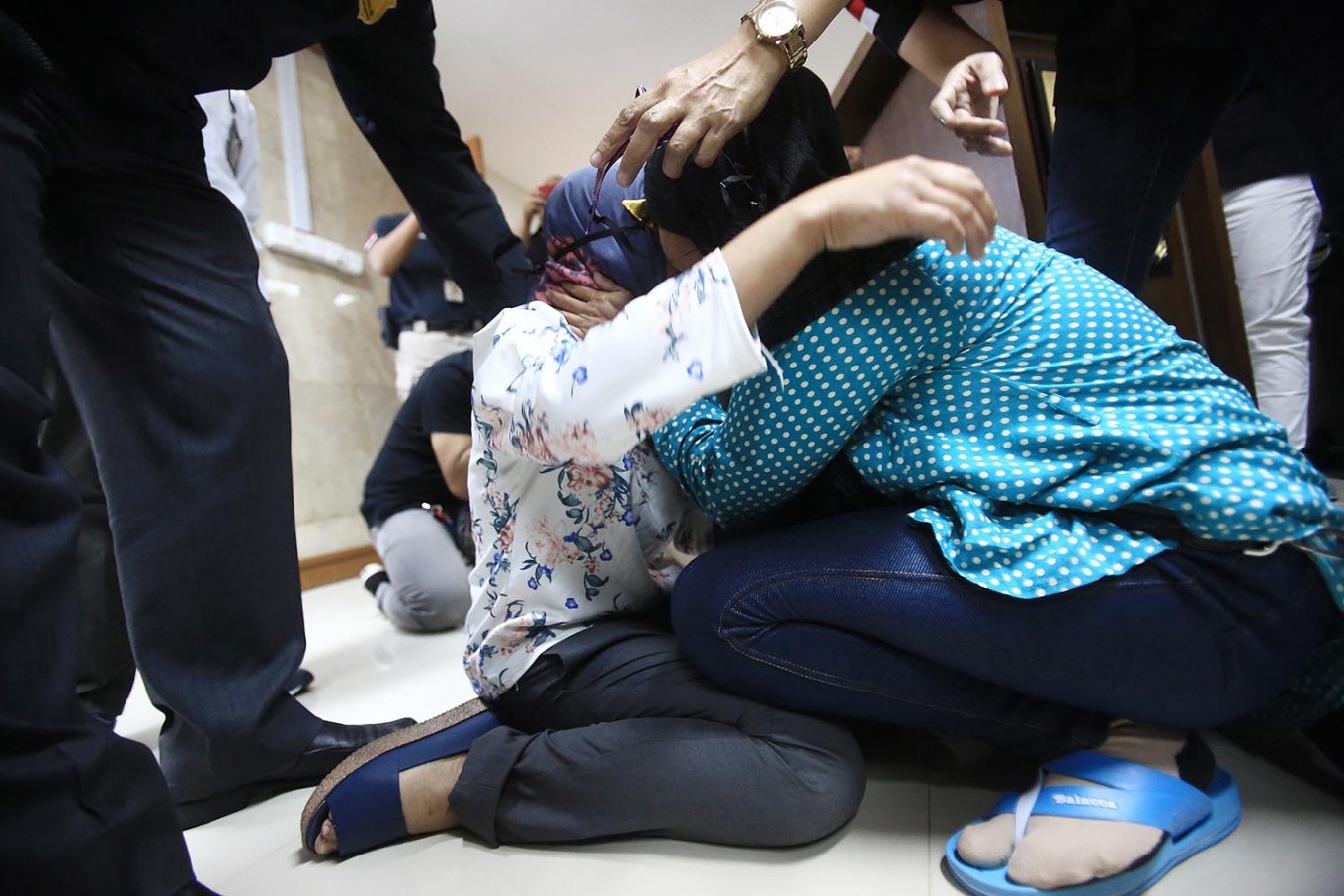 Entin Suntini (left), a victim of human trafficking, breaks down in tears in her mother's embrace after the two were reunited at the headquarters of the National Police's Criminal Investigations Division (Bareskrim) in Jakarta, on Sept. 13. Sixteen-year-old Entin was found in Selangor, Malaysia, after escaping mistreatment by her traffickers. (JP/Dhoni Setiawan)
The Migrant CARE advocacy group hit out at the recent discovery that Indonesian migrant workers were being put up for sale in advertisements found on Carousell, an online retail platform from Singapore.
Migrant CARE executive director Wahyu Susilo said on Sunday that he strongly condemned the exploitative practice of enslaving humans and demanded legal action against the perpetrators.
"There must be standards and a code of conduct in providing job openings and employment information for migrant domestic workers in accordance with human rights requirements," he said in a statement on Sunday.
In online listings placed by user @maid.recruitment, who joined Carousell on Aug. 15, the profiles of several domestic workers, allegedly from Indonesia, were being advertised, the Straits Times reported on Saturday. Some profiles even indicated that the workers had been "sold".
In spite of the public outrage that may ensue, Wahyu acknowledged that the practice of selling migrant workers like commodities was nothing new. For example, he said there had been many advertisements offering Indonesian maids "for sale" on the streets in Kuala Lumpur dating back to 2012.
"There was also a case in Singapore where migrant workers were offered and put on display in stores. This is certainly very unfair and demeaning to the dignity of Indonesian migrant domestic workers," he said.
The Foreign Ministry's overseas citizen protection director, Lalu Muhammad Iqbal, said on Sunday that the Indonesian Embassy in Singapore had expressed its concerns about the practice to Singapore's Ministry of Manpower (MOM).
"Tomorrow [Monday] on the first working day, the Indonesian Embassy will also send a diplomatic note to the Singapore Ministry of Foreign Affairs expressing concern that similar incidents have occurred several times in Singapore and will request a thorough investigation of such cases," he said.
According to its Facebook post on Friday, the MOM said it was investigating these cases and had arranged for these listings to be taken down.
A Carousell spokesman said such listings were not allowed on the marketplace, and that they violate its community guidelines. While it allows agencies to advertise services, personnel listings are not allowed, it said.
Join the discussions