Lawsuits against journalists beyond democratic norms: USDP
Min Min Soe

Eleven Media Group/ANN
Yangon |

Fri, October 12, 2018

| 05:54 pm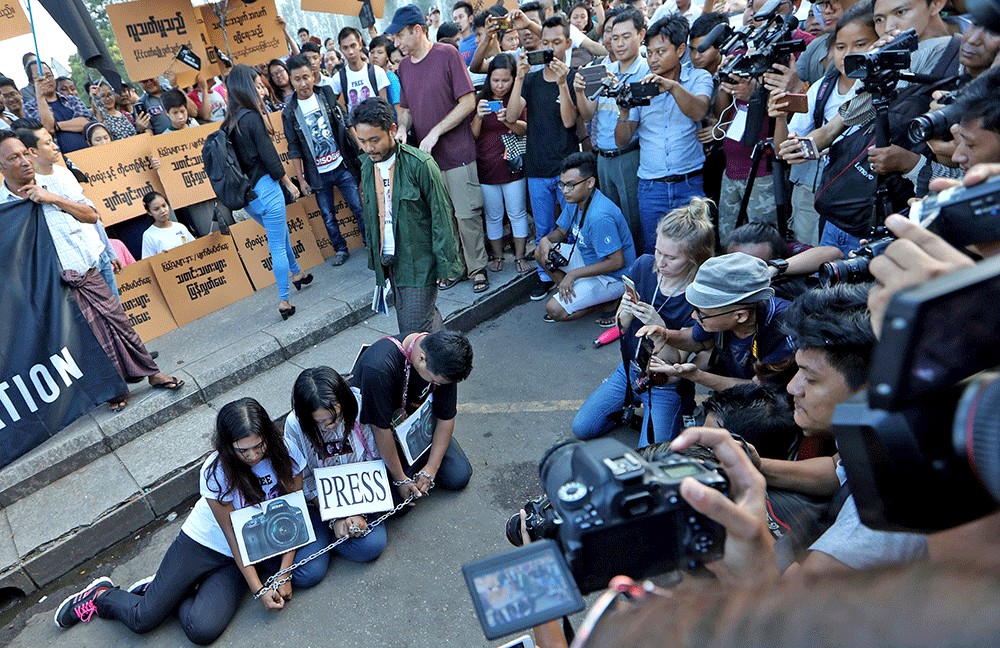 Solidarity: Myanmar press freedom advocates and youth activists hold a demonstration demanding the freedom of two imprisoned Reuters journalists, Wa Lone and Kyaw Soe Oo, in Yangon on Sunday. (Reuters/Ann Wang)
A spokesperson of the opposition Union Solidarity and Development Party (USDP) has told local media that arresting and suing journalists under Section 505 (b) of Myanmar's Penal Code for their news stories breach far beyond democratic standards.
The remark was made by USDP spokesperson Thein Tun Oo during a meeting with media organizations held at Mandalay Region Office of the USDP on Thursday.
"Under the constitution, every citizen has the right to freedom of speech and freedom of expression. In the case of Eleven Media Group, we were surprised and shocked that a lawsuit under Section 505 (b) was used against a news article that is written for the interest of the country and people.
"The case has become well known as it [Eleven] is a large and famous media. But there have also been other cases that few people know. Shwebo District chairman Soe Aye from our party discussed the ongoing Rakhine issue with organizers in the compound of his own home.
"He was charged with Section 505 (b) for casing alarm to the State and arrested on October 8. That case happened about three days before the arrests of three journalists from Eleven Media.
"In Kyaukphyu Township of Rakhine State, Myo Lwin was sued under Section 68 (a) for posting news about water pollution and deaths of mussels on Facebook. These cases happened earlier this month. If the situation goes on like this, I am concerned that democracy being practiced now might not be good in both in essence and form," said Thein Tun Oo.
The USDP spokesperson said the citizens have not enjoyed full rights stated by the constitution as there still exist such issues as lawsuits against journalists under Section 505 (b), weakening press freedom and no right to recall for parliamentarians.
Thein Tun Oo said that his party would issue a statement soon over the arrest of Shwebo District USDP chairman.
Topics :
This article appeared on the Eleven Media Group newspaper website, which is a member of Asia News Network and a media partner of The Jakarta Post
Join the discussions