Fog, pollution in northern China disrupt travel
Zheng Jinran & Qi Xin

China Daily/Asia News Network
|

Thu, January 5, 2017

| 03:22 pm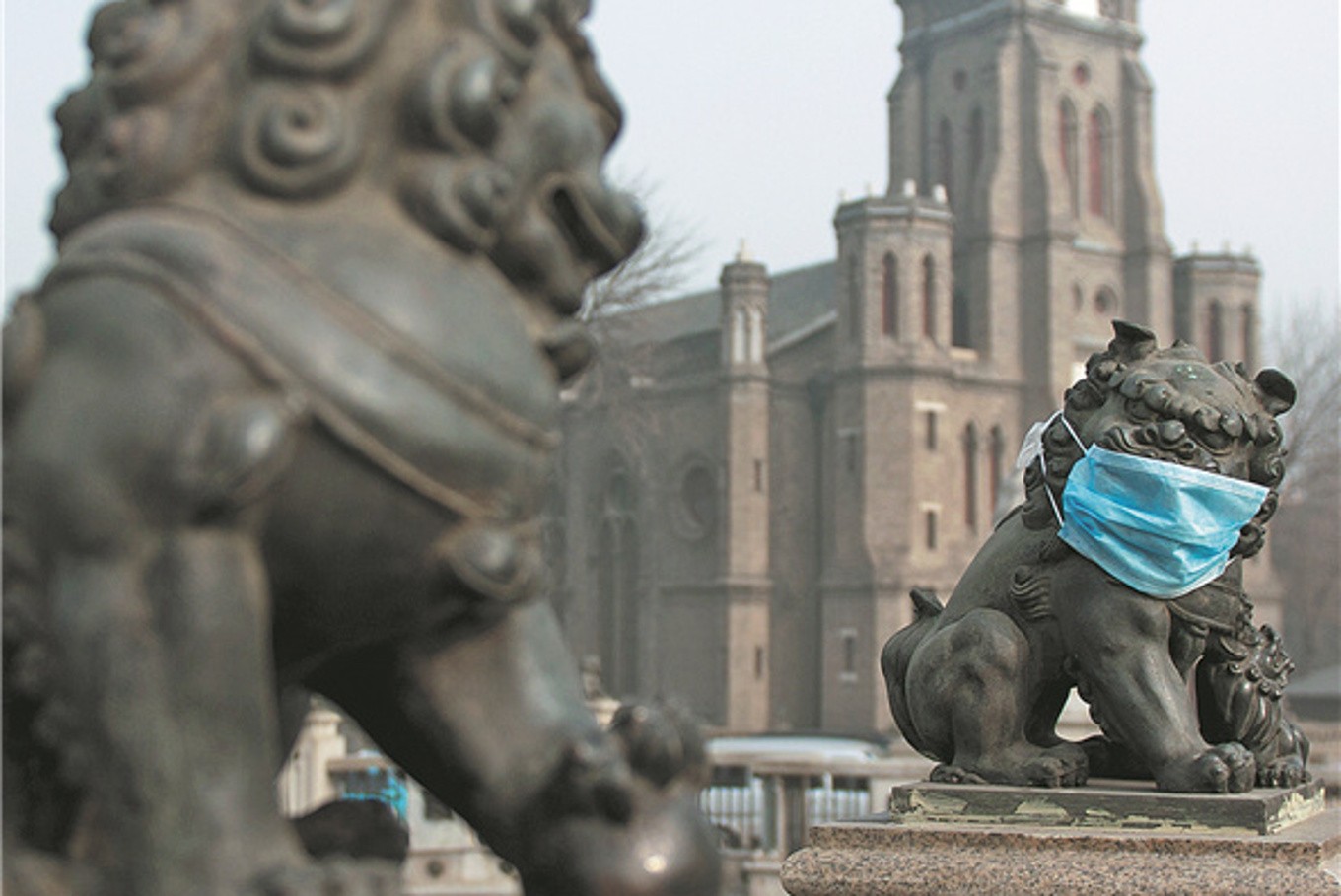 A stone lion on a bridge in Tianjin is covered with a mask in the heavy smog that has hit much of the country's northern regions. (China Daily/Tong Yu)
A combination of pollution and heavy fog affected countless road, rail and air passengers across northern China on Wednesday.
By 4:30 pm, 154 flights had been canceled at Tianjin Binhai International Airport, with another 120 delayed. A total of 450 flights were scheduled to arrive and depart during the day.
The city also closed all 20 freeways due to low visibility in the morning, although half were reopened at 2 pm, according to the local transportation commission.
At Shijiangzhuang Zhengding International Airport in Hebei province, 88 flights were canceled and 17 delayed as of noon on Wednesday.
All trans-provincial bus service from Beijing Capital International Airport was suspended.
Zhou Caixiang bought tickets to fly from Zhengzhou, capital of Henan province, to her home city of Shenzhen in Guangdong province, weeks ago. However, on Wednesday she abandoned the plan due to heavy smog. The 26-year-old instead bought seats on the bullet train.
"It is better to spend hours on a train than waiting anxiously at an airport," she said, adding that the journey takes two hours by air and seven hours by high-speed rail.
(Read also: Jember provides pioneering bus service to secluded destinations)
At least 32 cities have issued red alerts for air pollution, the highest emergency response in the four-tiered system, the Ministry of Environmental Protection said.
The lingering smog has made Beijing extend its orange alert, which started on Dec 30, until Saturday.
Along with the smog alerts, China also issued a red alert for fog on Tuesday, the first since the government revised the fog warning system in 2013.
On Wednesday, heavy fog had engulfed vast northern regions including Beijing, Tianjin and the provinces of Hebei, Henan and Shandong, reducing visibility to 50 meters, said Gui Hailin, senior engineer of the China Meteorological Administration.
The fog covered an area as large as 150,000 square kilometers, severely disrupting traffic, he said.
The fog was forecast to lift in some parts on Wednesday night, thanks to wind, which will also ease the heavy air pollution, he said, adding that the affected areas are forecast to have clean air beginning on Sunday night.
This article appeared on the China Daily newspaper website, which is a member of Asia News Network and a media partner of The Jakarta Post
You might also like :
Comments