Reflections from a pilgrimage in Europe
Jakarta |

Tue, June 20, 2017

| 01:15 pm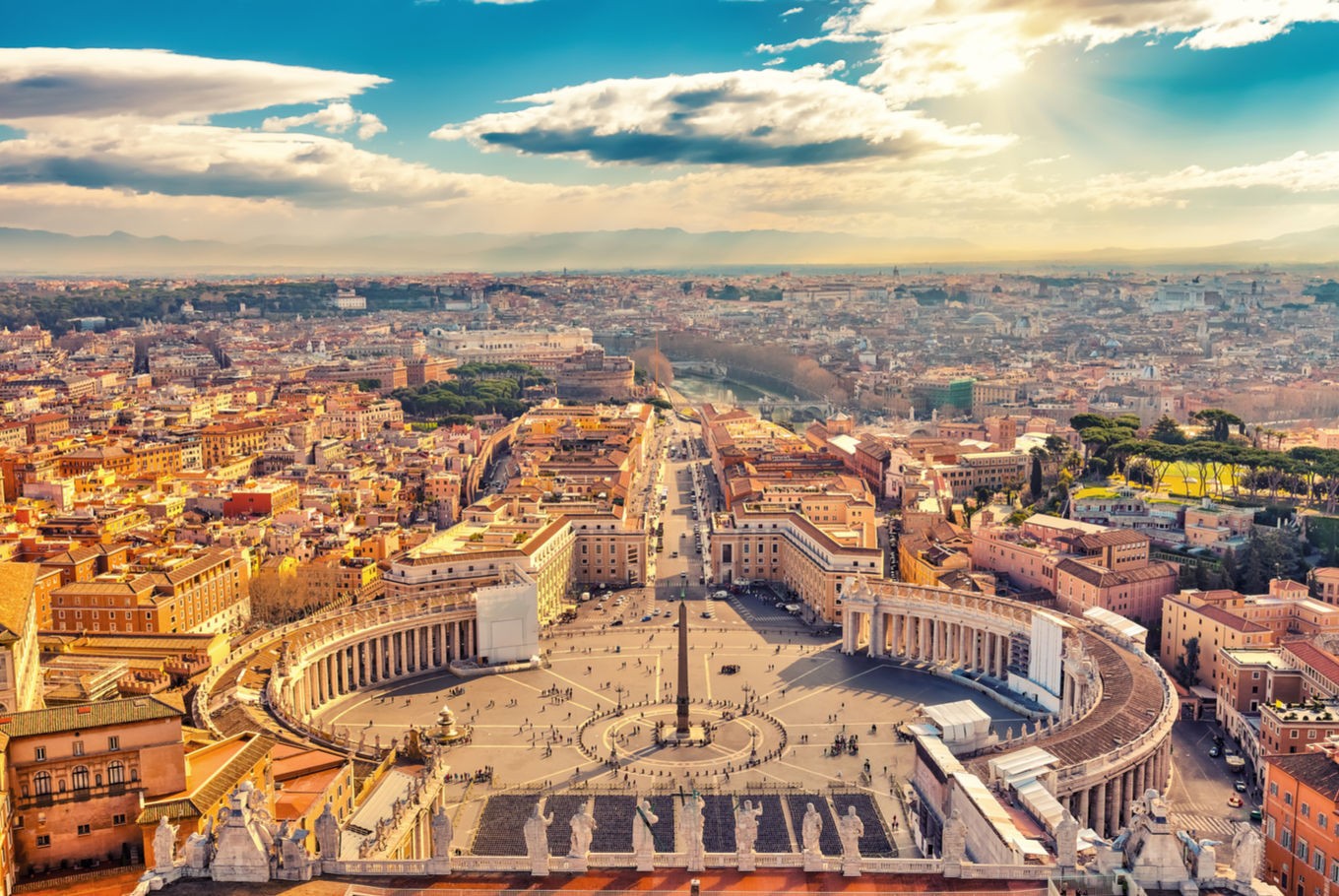 Saint Peter's Square in Vatican City and an aerial view of Rome. (Shutterstock/File)
I followed my parents on a Catholic pilgrimage in May across southern Europe, from the town of Fatima in Portugal to the Eternal City of Rome.
I've become skeptical of the Catholic faith and I disagree with its views on women and sexuality, but I hold onto the religion since I consider it to be the most liberal of all Christian churches in Indonesia. I joined the tour since I've never gone to Europe before and I believed I would get something out of this pilgrimage.
To my surprise, the flight across the Indian Ocean and the Mediterranean Sea was manageable and even a little bit fun, thanks to videos on demand. I toured Madrid 24 hours after got trapped in hellish traffic jams outside Bekasi and inside Jakarta, hoping that my English was understandable for Spanish youths serving in the cafés and pharmacy. Only a few days later I was confident enough to complete a transaction in Spanish.
If I could have chosen, my first European trip would have been to the cold and well-run northern countries, but Catholic Europe is southern Europe and my parents didn't sign up for a tour to Austria or Belgium. Ironically, as someone from Southeast Asia (stereotyped as a seedy and dangerous place by Europeans), I was afraid of European pickpockets, scammers and muggers. We bought concealed bags to secure our passports, cash and credit cards; we stayed in a group and watched each other's backs -- we who were okay with walking casually in Jakarta and Bali.
Read also: How to avoid sexual harassment when traveling solo
Madrid seemed to have recovered from the euro debt crisis, but I suppose Lisbon and Rome have not. There were so many abandoned buildings in both cities littered with graffiti (not the Melbournian artful kind) and trash.
It was in Lisbon, however, that I found hospitality among the waiters and patrons of a pasta shop, amid my frustration with other Indonesians from the tour group.
I experienced the much-reported generational conflict between baby boomers and millennials on the tour bus. Christian boomers distrust Muslims, even as they might have Muslim co-workers, neighbors and business partners. They believe former Jakarta governor Basuki "Ahok" Tjahaja Purnama deserves to be jailed for disturbing the harmony. They are very nationalistic and dislike East Timorese, who are ironically fellow Catholics, and even fellow ethnic Chinese. Of course, there could be Indonesian millennials who think like them.
France was the favorite part of my tour, specifically the town of Lourdes. On first impression, it was a very religious town with every store selling statues of Mary and rosary beads, besides cold drinks and deodorant, but in the proper downtown away from the sanctuary where Mary was supposed to have appeared to St. Bernadette it was a delightful town and to my surprise no tourists went there, not even the loud Americans who made their presence well-known with flags and banners. Perhaps the victory of Emmanuel Macron helped improve the mood. It was great to be able to enjoy political talk shows and political news again, after more than a year.
Read also: How to have your best-ever trip to Europe this summer
In Nice, my tour group felt unsettled by the sight of African and Arabian residents. I felt more uncomfortable with the abundance of young men loitering on the streets at night – a pack of white Frenchmen walking around a square is certainly more alarming than an Algerian family driving home.
Asian tourists keep having the false impression that Europe was a beautiful place before the Muslims and the Africans arrived. They can't accept Senegalese French as French and Turkish Germans as Germans. Even more ironically, people struggling to be accepted in their own country, like Chinese-Indonesians, often loudly air their dislike for non-white Europeans. Of course, no one commented on the quantity of Chinese and other East Asian people in cities we visited.
Before the pilgrimage, I had mixed feelings over Italy. It was one of my favorite countries because of the Renaissance and the Roman Empire. Italian food is still my favorite food, with its mixture of garlic, tomato, herbs and wheat. Italy might not have experienced a crippling debt crisis a decade ago compared to Spain or Portugal, but it has been blighted by decades of corruption, mismanagement and inequality.
The members of my tour group let out their casual racism out again with the appearance of African and South Asian hustlers from Tuscany to Rome. Meanwhile, I tried to draw a diagram of how they got into Italy. Are the Africans related by clans? Were the South Asians Tamil refugees from Sri Lanka, or economic migrants from Bangladesh? Do they support each other, or are they enslaved by organized crime? Where did they live before reaching Italy and did they try to make a life elsewhere, like in Libya or the Gulf states?
I wished I could fall in love with Rome, but I could not. I felt pity for the children begging in train stations, I lost the interest for admiring the legacies of the Renaissance and I felt suffocated by the number of tourists crowding the world-famous landmarks like the Trevi Fountain and St. Peter's Square.
I returned to the reality of life in Indonesia on my way home: Indonesian passengers who refused to queue and overwhelmed the staff of Dubai International Airport, arrogant academics who were being rude to the stewardesses and other Indonesian passengers and, finally, litter piled in front of convenience stores along the rest areas of the Cipularang toll road.
I got so many things out of this pilgrimage. Europe is not a perfect place, but it's a good place. Motorists respect pedestrians. People look after each other. Religion still forms traditions and identity, but does not define the nation and its people.
As for me, the revelation I got from the pilgrimage is that we don't need to become a religious person. We only need to become a good person. (kes)
---------------
Interested in writing for thejakartapost.com? We are looking for information and opinions from experts in a variety of fields or others with appropriate writing skills. The content must be original on the following topics: lifestyle ( beauty, fashion, food ), entertainment, science & technology, health, parenting, social media, travel, and sports. Send your piece to [email protected] For more information click here.
Disclaimer: The opinions expressed in this article are those of the author and do not reflect the official stance of The Jakarta Post.
Topics :
Join the discussions