Jakpost guide to Jl. Surabaya
Liza Yosephine

The Jakarta Post
Jakarta |

Sat, July 15, 2017

| 10:09 am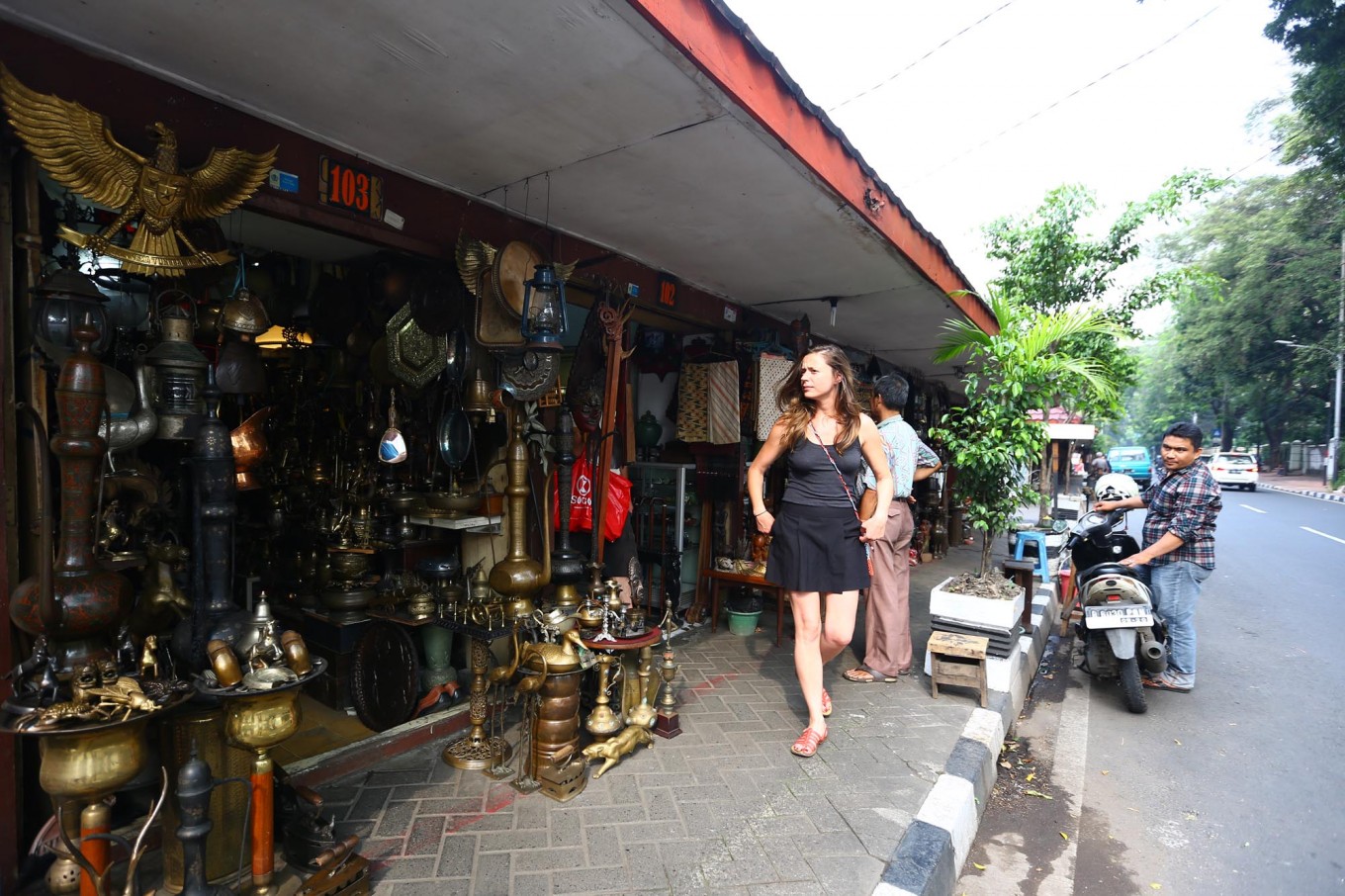 Jl. Surabaya in Menteng, Central Jakarta is home to the antique and luggage market, a magnet for locals and visitors in search of unique items. (JP/Wienda Parwitasari)
Tucked away in the middle of Indonesia's bustling modern capital, Jl. Surabaya in Menteng, Central Jakarta, is a haven for treasure hunters looking for a token of the past.
The area is aptly named "Pasar Antik dan Koper," which literally translates to "Antiques and Luggage Market."
Spanning just around 450 meters from end-to-end, the street hosts a flea market all along one side with shops selling a range of unique items like old china dishes, keris (traditional daggers), wood carvings, vinyl records, as well as luggage.
Read also: Jakpost guide to Kota Tua
Getting there
Traveling by train is one of the easiest and cheapest way to get to Jl. Surayaba, with the Cikini Station located just a 5-minute walk away. Train ticket fares depend on the distance from the commuter's origin station, although the standard fare is Rp 3,000 (less than 50 cents).
Another public transportation option is the Metro Mini, with minibus number 17 on route Senen-Manggarai passing along the street.
Otherwise, it is also convenient to take a taxi or use ride-hailing apps, such as Go-Jek, Grab or Uber, to visit the street.
What to wear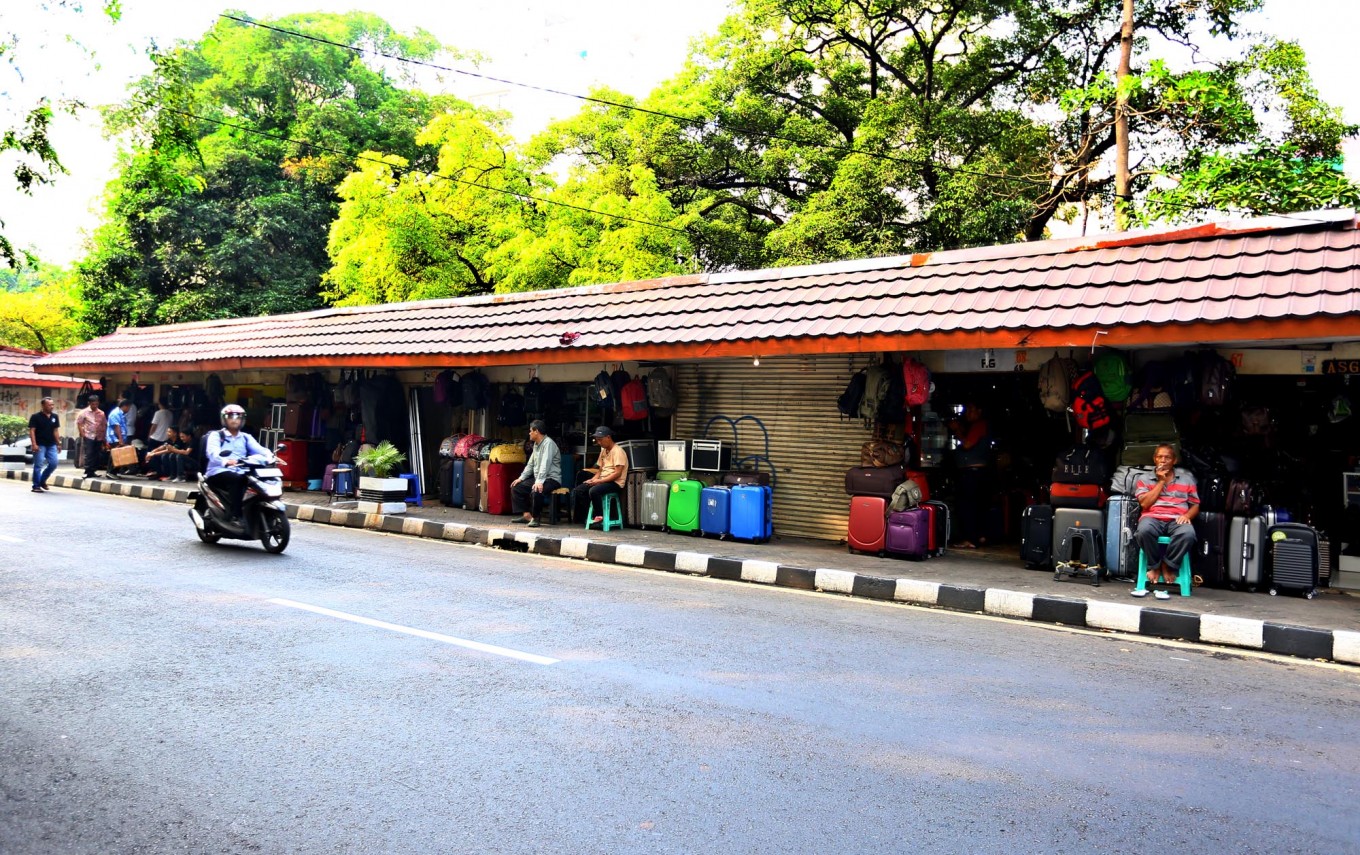 Stores selling luggage on Jl. Surabaya.(JP/Wienda Parwitasari)
You should brace yourself for the heat when visiting on a sunny day, especially as all the stores are outdoor-style stalls that are entirely open and facing the street. Protect yourself from the sun with a hat and sunscreen.
It is recommended to wear casual clothes and comfortable shoes since you would need to walk on the sidewalk to get from store to store. It would also be useful to carry an umbrella, just in case it rains.
Given the atmosphere however, feel free to dress up in vintage clothing as the line of antique stores with their contents spilling out onto the sidewalk makes for a picturesque background for photos to share online.
Read also: Jakpost guide to Jl. Cipete Raya
Where to shop
The street is divided into two sections, with one half filled with shops selling antiques and the other half selling luggage.
Established in the 1960s, the market used to sell a range of secondhand items, including clothing and homeware. But in 1971, then Jakarta Governor Ali Sadikin changed the focus of the market to antiques, including china, lamps, as well as historical trinkets like old compasses and ship wheels.
Today, the collection continues to expand, and visitors can dig for treasure to find anything from valuable genuine antiques to old dusty collections intended just for cheap decor.
Chinese porcelain vases are in abundance, although at a hefty price tag. A single medium-sized vase sells for approximately Rp 3,5 million. But as they usually come in pairs, be ready to fork out around Rp 5 million for a set.
Not all antiques are genuine, however, so be sure to know what you're looking at.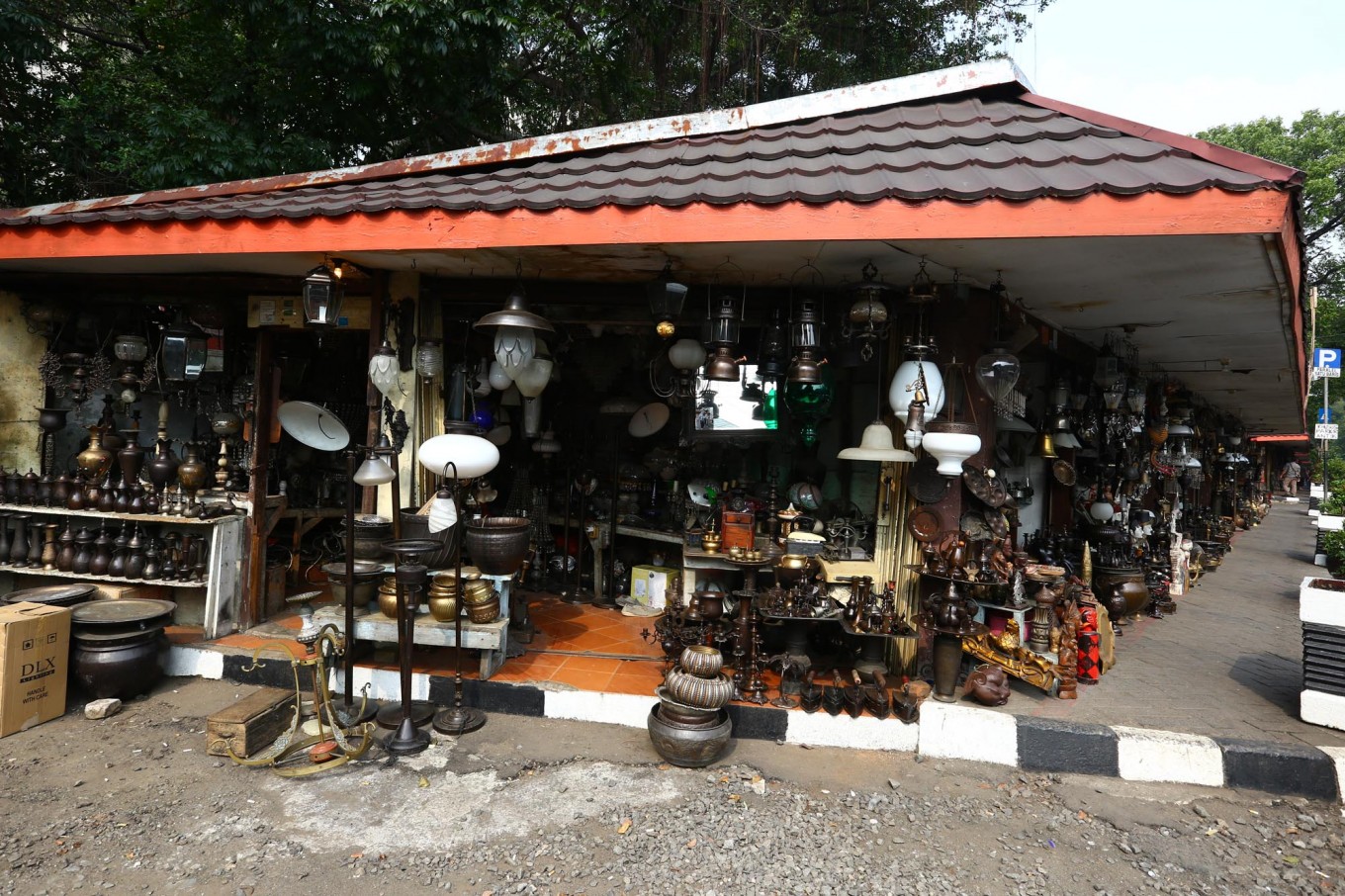 Antiques sold at the flea market in Jl. Surabaya.(JP/Wienda Parwitasari)
Strolling along the market could also inspire home or office interior decorations, with wood carvings, paintings, old chandeliers, as well as bronze dishes filling the stores.
Prices range from a pair of small bronze dishes that cost around Rp 600,000 to a large wall display of a Mahabrata teak wood carving that would set you back about Rp 25 million.
There are also old cameras, with a collection spanning from the early 1900's. A large vintage 1900's camera, said to be sourced from The Netherlands, complete with a tripod, although not functional, costs approximately Rp 15 million.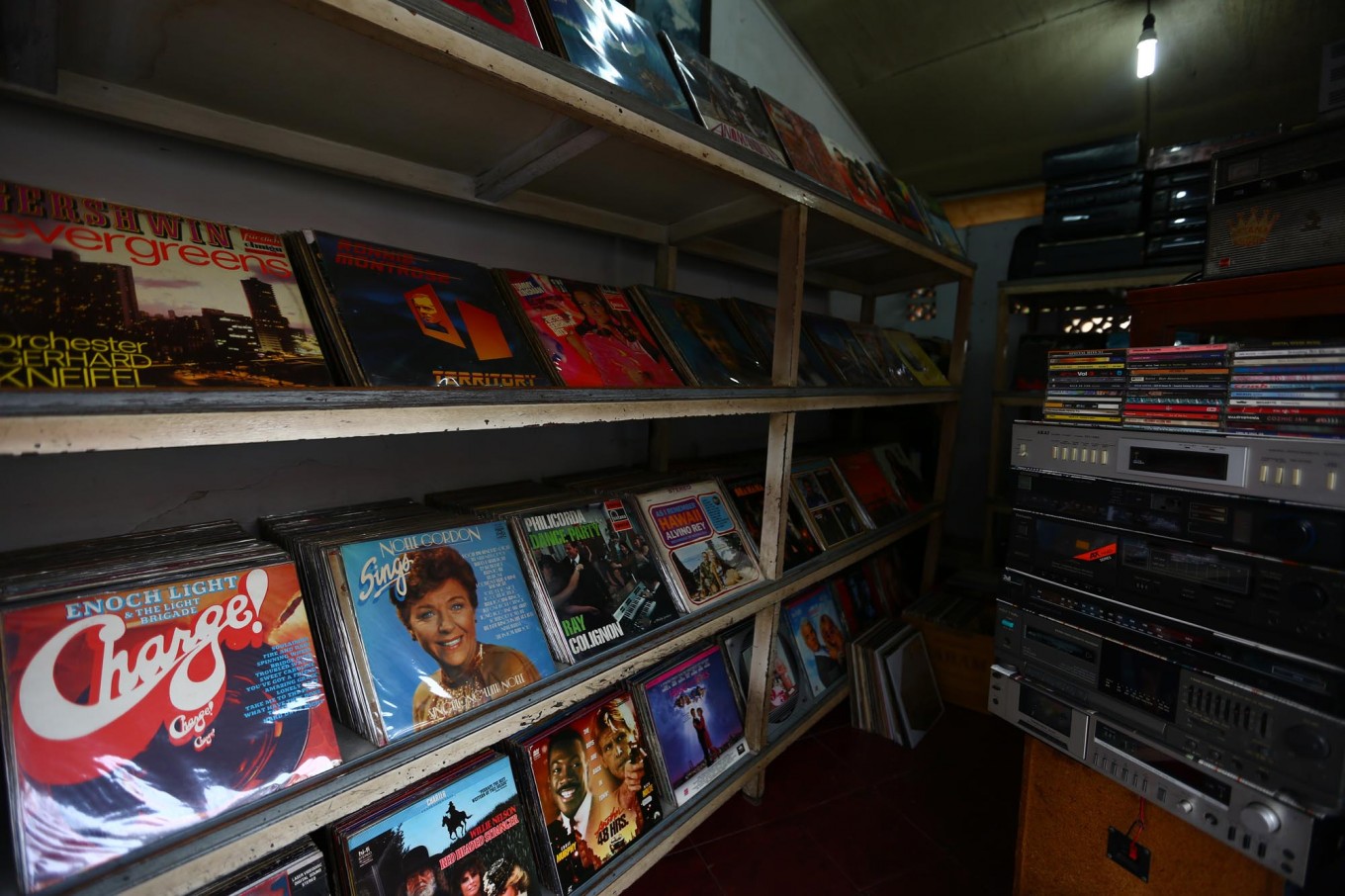 The flea market on Jl. Surayaba also sells a collection of vinyls and old record players. (JP/Wienda Parwitasari)
Vintage vinyls and record players are also available, with some stores also providing services to repair old record players, depending on the extent of the damage. Old albums with covers could cost around Rp 250,000, while a record player is set around Rp 2,7 million.
Despite the prices however, some vendors are open to negotiate, so don't be afraid to bargain.
The second half of the street is filled with stores selling luggage, bags, wallets and other small items, with some new, while others are secondhand. Here, you can find competitively priced luggage, such as new carry-on-sized luggage priced around Rp 500,000, or outdoor backpacks for Rp 700,000.
Read also: Jakpost guide to Pasar Mayestik
What to eat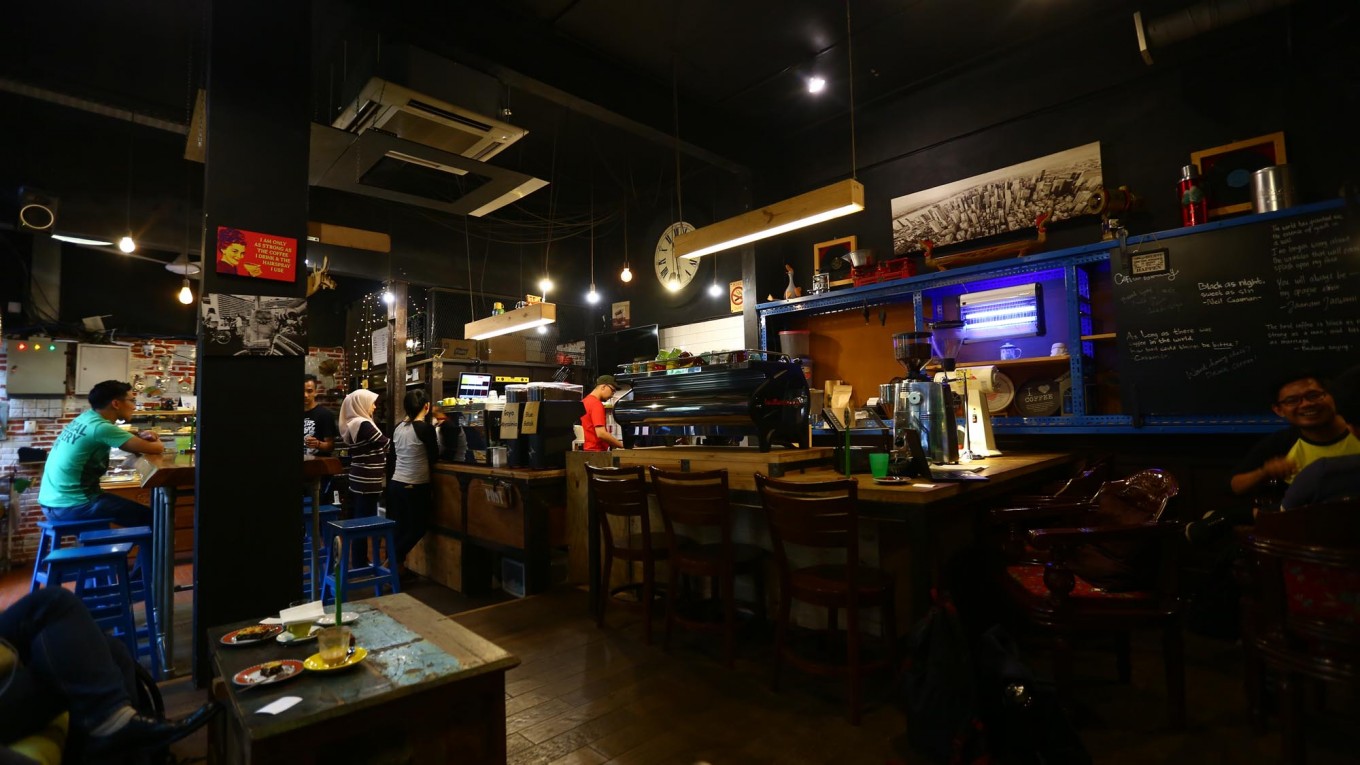 The interior of Giyanti Coffee Roastery, a local coffee shop on Jl. Surabaya.(JP/Wienda Parwitasari)
There aren't many eateries along the street, although the Giyanti Coffee Roastery is worth a visit for a drink and a bite. Its eclectic interior makes for a cozy atmosphere, as the space is uniquely divided into interconnected sections between its indoor and outdoor spaces.
Mismatched furniture, along with colorful decor and quirky quotes scattered around the coffee shop makes for a cheerful ambiance.
Giyanti prides itself on serving local coffee beans, and are engaged throughout the process from farm to cup. An iced latte with Blue Batak coffee beans from North Sumatra gives a satisfying and smooth caffeine fix, priced at Rp 47,000. A hot cup of coffee ranges from Rp 38,000 for an espresso to Rp 46,000 for a cappuccino.
The cafe also serves sweet and savory pastries worth a taste, such as chicken pie, lamington and bolu pandan (pandan cake). Their signature carrot cake, priced at Rp 46,000, is one of the most popular choices.
The cafe is opened every Tuesday to Saturday from 9:30 a.m. until 5:30 p.m. Popular among locals, the place gets quite crowded during the weekends.
Read also: Five coffee shops to spend the rainy season in
Where to stay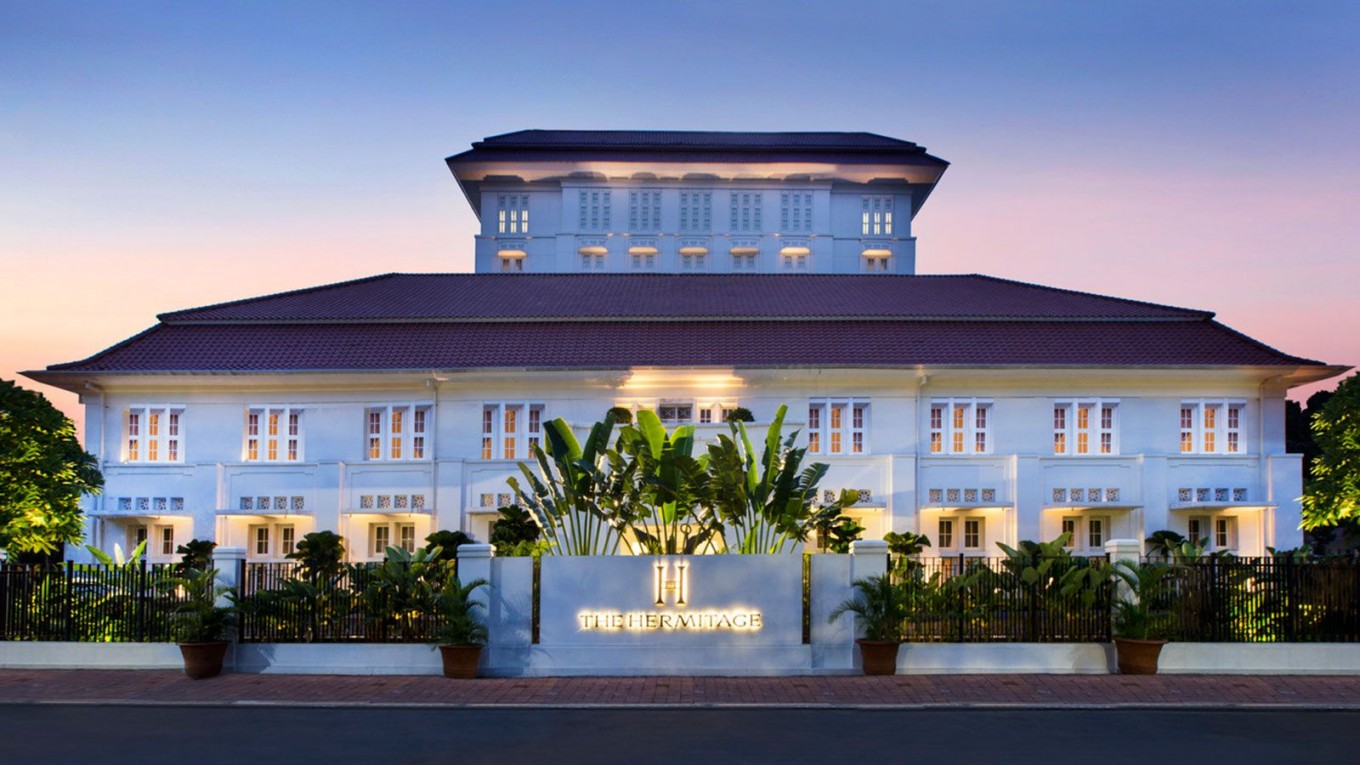 The Hermitage, a 5-star hotel located in Menteng, Central Jakarta. (Courtesy of www.hermitagejakarta.com/File)
Although not located on Jl. Surabaya, The Hermitage, a 5-star hotel around the corner on Jl. Cilacap is a good choice for those looking for nearby accommodation. With a strategic location in the prestigious Menteng neighborhood, the art deco style hotel rates start from Rp 1,462,050 per night, according to its official website (http://www.hermitagejakarta.com/).
Tips
- Stores begin to close at 5 p.m., so make sure to calculate enough time if you want to explore the entire street.
- Don't be afraid to bargain and seek assistance on the authenticity of the item from store owners, as they are quite open for discussion.
- Some stores also provide reparation services for similar items sold in their store, for example, chandeliers and vintage vinyl record players.
- It is also suggested to bring a bottle of water as the weather can get quite hot and there aren't many nearby vendors. (kes)
Topics :
Join the discussions