Tour de Flores 2017 first-stage winners announced
News Desk

The Jakarta Post
Jakarta |

Sat, July 15, 2017

| 01:07 pm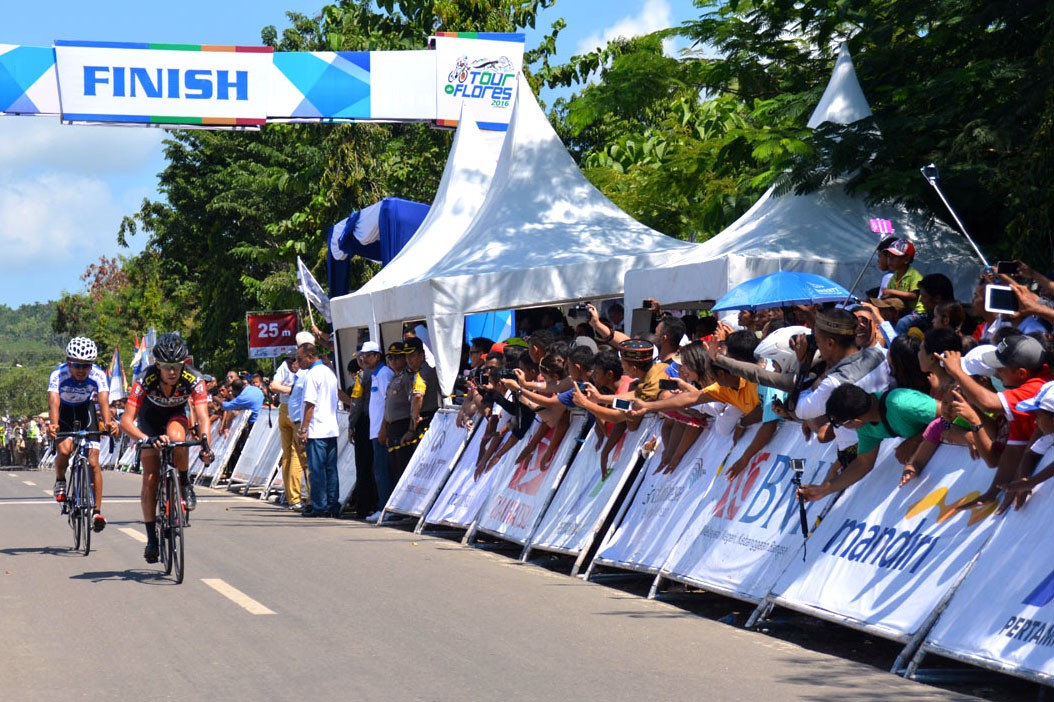 The racers entering the last stage of Tour de Flores from ruteng ton Labuan Bajo on Monday 23 May. The Jakarta Post/Markus Makur (The Jakarta Post/Markus Makur)
The first leg of Tour de Flores (Tdf) 2017 was won by Australian cyclist, Drew Morey, of Terengganu Cycling Team from Malaysia. Morey who wore the number 94 shirt finished the 136.3-kilometer track in 3 hours 28 minutes and 2 seconds.
The second position was awarded to Indonesian cyclist Jamal Hibatullah of KFC Cycling Team who reached the finish line only two seconds after Morey. In the third spot, Japanese cyclist Genki Yamamoto of Kinan Cycling Team reached the finish line 10 seconds after Drew Morey.
Hibatullah, however, also earned three other awards: Best Indonesian Rider, Best Asian Rider and Best ASEAN Rider. The Best Climber award, given to the cyclist who earned the highest point at King of Mountain, was given to Wu Chih Hao of Action Cycling Team.
The Best Sprinter was Hyeongmin Choe of Geumsan Insam Cello, while the Best Team award went to the KFC Cycling Team.
The second stage of TdF 2017 will start on July 15 at 09:00 a.m., cyclists will cycle through the Maumere – Ende route for 142.8 kilometers with 7.7 kilometers ceremonial route.
Read also: East Nusa Tenggara to lure tourists with whale
Sikka deputy regent, Paolus Nong Susar, was delighted that his region was part of TdF 2017. According to him, including Maumere will help introduce the region to the world.
"We have the beautiful Maumere Bay that needs to be known by the entire world. The people of Sikka are very proud to be included in this event. We're going to show our friendliness to all visitors," Susar said.
Maumere Bay consists of 19 islands that house variety of fish and coral reefs. There's also Maumere Bay Ocean Park that is a favorite among photographers. The place is nominated in the most popular diving spot category at the Anugerah Pesona Indonesia (API) tourism award.
Those who want to dive at Maumere Bay can pay for a diving service at Koja Doi Island, the price range starts from Rp 500,000 ($50) to Rp 4,000,000. (asw)
First-stage winners of Tour de Flores 2017 are as follows:
The top 10:
1. ( 94 ) Drew Morey – Terengganu Cycling Team 3:28:02
2. ( 81 ) Jamal Hibatullah – KFC Cycling Team +00:02
3. ( 145 ) Genki Yamamoto – Kinan Cycling Team +00:10
4. ( 111 ) Sanghong Park – LX Cycling Team +00:10
5. ( 95 ) Hyosuk Gong – Terengganu Cycling Team +00:10
6. ( 121 ) Arvin Moazamigodarzi – Pishgaman Cycling +00:10
7. ( 85 ) Muhammad Abdurrohman – KFC Cycling Team +00:29
8. ( 32 ) Nick Miller – Futuro Pro Cycling Team +00:44
9. ( 84 ) Muhammad Imam Arifin – KFC Cycling Team +01:11
10. ( 122 ) Amir Kolahdouzhagi – Pishgaman Cycling Team +01:11
Top 10 in General Classifications
1. ( 94 ) Drew Morey – Terengganu Cycling Team 3:27:52
2. ( 81 ) Jamal Hibatullah – KFC Cycling Team +00:06
3. ( 145 ) Genki Yamamoto – Kinan Cycling Team +00:16
4. ( 111 ) Sanghong Park – LX Cycling Team +00:20
5. ( 95 ) Hyosuk Gong – Terengganu Cycling Team +00:20
6. ( 121 ) Arvin Moazamigodarzi – Pishgaman Cycling +00:20
7. ( 85 ) Muhammad Abdurrohman – KFC Cycling Team +00:36
8. ( 32 ) Nick Miller – Futuro Pro Cycling Team +00:54
9. ( 71 ) Choe Hyeongmin – Geumsan Insam Cello +01:15
10. ( 122 ) Muhammad Imam Arifin – KFC Cycling Team +01:21
Topics :

Join the discussions