Banten boasts abundant tourist attractions
Jakarta |

Tue, September 12, 2017

| 03:02 pm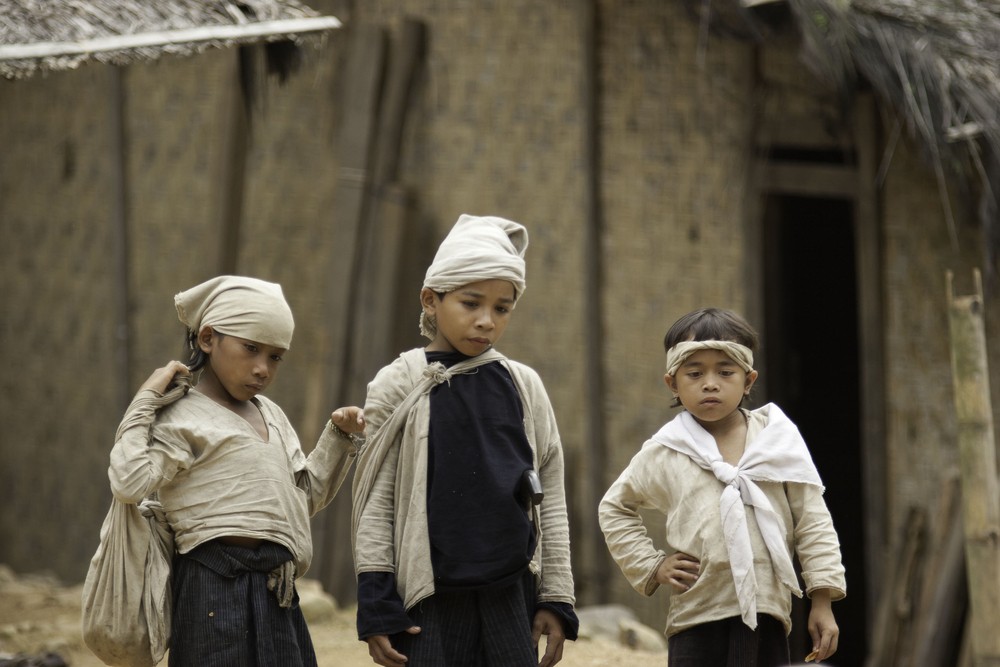 Three friends from Baduy Dalam tribe visiting a village in Baduy Luar territory in Kendeng mountains, Banten, on Sept. 3, 2005. (Shutterstock.com/Anges van der Logt )
The Tourism Ministry together with Banten Tourism Agency and the Association of Indonesian Tours and Travel Agencies (Asita) in Banten recently conducted an "Banten 7 Wonders Marketing Strategy Workshop and Famtrip" on Sept. 6-7 at Jayakarta Hotel, Anyer, Banten.
The event was joined by the region's tourism stakeholders with an aim to work together in promoting tour packages to tourist destinations in Banten.
The province seeks to increase its tourist visit by 100 percent this year by conducting partnerships with local and foreign tourism companies.
The first day of the workshop was joined by 126 people, whom all took part in several interactive activities such as a competition for the most interesting tour package.
The next day, participants were brought to visit several tourist sites in Banten.
The strength of Banten tourism lies in culture and religion. Its Tanjung Kelayang, for instance, has been named Special Economic Zone (KEK) and listed in the ministry's 10 Priority Destinations.
The province is also home to beautiful beaches, Ujung Kulon National Park, Sangiang Island nature park and Banten 7 Wonders consisting of Old Banten, Ujung Kulon National Park, Sangiang Island, Baduy Tribe, Umang Island, Mount Krakatau and Rawadano.
Read also: What to know about the Seven Wonders of Banten
Located in Kasemen district, the Old Banten historic site boasts ruins of Banten Muslim Monarchy from the 16th century. At this destination, visitors can opt to explore Banten Lamayang Archeological Museum, Surosowan Palace, Grand Mosque, Speelwijk Fort, Avalokitesvara Buddhist Temple, Kaibon Castle and Krangantu Harbor.
The presence of Baduy and Cisusang tribes also serve as an interesting tourist attraction. The Baduy people live on a 5,101 hectares of land located in Kanekes Village, Leuwidamar, 38 kilometers from Rangkasbitung. It has its own ruling system headed by three people named Puun Cikeusik, Cikertawarna and Cibeo.
Banten is also home to Mount Krakatau, mostly famous for its 1883 eruption, one of the biggest ones in the world. Legend has it the explosion sound reached up to 4,500 kilometers radius and heard by 1/8 of the Earth population.
Next destination is Umang Island located close to Tanjung Lesung. This place has white-sand beaches, calm waves and clear blue water.
Last stop is Rawadano located in Luwuk village and is part of Mount Sari. This lesser known place is where the Banten people hop on a boat to travel.
When it comes to accessibility, Tourism Minister Arief Yahya urged for the construction of 83 km Serang – Panimbang toll road to finish as soon as possible, "We can't sell Tanjung Lesung if the travel duration is still five hours from Jakarta. Moreover, there should be a railroad reactivation from Labuan to Panimbang," told Arief.
He also suggested Banten to have its own airport in Pandeglang. (kes)
Topics :

Join the discussions