Tourism Minister oversees Wonderful Indonesia promotion in London
Jakarta |

Tue, November 7, 2017

| 02:06 pm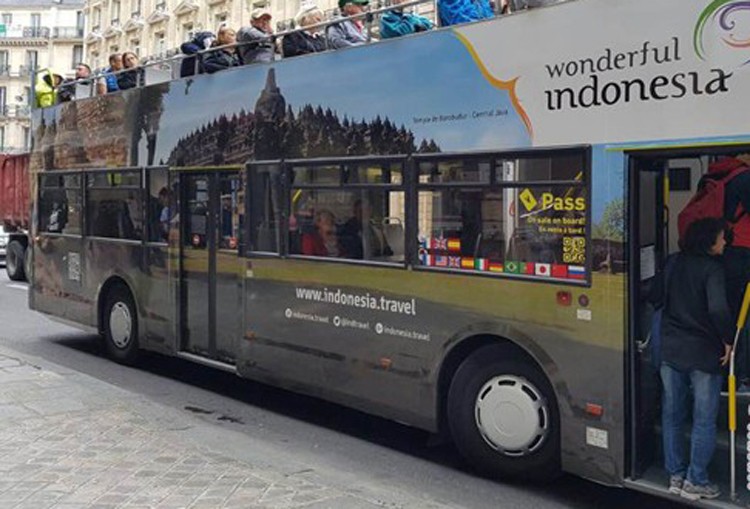 Indonesia's Wonderful Indonesia's tourism banding is promoted on the city bus in London. (Antara/Zeynita Gibbons)
Tourism Minister Arief Yahya was among the participants of CNN Cocktail Dinner at the World Travel Market (WTM) London on Nov. 5 at Heron Tower in London.
The event was held one day before the 37th World Travel Market London that runs from Nov. 6 to 8.
At the dinner gathering, the minister was seated next to the United Nations World Tourism Organization (UNWTO) secretary general Taleb Rifai and CNN news anchor Richard Quest.
Arief was then asked to give a farewell note for Taleb whose term of office will end this year.
"Of course I said thank you to Taleb Rifai for his policies in developing the tourism industry in the world," told Arief.
Arief also thanked the secretary general for developing tourism through the support of several studies.
Early in the afternoon, Arief went to visit the new Indonesian Embassy office in London while also checking up on the ministry's promotional activities in London.
Read also: National Gallery Singapore annual conference to feature Indonesian speaker
Throughout the months of October until November, the Wonderful Indonesia campaigns are being put on three billboards in London. Up to 180 units of black cabs have also been painted with Wonderful Indonesia campaign since Oct. 16.
For the World Travel Mart London 2017, Indonesia is bringing 50 industry players to sell popular destinations and attractions such as Borobudur Temple, Bali, Komodo, Lake Toba and Raja Ampat to visitors.
The Indonesia's booth located at the AS900 Hall ExCel London building has been transformed into a replica of the traditional phinisi boat.
According to the ministry data, United Kingdom contributes the highest number of European travelers to Indonesia. (kes)

Join the discussions