Eight places to visit in Surakarta
News Desk

The Jakarta Post
Jakarta |

Mon, December 25, 2017

| 08:06 am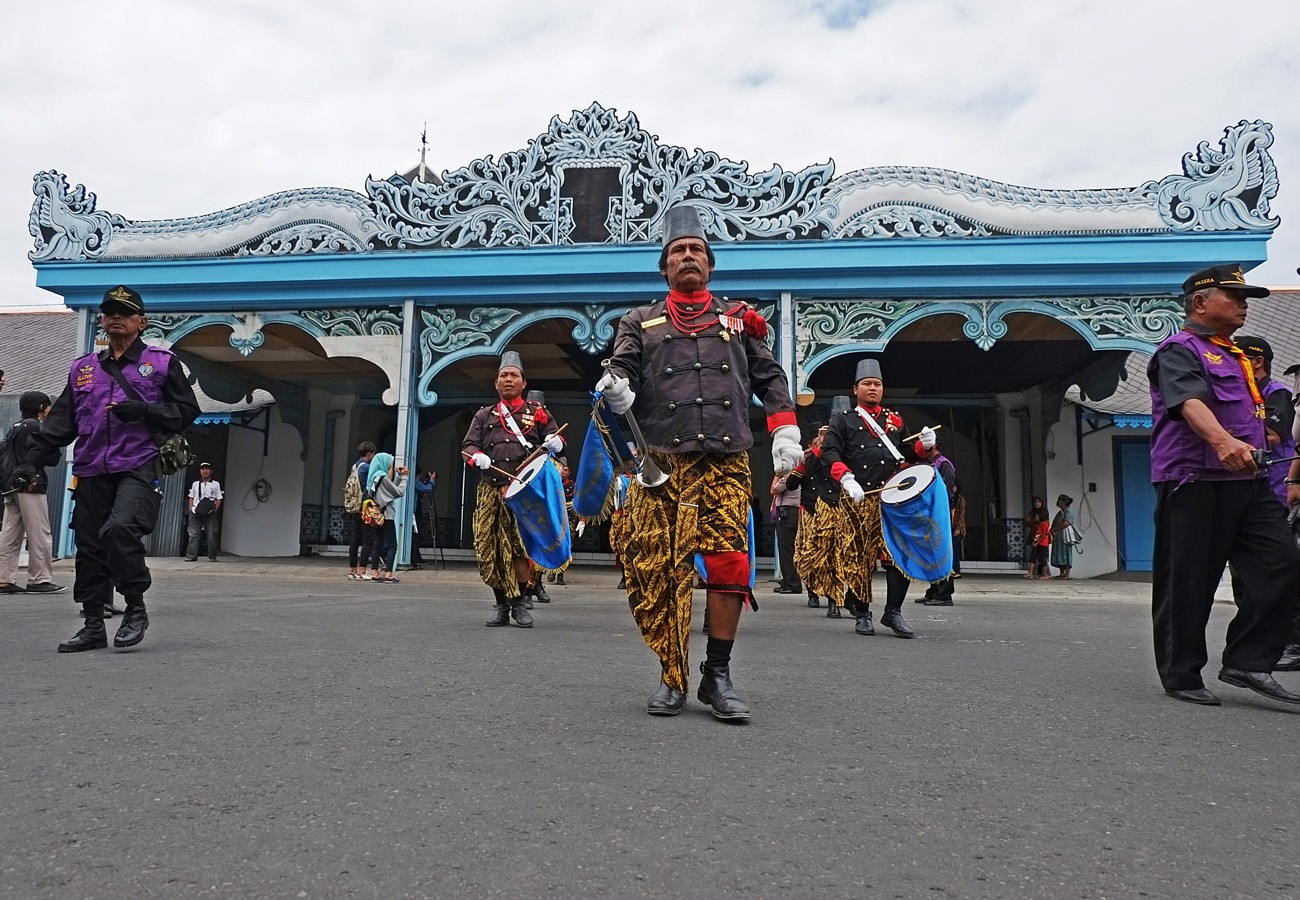 Royal soldiers walk in front of the Kamandungan gate of the Surakarta Palace during a royal ceremony. (The Jakarta Post/Ganug Nugroho Adi)
The Central Java city of Surakarta, commonly known as Solo, is famous for its traditional cuisine, arts and culture, as well as batik.
In recent years, it has received greater attention as the birthplace of President Joko "Jokowi" Widodo, as well as the location of his daughter Kahiyang Ayu's wedding.
If you're planning to visit Surakarta, make sure to check out these eight unique sights, as suggested by tempo.co.
Grojogan Sewu Waterfall
Located some 37 kilometers south of Surakarta, Grojongan Sewu Waterfall in Tawangmangu district, Karanganyar regency, is one of the area's most well-known tourist destinations.
Grojongan Sewu is located west of Mount Lawu. Visitors can also stop by Cemara Sewu, which is the starting point to climb the mountain, and continue their journey eastward ,all the way to Sarangan in Magetan regency, East Java.
Ngargoyoso
Ngargoyoso is located in the mountainous area of Kranganyar regency, which means it has a cool climate. Places to see include the Kemuning tea plantation, Sumilir Valley, Katresnan Valley, Jimber Valley and Mount Cilik, all of which offer panoramic views of the area's natural beauty.
Explore the area by following on of its many hiking trails, or soak in Ngargoyoso's history with a visit to several candi (temples), including Candi Suku, Candi Cetho and Candi Ketek.
Read also: Three new hotels to open in South Bali
Balekambang Park
Located near Tirtonadi Terminal, Balapan Station and Manahan Football Stadium, Balekambang Park is split into two areas; Partini Waterpark is used for boating games, while Partinah Forrest houses a collection of rare plants.
Balekambang Park was turned into a recreational and education park in 2008.
Kraton Surakarta (Surakarta Palace)
Kraton Surakarta (Surakarta Palace) is a unique historical building that was designed with the help of Sultan Hamengkubuwono I, who was also one of the main designers behind the Yogyakarta Palace.
After paying a small entrance fee, visitors have access to the museum, be allowed to pose for pictures with palace guards and see historical horse-drawn carriages.
Danar Hadi Solo Batik Museum
Danar Hadi is one of Surakarta's most well-known batik makers. The museum houses a wide range of batik motifs, prints and materials sourced from across the country. It showcases up to 10,000 batik cloths, gaining recognition from the Indonesian Museum of Records (MURI) for having the largest batik collection.
Read also: Ancient human skull discovered in Sangiran
Tugu Lilin (Candle Statue)
Tugu Lilin (Candle Statue) is located on Jl. Dr. Wahidin Sudiro and was erected in 1933 to commemorate the 25th National Resurgence Day. Shaped like a lit candle, Tugu Lilin symbolizes nationalism and the country's fiery spirit of independence.
Kampoeng Batik Kauman (Kauman Batik Village)
Kampoeng Batik Kauman (Kauman Batik Village) is a shopping destination in Surakarta's city center, located near Kasunan Surakarta Palace. It is popular among foreign and domestic tourists on the hunt for the area's signature batik, which is usually dark in color and boasts modern motifs.
Sangiran Museum of Early Humans
The Sangiran Museum displays a collection of ancient human fossils that date as far back as 2 million years, while its "newer" fossils are estimated to be 200,000 years old. With a collection of more than 13,000 fossils, the Sangiran Ancient Human Museum is one of Asia's most complete early human museums.
According to UNESCO, the Sangiran excavation site in Central Java is recognized by scientists to be one of the most important sites in the world for studying human fossils, ranking along with other sites such as Zhoujoudian in China, the Willandra Lakes in Australia, Olduvai Gorge in Tanzania and Sterkfontein in South Africa. (liz/kes)
Join the discussions