Into the springs in Klaten, Central Java
Ganug Nugroho Adi

The Jakarta Post
Surakarta, Central Java |

Mon, February 12, 2018

| 05:03 am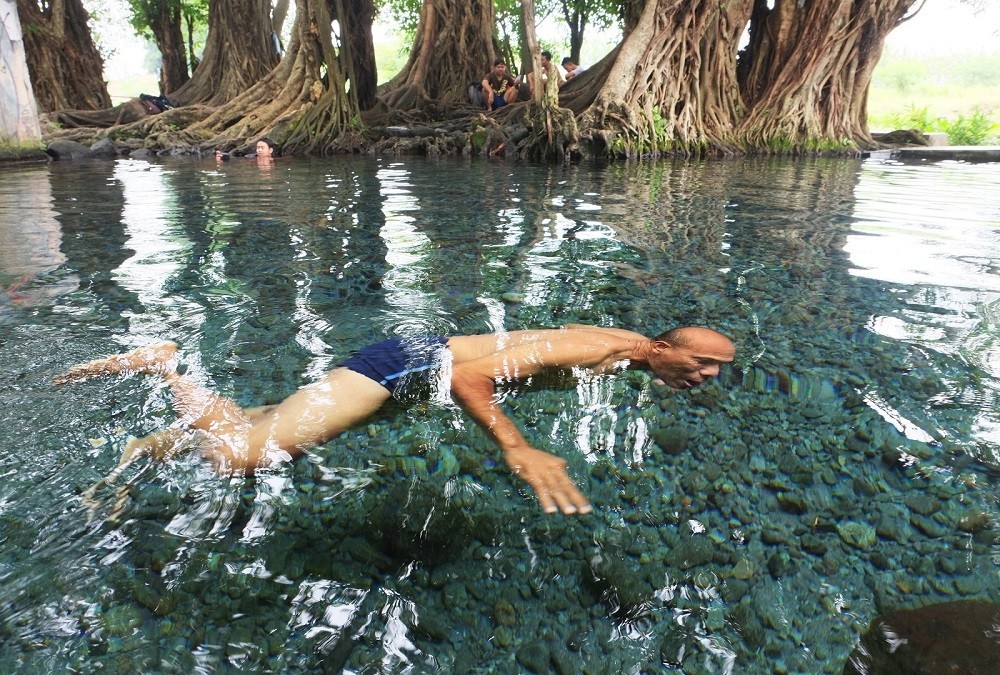 A visitor swims at Umbul Manten, Polanharjo, Klaten, Central Java. (JP/Ganug Nugroho Adi)
The regency of Klaten in Central Java is known as a destination to enjoy a refreshing dip in the springs.
Around 191 springs are listed in the regency, spread across 17 districts. Some of the springs, namely Umbul Ponggok, Cokro Tulung, Umbul Manten, Umbul Sigedang and Umbul Kapilaler, have become popular tourist destinations. Umbul is a local word for "spring."
The clean, clear and refreshing water of the half-natural springs is a great attraction for returning visitors, who immerse themselves in various activities, from playing with the fish to taking underwater selfies. Umbul Ponggok, for instance, is a relatively safe playground, covering an area of about 50 x 20 square meters, with a depth ranging from 1 to 2.5 meters.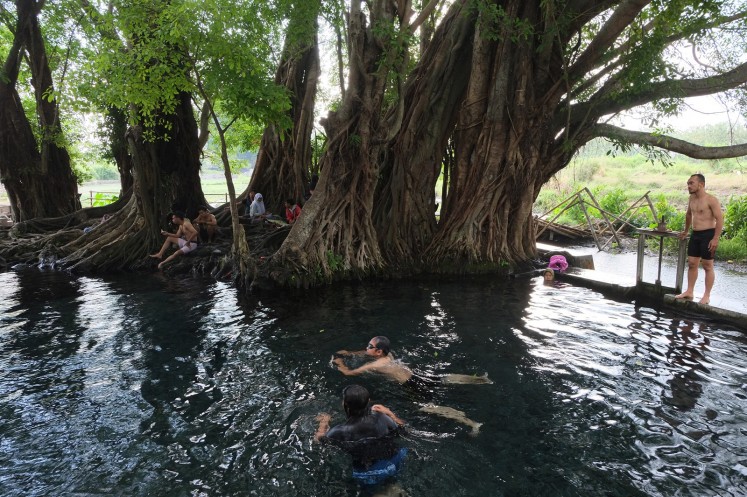 The natural surroundings at Umbul Manten, Klaten, Central Java. (JP/Ganug Nugroho Adi)
"There is an average of 1,000 visitors per day during weekdays, but on weekends we can expect up to four times that," said Punggok village head Junaedhi Mulyono on Wednesday.
Umbul Ponggok, which is located on Jl. Ponggok Raya, Ponggok village, Polanharjo, is a favorite in Klaten regency. The spring is managed by the village-owned enterprise (BUMDes). It is equipped with more facilities than other springs in the area. The management team has decorated the area with motorbikes, vintage bicycles and an underwater park at the bottom of the spring. This setup is meant as a backdrop to photos that visitors can enjoy after paying the entrance fee of Rp 35,000 (US$2.45).
Read also: Eight places to visit in Surakarta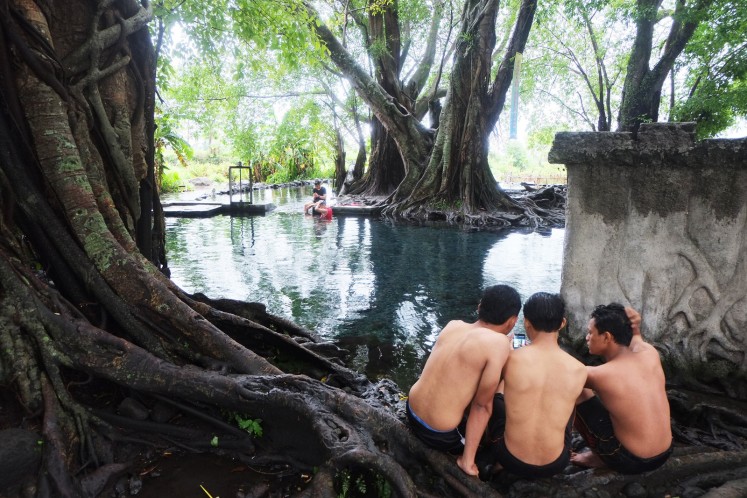 Visitors at Umbul Kapilaler in Klaten, Central Java. (JP/Ganug Nugroho Adi)
"We can enjoy the sensation of swimming among colorful freshwater fish. The underwater spots are fun as well, good for snorkeling and taking underwater photos. It feels like scuba diving in Bunaken [a popular diving destination in North Sulawesi]," said Bram Aryanto, 29, a visitor from Yogyakarta.
Umbul Ponggok was the first spring in the area to become a commercially managed water recreation center. Prior to 2015, the spring was never considered a travel destination. The success of Umbul Ponggok then inspired nearby villages to promote their springs.
Quite similar to Ponggok, Umbul Cokro Tulung has also enjoyed a modern and commercial touch. Apart from having a natural spring, Cokro Tulung also provides a swimming pool for adults and kids, complete with a water playground with slides, climbers, and ride-on toys. Some springs in other villages, however, have maintained their natural look. One of them is Umbul Manten at Janti village, Polanharjo. It is surrounded by big, lush trees, their roots plunging deep into the water.
"There is something mystical about swimming here. The place is quiet compared to Umbul Ponggok and Cokro Tulung, which are already packed with visitors. The entrance fee to Umbul Manten is also lower," said another visitor, 23-year-old Dianti.
Other springs that remain looking natural are Umbul Sigedang (aka Umbul Lanang, meaning male spring), and Umbul Kapilaler (aka Umbul Wedok, or female spring), located close to each other. Visitors to the two springs feel as if they are bathing in mineral water due to the freshness. Apparently both springs supply water to a bottled mineral water company because of their outstanding mineral content. Local residents still drink the water from Umbul Kapilaler. (mut/kes)
Join the discussions