Blow off some steam with these US presidential election memes
Mayzura Munaf

A high school graduate rejoicing in her gap year as a dancer, food-enthusiast and avid explorer of stand-up comedies.
Jakarta |

Tue, November 15, 2016

| 11:44 am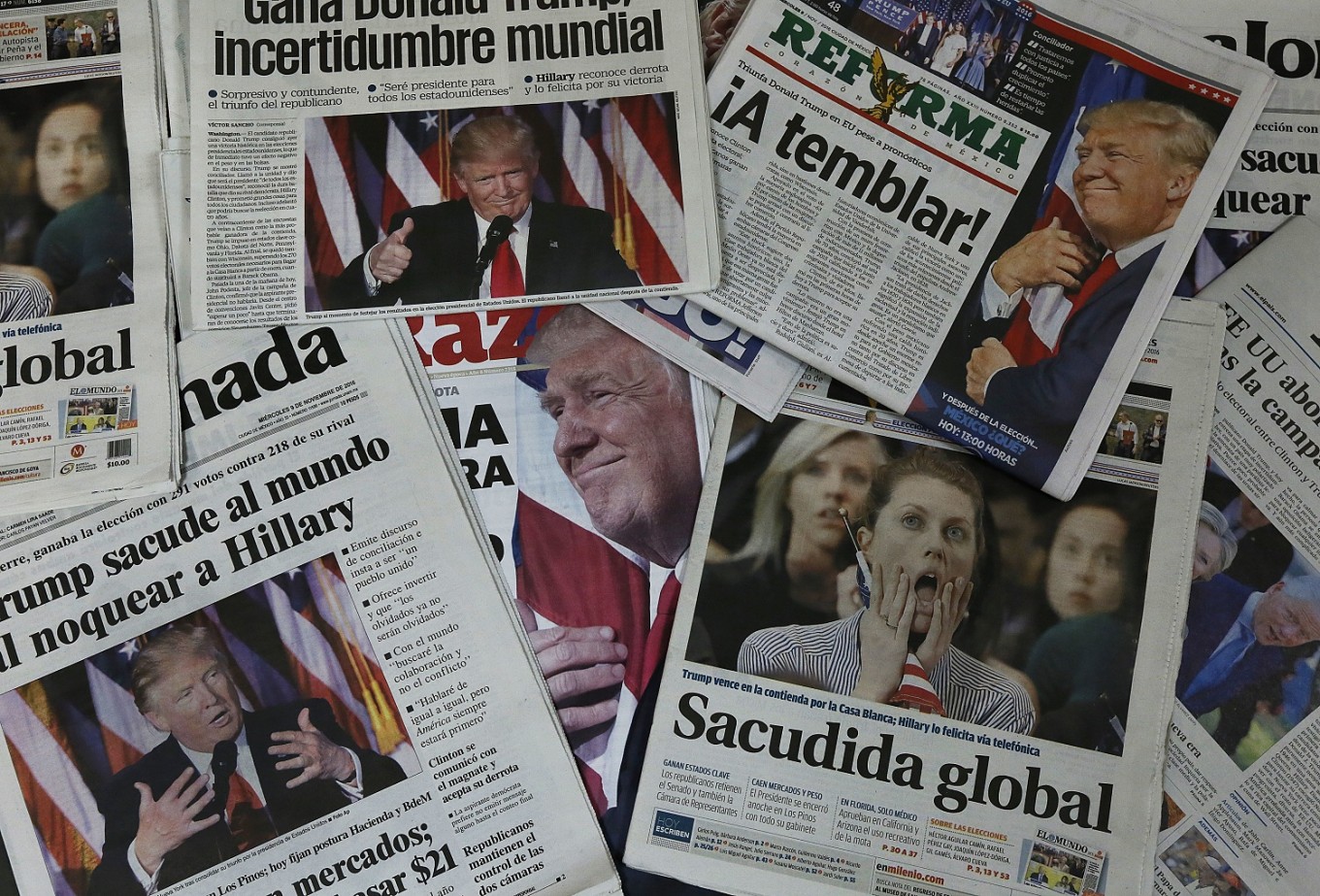 Mexican newspapers headline with Donald Trump's triumph over Hillary Clinton, in Mexico City, Wednesday, Nov. 9, 2016. (AP/Marco Ugarte)
With a hopefully peaceful transition of power from President Obama to President-elect Donald Trump about to commence, the internet has seen a re-emergence of memes that capture actual moments in the White House, both past and present, craftily re-imagined with hilarious, absurd captions.
For those of you who are confused or distraught, this could be a way to blow off some steam. Scroll down through my personal favorites.
First of all, wave goodbye to the bromance between President Barack Obama and Vice President Joe Biden -- a White House camaraderie that is truly beyond compare.
i want someone to look at me the way that joe biden looks at obama pic.twitter.com/d6x0BjAaen

— salty senõrita (@diamndsandprls) December 2, 2015
As quoted by the Sydney Morning Herald, Obama thanked his vice president for "being a great friend", saying that he loved Biden while speaking at his final White House Correspondent's Dinner in May. Obama also eulogized Biden's son Beau, who passed away from brain cancer last year.
But the memes don't just stop right there; the internet has characterized Obama and Biden in a lighthearted way to remember these two leaders.
Biden: I wonder if I'll still get free ice cream when I'm no longer VP

Obama: Joe, we have bigger problems.

Biden: pic.twitter.com/eFEHpDYZti

— Pete Blackburn (@PeteBlackburn) November 11, 2016
Biden: I wanna join the protest.
Obama: Joe, we've been over this.
Biden: But they're--
Obama: How about some ice cream?
.
.
.
Biden: Okay. pic.twitter.com/JTQDkeWfnn

— David Jenkins (@scriptdave) November 10, 2016
Joe then becomes this overly-excited man, scheming up ways to pull pranks on President-elect Trump once he arrives in the White House, yet is always being dismissed by his more mature, care-taking bud Obama.
(Read also: You feel?: How the Internet transforms the English language)
Biden: Ok here's the plan: have you seen Home Alone
Obama: Joe, no
Biden: Just one booby trap
Obama: Joe pic.twitter.com/IDTc2L1sKF

— Dean E. S. Richard (@deanfortythree) November 11, 2016
Biden: can i put whoopee cushions under all the chairs before he gets here

Obama: joe im on the phone

Biden:*muttering* u didnt say not to pic.twitter.com/qfjh3ffkPE

— rudy mustang (@roostermustache) November 11, 2016
BIDEN: we should change the wifi passwords before trump moves in so he can't tweet
OBAMA: pic.twitter.com/IXcOpSmNWb

— an online pigeon (@imskytrash) November 13, 2016
Obama: Check pl-
Biden: Actually, we'll take five more milkshakes and you can bill the White House on January 21st pic.twitter.com/KVcdBtQHAe

— Josh Billinson (@jbillinson) November 12, 2016
Biden: I'm not giving them the wifi password
Obama: Joe..
Biden: I said what I said pic.twitter.com/WubQ6Sakvg

— Common Gay Boy (@CGBPosts) November 13, 2016
Biden: Oh boy, his car is here, quick let's all hide
Obama: Joe pls pic.twitter.com/w0pqxcaS9A

— Mollie Goodfellow (@hansmollman) November 10, 2016
Next up, memes about the White House's newcomer, Donald Trump, along with his family, have also washed through the internet.
Obama: "Ok so then when a bill is passed by the House of Representatives it goes to the Senate..." pic.twitter.com/PJHrCyhq6g

— Aaron Levie (@levie) November 10, 2016
The memes here mostly question his competency as the upcoming President.
Photos of the first ever meeting between current First Lady Michelle Obama and upcoming First Lady Melania Trump have also sparked jokes about the time when Melania allegedly plagiarized a part of Michelle's speech during Trump's presidential campaign.
There is also this eerie resemblance between the 2000 episode of The Simpsons, "Bart to the Future", which predicted Trump's presidency, and the reality of Trump as US president-elect now. How uncanny.
The Simpsons knew. 😂 #Trump pic.twitter.com/pwgHO8QjPk

— Football Super Tips (@FootySuperTips) November 9, 2016
Here is just an adorable one on former candidate Bernie Sanders. He too shall never be forgotten.
As Obama said in the wake of the presidential election results, "The sun is up." It is not the end of the world, so let us all root for Trump's success, one meme at a time.
---------------
Interested to write for Youth channel at thejakartapost.com? We are looking for information and opinions from students with appropriate writing skills. The content must be original on the following topics: passion, leadership, school, lifestyle ( beauty, fashion, food ), entertainment, science & technology, health, social media, and sports. Send your piece to [email protected], subject: YOUTH. For more information click here.
Disclaimer: The opinions expressed in this article are those of the author and do not reflect the official stance of The Jakarta Post.
You might also like :
Comments