Alarming reports on the growing problem of plastic waste and air pollution have prompted homegrown on-demand app Gojek to take the lead on sustainable practices.
---
Indonesia has been identified as the second-largest global polluter of plastic waste after China. Every year around 3 million tons of plastic waste from Indonesia pollutes the ocean. Major rivers and coastal areas have been filled with rubbish that may take hundreds of years to decompose.
The Environment and Forestry Ministry reports that each person in Indonesia produces 700 grams of waste a day on average. That means the country, with a population of over 250 million people, produces 175,000 tons of waste per day, some 15 percent of which is plastic used as packaging and shopping bags.
For a Superapp company that acts as an aggregator for food delivery as one of its services, Gojek's life cycle revolves around plastics mainly as food wrap, drinking cups, or simply used as packaging to carry delivery items. But now the journey toward promoting more responsible food consumption begins. Gojek is embarking on a sustainable initiative that encourages people to adopt a green lifestyle and reduce single-use plastics.
GoFood, Gojek's food delivery service, is pushing to help solve this single-use plastic waste crisis by promoting, leveraging technology in an in-app banner, outlets that provide a "separate cutlery kit" option. This initiative seeks to promote awareness of sustainable practices and appeal to eco-conscious customers.
Now the "separate cutlery kit" can be opted in for anywhere between Rp 1,000 and Rp 3,000 in GoFood. The additional charge aims to discourage customers from using unnecessary single-use utensils, says Gojek chief food officer Catherine Hindra Sutjahyo.
So far, Gojek has promoted around 1,000 outlets that charge for plastic cutlery in Greater Jakarta, Bandung, Surabaya and Bali, only a month after the initiative was introduced.
As the largest online food delivery agency in Indonesia, GoFood has also undertaken a sustainable initiative to cut down on waste from single-use plastics. Indonesia produces around 9.8 billion disposable plastic bags from retailers each year, according to the Environment and Forestry Ministry.
As part of the attempt to reduce the recurring use of plastic, GoFood has launched its newly designed collapsible delivery bags for Gojek drivers. The new bag is the result of continuous research and feedback from both Gojek drivers and customers.
The sturdy bag boasts a large compartment that can store a pizza box and a strong structure that can secure the items inside it during a trip.
"As part of Gojek's ecosystem, it is important for GoFood to help encourage the creation of an environmentally friendly business ecosystem. To be able to make a sustainable effort, we need a commitment from all parties within our ecosystem, such as consumers, merchants and driver partners," says Catherine.
Gojek drivers, who can deliver more than one service, will benefit from the collapsible bag. When not delivering food, Gojek drivers can fold it and put it inside their motorcycle's trunk.
"Our mission is to make the drivers understand that preserving the environment is a mutual responsibility," says Catherine. "But we also make sure to facilitate this responsibility as a joyful and reliable experience."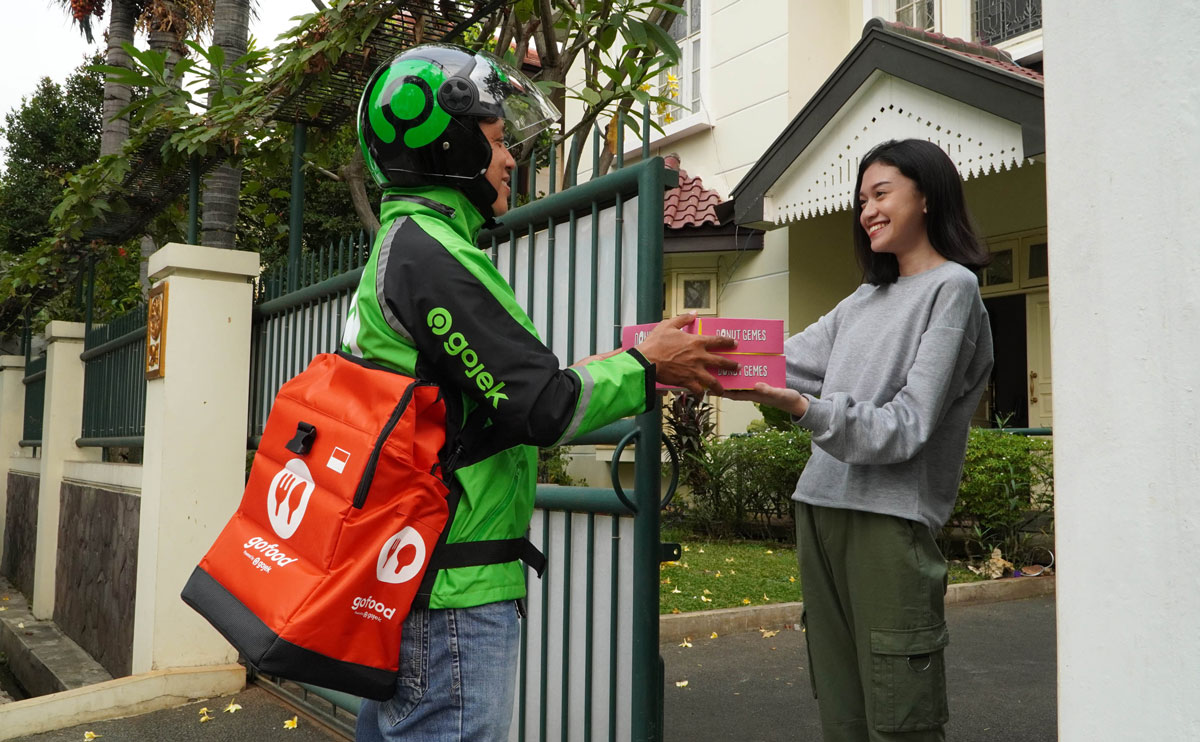 Going plastic free: A Gojek driver gives the food directly to a customer. With GoFood delivery bags, people can stop using single-use plastic bags and start reducing plastic waste. (JP/Arief Suhardiman)
Making impact through awareness
Collaborating with the government and some environmental organizations, Gojek also provides training programs for its merchant and driver partners in numerous cities, and educates its consumers with the aim of underscoring the importance of plastic waste reduction.
Gojek, which has GoFood as SEA's food-delivery service giant, has taken among the boldest measures yet to reduce plastic waste in the fast-growing food delivery industry in Southeast Asia. The company seeks to make real environmental impacts and raise public awareness through the two practical green initiatives that can be easily adopted by its customers, merchants and drivers alike.
"GoFood always strives to ensure a positive impact on our customers, merchant partners and riders," says Catherine. "With our latest initiatives, we invite everyone to help save the environment because this is our shared responsibility."
This is not the first of Gojek's forays toward a more sustainable future. The company has been conducting green campaigns in numerous cities. In April, for instance, Gojek organized a sustainability training program for hundreds of its food merchants in Bali. The program, jointly implemented with the Denpasar city administration and NGO PlastikDetox, sought to encourage the traders to reduce single-use plastic and adopt green practices in their business operations.
In late February, Gojek partnered up with the Bandung administration in the Bandung Smart City program, distributing 10,000 tote bags to its riders in an attempt to reduce plastic bags in food delivery.
It has also linked up with major institutions, such as the Environment and Forestry Ministry, Indonesian Plastic Bag Diet Movement (GIDKP), PlastikDetox and the World Wide Fund for Nature (WWF) Indonesia to help educate the public, merchants and drivers on plastic waste.
"The Environment And Forestry Ministry and Gojek are committed to continuing to urge the public to take an active role in protecting the environment by starting with themselves and from the scope of daily lifestyles, through the Gojek platform. The government continues to perfect policies that are environmentally sound. The community must also move, especially now that it has become easier with environmentally conscious initiatives facilitated by Gojek technology, one of which is through GoFood," said Novrizal Tahar, IPM, the director of waste management at the Environment and Forestry Ministry.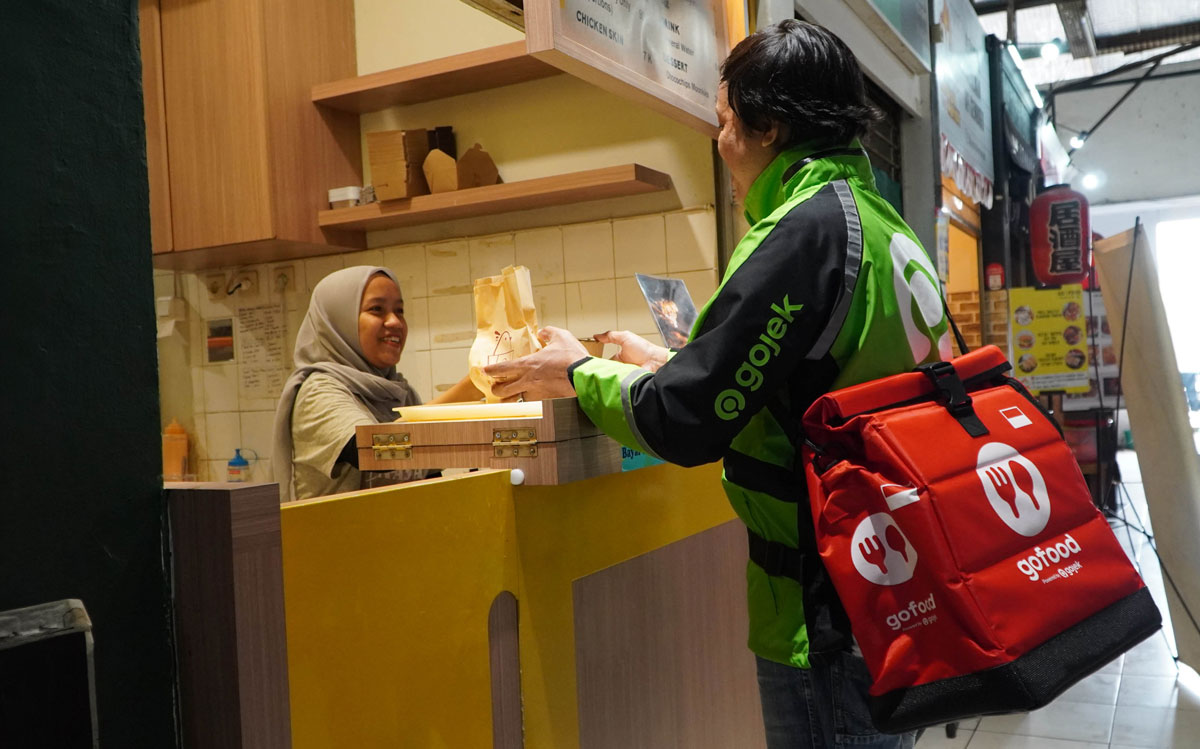 No plastic: A Gojek driver collects a GoFood order in a food merchant without a disposable plastic bag.(JP/Arief Suhardiman)
Reducing carbon footprint, one step at a time
To deal with climate change and reduce its carbon footprint, Gojek has conducted a pilot study on electric motorcycles for its drivers in a partnership with Indonesia's largest automotive company, Astra International.
"This collaboration is a concrete example of partnership between two national companies," says Astra director Paulus Bambang Widjanarko, highlighting that Astra has incomparable experience in the two-wheeler automotive sector and Gojek has been leading the on-demand technology platform in Indonesia.
Gojek chief operations officer Hans Patuwo says that through a combination of experience in the automotive industry and leadership in technology, Astra and Gojek strive for the best in presenting various innovations for Indonesia.
For the ongoing trial run, Gojek has launched five Honda PCX Electric motorcycles provided by Astra, for its selected drivers in Jakarta. The drivers have been transporting passengers with the electric motorcycles since July.
Gojek is currently surveying the operation and infrastructure of electric motorcycles. "For now, users who get a ride on an electric motorcycle haven't noticed any difference in the interface," says Hans.
Indonesia has set an ambitious target on the use of electric vehicles (EV) through Presidential Regulation No. 22/2017. By 2025, some 2.1 million electric motorcycles and 2,200 electric cars are expected to have hit the road. Despite their advantages, electric vehicles have yet to gain popularity in Indonesia due to inadequate infrastructure and legislation.
A separate survey conducted by local business consultant Solidiance has found that 63 percent of respondents are aware of the availability of electric motorcycles in Indonesia. However, as of 2017, the penetration rate of electric motorcycles in Indonesia was only 0.14 percent of the government's target, with roughly 3,000 units.
Promoting EVs is a high priority for Indonesia. President Joko "Jokowi" Widodo has signed a regulation on EVs regarding fiscal incentives, value added tax deductions and tax incentives related to the EV industry. The regulation aims to encourage the growth of the EV industry, which can eventually address climate change and air pollution problems.
Turning trash into cash
Besides reducing plastic use and launching electric motorcycles, Gojek has also participated in waste-management programs. Last year, Gojek took part in a waste bank program where city dwellers could exchange their plastic waste for cash. In collaboration with property developer Agung Podomoro Land, Gojek users could exchange used plastic bottles, paper and batteries with GoPay at Podomoro City area in West Jakarta.
Gojek, which has recently rebranded and unveiled its new logo, has pledged to provide solutions to any daily problems--including going greener and achieving a sustainable lifestyle.
With over 155 million downloads on mobile app in Southeast Asia and its partnerships with many institutions, Gojek is confident that the messages and practical tips about a green lifestyle can reach a large audience and help tackle environmental issues.
"The new logo represents our spirit to provide life hacks to the daily hassles faced by our customers," says Nadiem Makariem, the CEO and founder of Gojek during the recent rebranding event, as reported by Tirto.
"With Gojek, there's always a way. That's the point," Nadiem adds, referring to Gojek's new slogan #PastiAdaJalan (#ThereIsAlwaysAWay).
---
Five steps to GoGreener with Gojek
There are many things you can do to advance your green practices with Gojek. Here are some practical tips to make your daily decisions more environmentally friendly.
Don't opt for single-use plastic cutlery. Unless absolutely necessary, avoid ordering plastic cutlery when you place your GoFood orders. Try to use your own cutlery whenever you can. You can also remind the driver to skip the plastic cutlery via the in-app messaging.
Bring your own containers. Attempt to bring your own food and drink containers whenever you eat out, especially at GoFood Festivals. At the same time, avoid plastic straws by ensuring you have your own reusable straws wherever you go.
Bring your own facemask and shower cap. Gojek riders will politely offer you a single-use facemask and shower cap to make your ride convenient. However, you can help protect the environment by doing something as little as bringing a reusable facemask and shower cap of your own. They can protect you from pollution and dirt—and it's good for the environment.
Order Gojek as your first and last leg of the journey. Navigating across town can be a challenge on the city's public transportation. But you can reduce your carbon footprint by walking or taking public transportation, and then order a ride from Gojek to reach your destination.
Support nearby merchants. If you are craving a certain food, explore merchants nearby, where you can enjoy GoFood promotions such as free food delivery. This will also reduce the carbon footprint from longer delivery rides.
---