The fun-loving scene in Kuta, Bali has just welcomed a new addition: BingBong Bali, a hip and happening dessert café with a street party concept, offering various types of sweet treats for travelers with a sweet tooth.
---
BingBong Bali combines music, colors and dances to enhance your enjoyment of its treats, the first dessert shop to do this on the island.
Opening in August, the café encapsulates its atmosphere with its tagline "where happiness happens". This suits the café's mission to be the happiest place not just for its workers but also its customers. Served by happy people, the café wants to spread happiness to everyone who visits it, turning the café into the happiest place in Bali and hopefully, one day, in the world.
Visit the café and start to marvel in, and spread, the happiness. Here's how.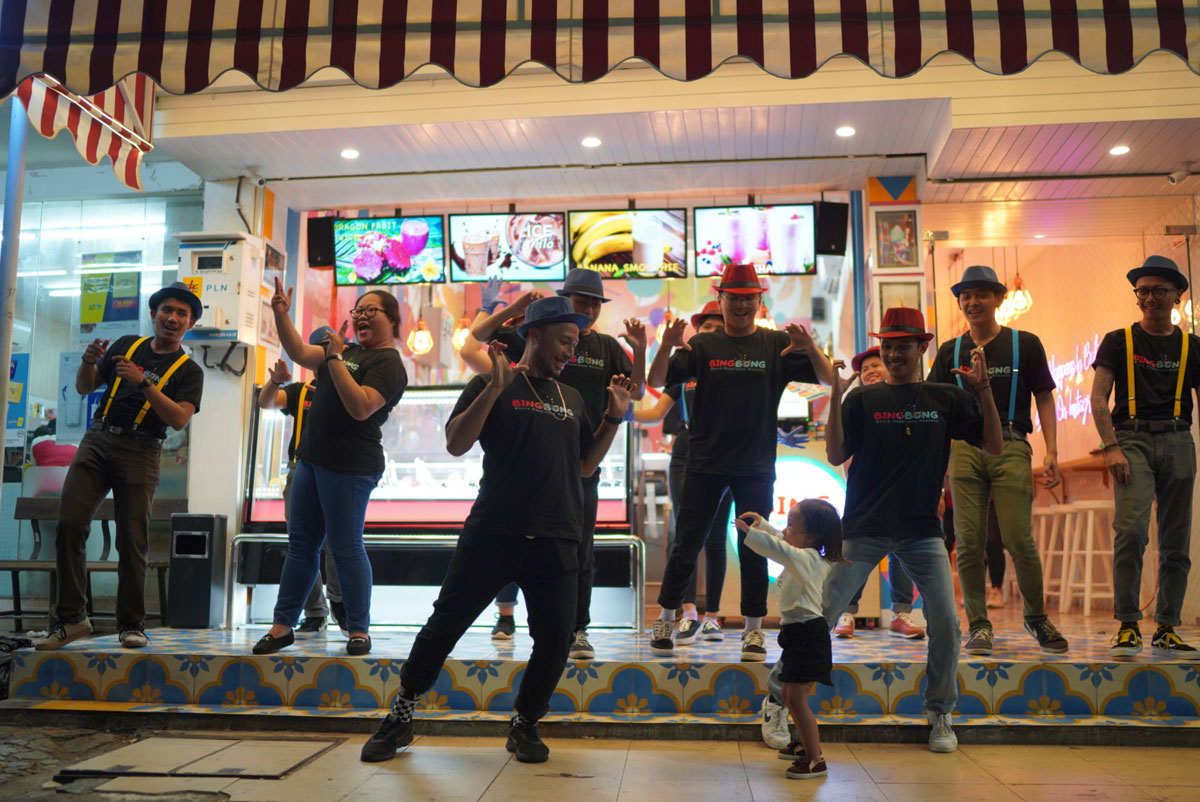 The café not only sells a wide range of sweet desserts from gelato and cookies to smoothies and cotton candies, it is also hosts spontaneous dance sessions with all staff members trained to dance so they can just move along to whichever music they like and you are free to join them if you wish to while enjoying the café's Instagrammable interior.
The café has several trusted dishes, including gelato with flavors inspired by Indonesia's very own sweet and cool treats es cendol (iced beverage with rice flour jelly, palm sugar and coconut milk) and es teler (beverage made of shredded ice, syrup and fruits).
It also sells gelato with the flavor of kintamani coffee, as well as "bloody vanilla", which is made of vanilla spiked with Balinese pomelo.
"We want to showcase local Indonesian desserts and ingredients in BingBong's ever-evolving range of gelatos and sorbets," Kresna explains. Rest assured, in BingBong you can always find some surprising locally inspired gelato flavors.
The café also serves best-loved Western dessert flavors, so it is a Bali-meets-Western dessert outlet.
BingBong gelatos also makes sure that Indonesia's famous chocolate-caramel wafer bar brand BengBeng makes an appearance among its dessert selections: the double dip Beng Beng is made with real Beng Beng wafers, offering you a rich and creamy scoop with a touch of salted caramel.
"Our team members make everything fresh in our own kitchen at the back and every month we introduce at least three new creations," says Kresna.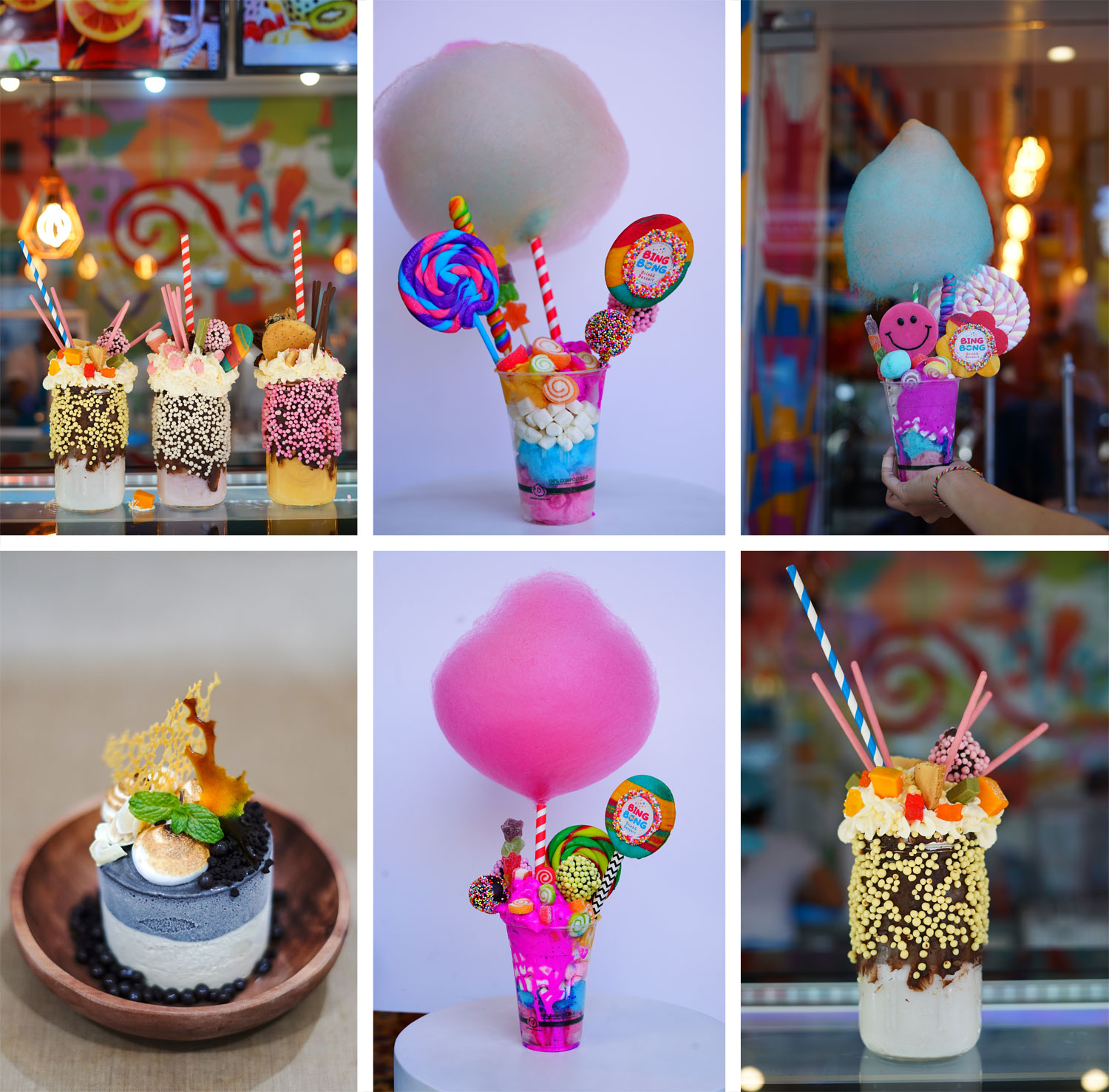 Other highlights include the gelato cotton candy, a cupful decorated with marshmallows, jelly sweets, cookies and chocolate, as well as bingshakes, a milkshake topped with chocolate, whipping cream, Kitkat chunks, marshmallows, jelly beans and more.
The café also offers fresh fruit smoothies, juices, soft-serve ice cream, American-style cookies, waffles and hot drinks, including a wide range of coffee for those who need a jolt of caffeine.
For customers who want to pause briefly from their travels, the café offers a cozy interior with counter-style seating and air conditioning. It has retro neon signs, exposed light bulbs and brightly colored wall murals which turn it into the perfect selfie or wefie backdrop.

In addition to these, the café also has a selection of photo props comprising 1980s-style wigs, glittery sunglasses and a retro yellow telephone hanging on the wall. The café has fast become one of Bali's photo corners.
Plus, thanks to the café's strength in terms of its menu and its out-of-the-box décor, it has fast become one of the essential food and dessert destinations in Bali. Interestingly enough, many tour agents have included the café in its list of Instagram Tour destinations.
Plus, the café opens until late at night, allowing Kuta's party crowd to have fun till they drop.
"We embody this party concept to stay true to the colorful and cheerful activities of tourists in Kuta," BingBong Bali owner Kresna Sari says.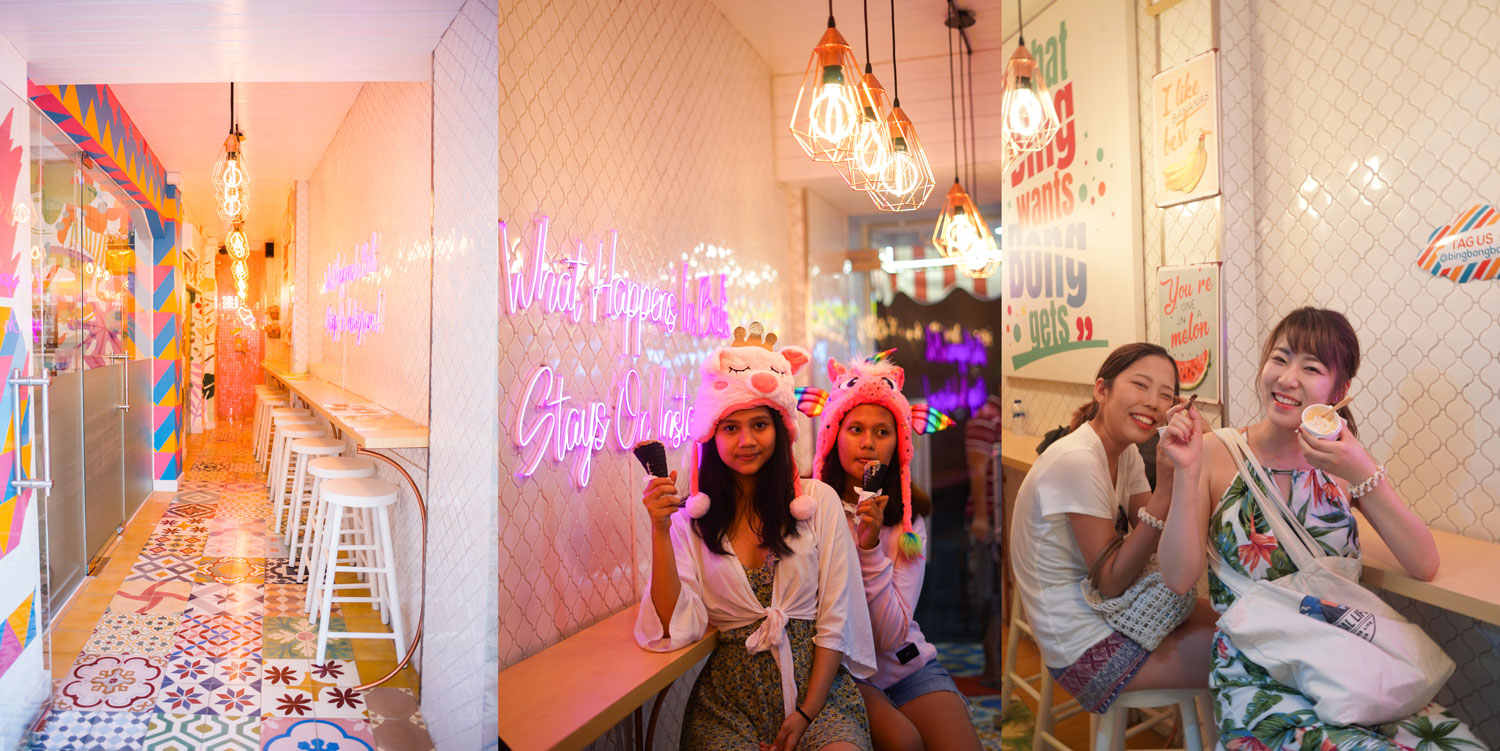 BingBong Bali also distinguishes itself by becoming the only street dessert café style in Kuta. Yet the café still has several tables and chairs inside for those who get tired of walking and want to hang out for a little while.
Visitors can also enjoy the café's drawing board with various funny banter printed all over it.
Speaking about photos again, the café's milkshakes also have unique shapes. Let us talk about BingBong Bingshakes as an example. The jumbo-sized milkshakes with various toppings is dressed cheerfully with various cute-looking cotton candies and cookies.The café uses lots of fresh tropical fruits to support local farmers.
For more info please visit www.bingbong.club
---