Gojek's moving presence in Indonesia, with more than 20 services, has helped millions of people solve their daily hassles, from transportation to house cleaning.
---
Its exceptional e-wallet service, GoPay, allows Gojek customers to use its on-demand services seamlessly – including making faster purchases, tracking their spending easily and transferring money in no time.
In the past year, working mother of two Nucha Bachri has become a regular user of GoPay, which provides convenience for those who want to access and manage their money through the Gojek app.
Nucha has to tick a lot of boxes in her day-to-day life, such as getting her professional work done and making sure her children meet their needs even when she's away. As such, Nucha depends on numerous Gojek services to help her navigate her days.
To avoid the hassles of paying for all of the services, she turns to GoPay, a digital wallet on the Gojek app.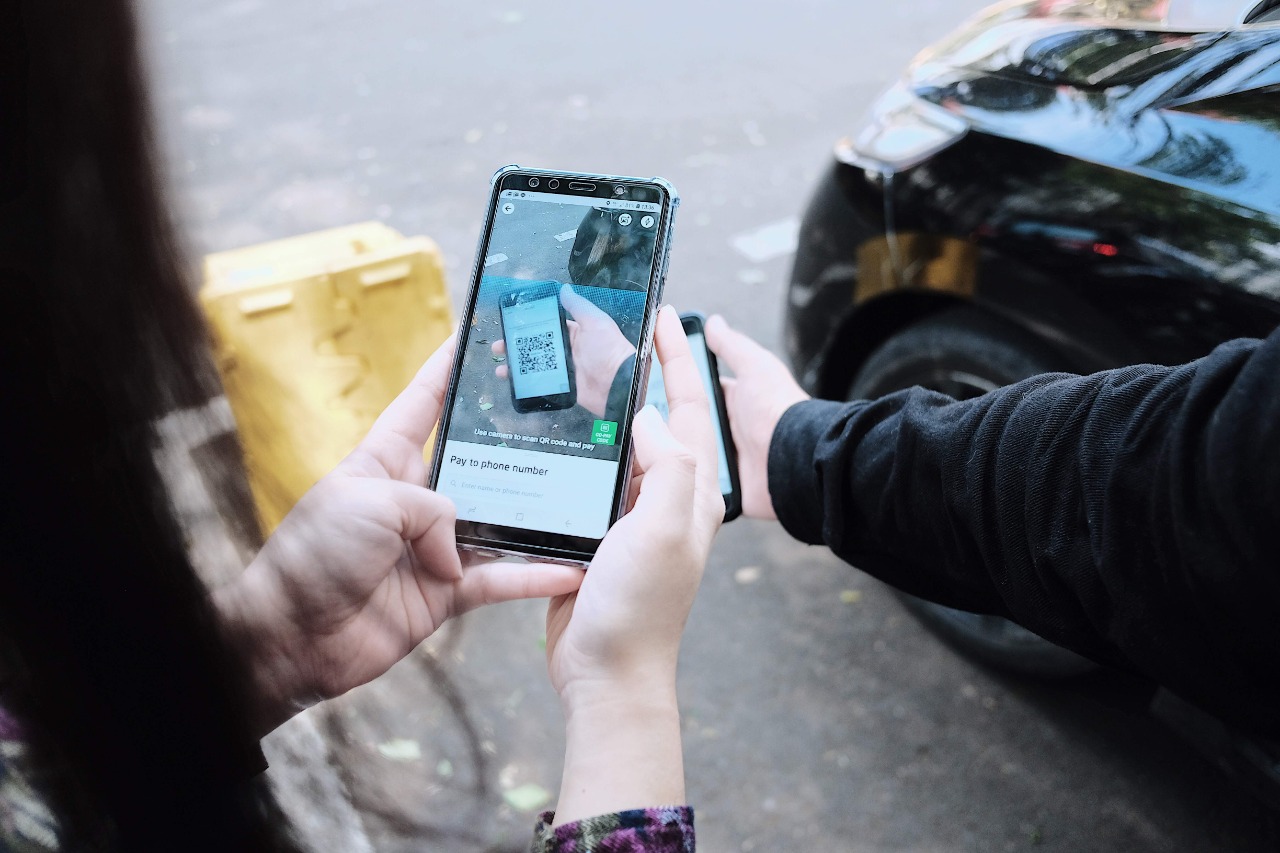 Going digital: A customer transfer funds to another GoPay user.
"Since the first time I used GoPay, I have always found the e-wallet convenient," said Nucha. Now, she only carries a little cash on hand and her wallet is filled mostly with debit and credit cards.
When Nucha hangs out with her friends and they have to chip in for meals, she prefers to pay others back with GoPay instead of bank transfers. "Most of us use GoPay in our daily life," Nucha said. "So, we can easily use the money right away."
In order to run the house smoothly, Nucha provides her babysitter, housekeeper and chauffeur with enough money for their daily tasks, from ordering a ride to filling the car with petrol. She transfers money via GoPay so they can use Gojek services with no trouble.
So far, GoPay is the only e-wallet she uses. "I don't really go for cashback or promotions," Nucha added. "Its convenience is what entices me the most."
Financial convenience is the advantage many GoPay users seek. The in-app e-wallet also supports the user habit of using various on-demand services on the Gojek app.
Danasmoro Brahmantyo, in particular, relies heavily on GoPay in his everyday life as he uses Gojek's ride-hailing services – such as GoRide, GoCar and GoBlueBird – as a means to commute to work or get to certain places for work meetings.
"It makes my routine simpler," he said. "And if I want to tip the drivers, I can leave a tip with GoPay. I don't need to deal with the added hassle of looking for smaller bills."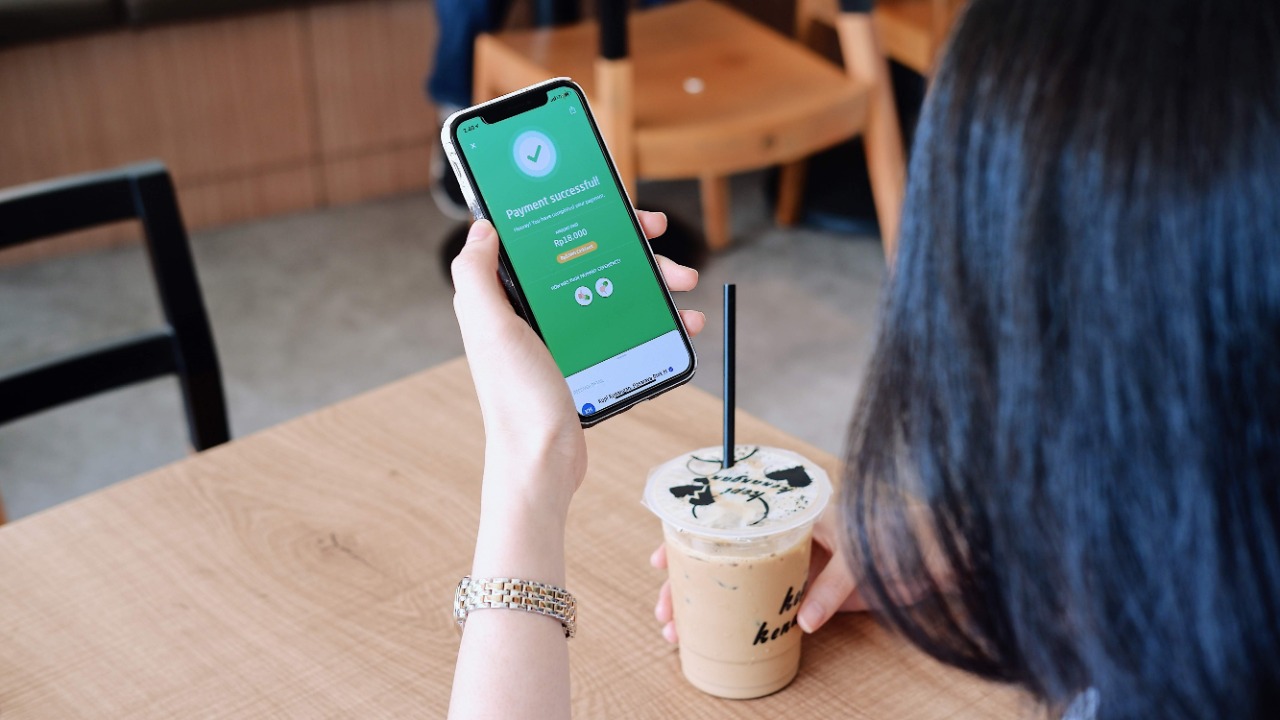 Cash-free society: A customer makes a payment for her drink with e-wallet GoPay.
His habit of using GoPay for mobile payments was borne out of his daily need to use ride-hailing services on the Gojek app.
Moreover, when he eats out, he prefers to pay at restaurants with GoPay without taking a receipt. "I don't actually need to," Danasmoro said. "Gojek automatically records any payment that I make."
Transaction history is a financial feature that Danasmoro doesn't forget to check. Every month, he examines his payment history via emailed reviews to keep his spending in check.
A civil servant at the Education and Culture Ministry, Danasmoro also has to travel for work on a daily basis. Still, he can make use of his e-wallet GoPay in many regions outside Java, including in Sumatra, West Nusa Tenggara and Papua.
Sometimes, Danasmoro said, he forgets to bring his wallet, but he always brings his phone with him. "Everything is at my fingertips, then, including my e-wallet."
For Danasmoro, GoPay has met all of his needs and expectations. "My friends have more than one e-wallet because they're looking for cashback and other promotions," he said. "But promotions are not my priority."
He highlighted that Gojek had earned his trust, so he would continue using all of its services, which he described as excellent and trustworthy. "GoPay is enough for my daily needs," he said.
Both Nucha and Danasmoro regularly deposit some of their money to GoPay. During their normal days, they top-up on roughly Rp 500,000 once a week through mobile banking.
They are among the ubiquitous mobile payment users in Indonesia, which has seen a rise of e-wallet use in recent years. GoPay was named the leading form of e-money in the country and has been growing rapidly in the past two years, according to S&P Global Market Intelligence.
Based on the total number of transactions, S&P Global Market Intelligence estimated that Indonesia had seen an increase in its e-money space from 9.6 percent in 2017 to 36 percent in 2018, driven mainly by GoPay.
Speedy and easy: Indonesian customers are embracing digital payment. GoPay, the e-wallet of the popular super-app Gojek, have enabled avid Gojek customers to adopt a cashless culture seamlessly.
That means GoPay is not only the most used e-money, but also a source of growth in the industrial landscape in Indonesia.
Meanwhile, Indonesia remains a promising market for mobile payments.
"There are a lot of people [who] have yet to use digital money," Winny Triswandhani said as quoted by BBC Indonesia. "Indonesia has great potential for digital payments."
---