Indonesia's homegrown superapp, Gojek, which has become a leading on-demand platform in Southeast Asia, continues to live up to its commitment to prioritize safety and security standards across its ecosystem.
---
To mark International Women's Day, annually celebrated on March 8, earlier this month Gojek announced its Perempuan #AmanBersamaGojek (Women are safe with Gojek) initiative.
The women-focused initiative is a continuation of its ongoing #AmanBersamaGojek (Safe with Gojek), which was announced along with the Gojek SHIELD technology seeking to protect its users and partners.
The initiative seeks to give all women who are part of Gojek's ecosystem safety, a sense of security and convenience when they use the superapp, while acknowledging women's vulnerability to sexual harassment and violence, especially during evening commutes.
"For Gojek, security and safety are our top priorities, especially for women. We show this priority by utilizing the latest and most advanced technology to provide security when using the Gojek application. However, we did not stop here. We go the extra mile from industry standards to ensure safety for women, especially at night. This is important, considering that female customers conduct 55 percent of total GoRide and GoCar trips at night," said Monita Moerdani Gojek's SVP of transport marketing.
Gojek does not only try to ensure the safety of users, especially women, through Gojek SHIELD technology in the apps, but also run concrete efforts outside the application, through the pillars of protection and education. Two major initiatives as part of this commitment are marked by the launch of Zona Aman Bersama Gojek (Gojek Safe Zone) and active bystander training for GoRide and GoCar partners.
Safe space: Gojek safe waiting zone for women have been set up at crowded public transportation points in Jakarta, such as this one on Jl. Sudirman in South Jakarta. By waiting inside the safe zone, women can be protected from risks of sexual harassment and violence, especially when they have to travel at night.
The Gojek Safe Zone is a female-friendly space that will utilize hundreds of Gojek shelters or pick-up points in various locations in Indonesia. The advantages of this Gojek Safe Zone are its strategic location, close to crowds and at public transportation points. Not only that, Gojek also provides the Gojek Safe Zone with adequate lighting, waiting chairs and public education materials to promote safe public spaces for women. The waiting zones are designed based on the After Dark report published by UN Women and Pulse Lab Jakarta, which captured the mobility patterns and safety perceptions of women who travel at night.
As Gojek continuously strives to enhance the safety and health of our driver-partners and consumers, amidst the COVID-19 pandemic, the Gojek Safe Zone is also used as a COVID-19 Health and Safety Point through these preventive measures:
Both customer and driver needs to be scanned with temperature checks upon entering shelter
Hand sanitizer will be sprayed by Gojek ground staff
Masks will be distributed only to customers who do not wear masks, or those displaying symptoms of illness
Safety and security is not only limited to a safe zone but also to equipping driver partners to become active bystanders. Since 2019, Gojek has collaborated with Hollaback! Jakarta, a non-governmental organization in the field of gender equality, and pioneered active bystander training for their driver partners. More than 1 million driver partners received the online education material, hundreds joined the offline training and some others became knowledge evangelists in their communities.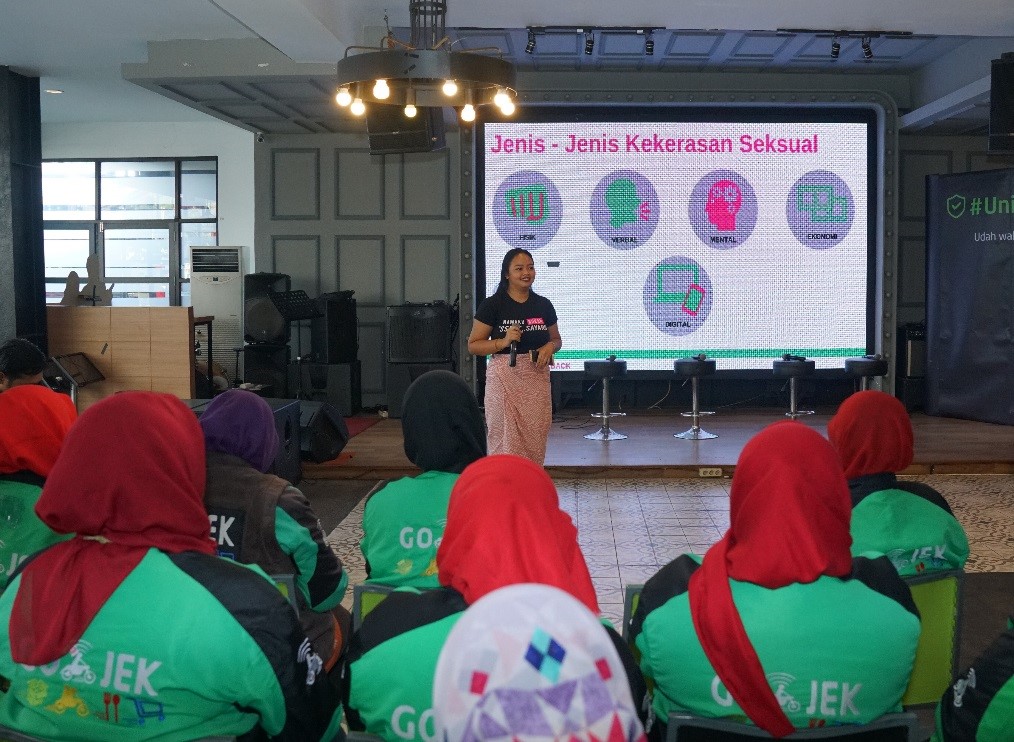 Public education: A trainer from Hollaback! Jakarta briefs Gojek driver partners on forms of sexual violence. Public awareness is vital to creating a safe ecosystem for women, especially in big urban spaces.
One of the training participants, a female Gojek driver-partner named Nilawati, said joining the program had made her more courageous to stand up to sexist jokes made by her male counterparts.
"Prior to joining the training, I was not aware that certain jokes could count as sexual harassment – for instance, in the WhatsApp group, someone often throws a sexist joke, or image and sticker. They don't realize those behaviours might be forms of sexual harrassment. Now I've had the courage to tell them that these jokes count as harrassment," Nilawati said during the launch of the program.
Yet, Hollaback! Jakarta co-director Anindya Restuviani said that being an active bystander also requires people to have a different kind of street smarts altogether.
"Bystander intervention can many times cause the situation to escalate. Thus, we also train participants on how to respond to the situation quickly by not spending too much time arguing with perpetrators, for instance," Anindya explained.
Gojek's safety for women initiative, implemented through methods explained above, has turned out to align with the mission of relevant stakeholders to create a gender-sensitive infrastructure, especially in hectic and densely populated urban settings.
"Fear of sexual harassment and violence oftentimes hinders women's mobility and limits their access to public spaces. Quality public infrastructure and efficiency of transportation services play an important role in ensuring safety in women's mobility. Therefore, infrastructure development also needs to be gender-sensitive," UN Women Indonesia country representative and liaison to ASEAN Jamshed M. Kazi said.
"Furthermore, everyone must play a role in preventing violence [against women] by changing social norms that impact women and girls adversely," Kazi continued.
Meanwhile, UN Women Program specialist Lily Puspasari said that Gojek's safety initiative for women could serve as a case study for multi-stakeholder partnerships in ensuring women's safety in public spaces. She also appreciates Gojek's effort to pioneer public education about sexual harassment, especially for its drivers, which becomes a progressive business move that all industry players must follow.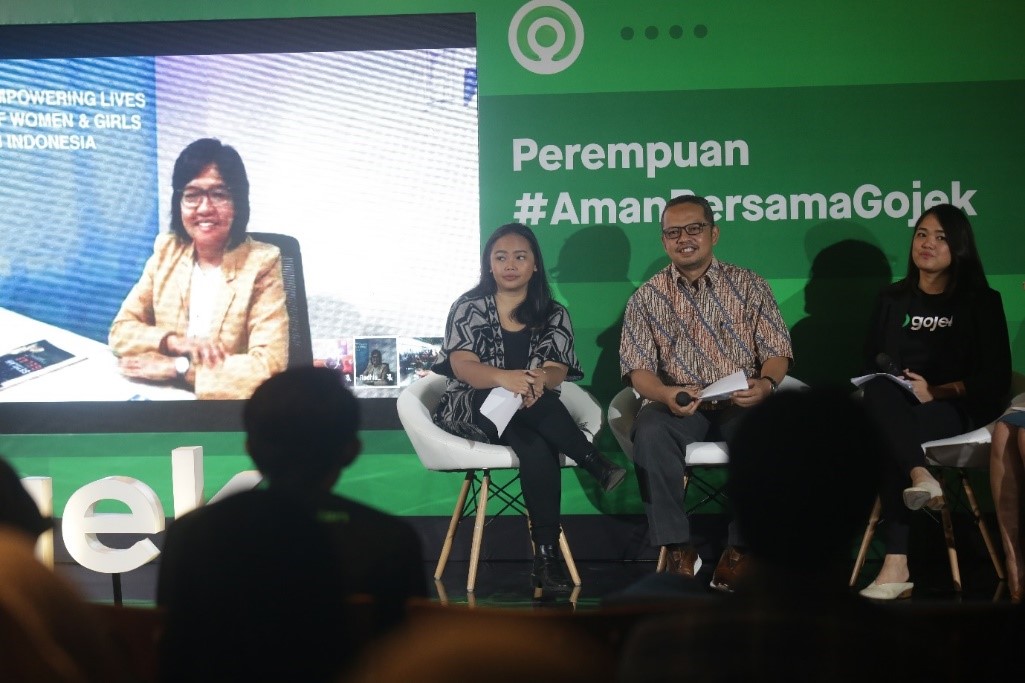 Multistakeholder talk: United Nations women's program specialist Lily Puspasari joins Indonesian super app Gojek senior vice president for transportation marketing Monita Moerdani (right), along with Anindya Restuviani (left), the co-director for Hollaback! Jakarta, an NGO in the field of gender equality as well as the Women's Empowerment and Child Protection Ministry's undersecretary for public participation, Indra Gunawan (center), hold a video conference to discuss multistakeholder cooperation to create a safe urban ecosystem for women.
"Nowadays, the corporate social responsibility concept has become old-fashioned; now we have to think about win-win solutions involving government, the private sector and other relevant stakeholders that can improve public awareness of boosting women's safety," Lily said during a video conference during the initiative's launch.
In a similar fashion, the Women and Children Protection Ministry's public participation deputy, Indra Gunawan, also responded positively to Gojek's initiative.
"We hope that Gojek can pave the way for collaborations among relevant stakeholders to create a culture of safety, inspiring other businesspeople to do the same," Indra said.
In full, Gojek Women's Safety initiative comprises three pillars, namely technology, protection and education.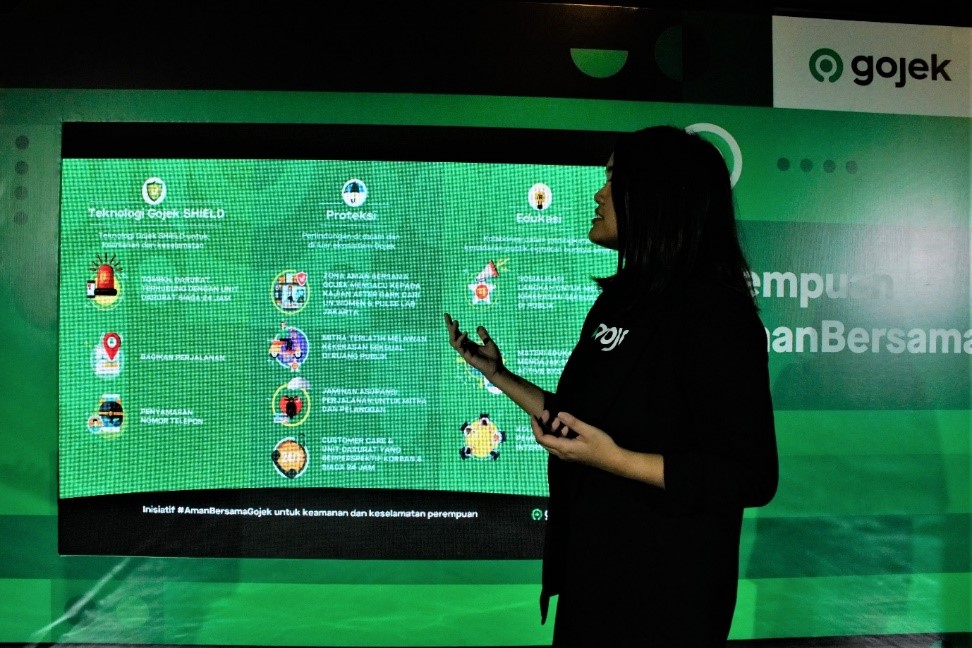 Gender-specific safety measures: Indonesian superapp Gojek senior vice president for transportation marketing, Monita Moerdani, explains how the Gojek SHIELD, the superapp's innovation to protect safety, also has gender-specific safety features aimed at protecting the security of its female users and partner drivers.
Technology

The Gojek SHIELD features seeking to protect the superapp's users and partners alike already have safety measures driven by an artificial intelligence technology operated by a world-class digital security team.

The features seek to protect the safety of users and partners as they begin their trips, as they are on their way through the trip and at times of emergency – including in cases of sexual violence and harrassment, of which women are especially vulnerable.

The features include phone number masking, which disguises the phone numbers of both users and their drivers to protect both sides' privacy, a share-my-trip feature, which allows users to inform their inner circle members of their whereabouts on a real-time basis, and an emergency button linked directly with Gojek's customer care and emergency unit, which is active 24/7.

Speaking specifically of women, according to Gojek Transport Marketing vice president Monita Moerdani, Gojek has already trained its emergency unit operators to adopt a victim's perspective in emergency cases of sexual violence and harrassment – which includes a vital principle not to blame victims for what they have gone through.

"We hold on firmly to the principle that such violence and harassment cases are never the victim's fault," Monita told the press during the recent launch of Gojek's women's safety initiative in Jakarta.
Protection

The protection pillar, meanwhile, seeks to prevent cases of sexual harassment down to the recruitment process of its driver-partners, which involve strict screening procedures requiring prospective driver-partners to enclose a copy of a police clearance letter as part of the application procedures.

Driver-partners who have been selected by Gojek will also be educated and trained on the superapp's code of ethics, which include a code of conduct outlining behaviors that are unacceptable, along with the punishments that drivers will get after engaging in these behaviors.

"We have zero tolerance for sexual harassment cases," Monita emphasized.

Beyond the initial training process for new partners, Gojek will continuously equip its partners with new skills and awareness – including about women's security issues – through training programs to boost their quality in Gojek's own partner learning hub (locally known as Bengkel Belajar Mitra).

Gojek also mitigates risks by partnering with insurance providers Allianz (powered by PasarPolis technology) and Jasa Raharja.

As mentioned previously, Gojek has also provided the Gojek Safe Zone, which starts operating across most crowded hubs for commuters, including at the Sudirman train station, MRT Lebak Bulus and Bekasi train station.
Public education

Aware that women's safety is a social issue requiring the involvement of all societal elements, Gojek has become a pioneer in the online transportation sector by reaching out beyond its ecosystem and partnering with relevant stakeholders – government, nongovernmental organizations and international institutions – to educate the public on the issue.

The public education system is embedded across all aspects of Gojek's operations, including through banners informing people of the forms of sexual violence installed in the Gojek Safety Zone waiting rooms. Online, Gojek also regularly notifies its users of information regarding sexual violence and women's safety through its app and gjk.id/perempuanaman sites. The same educational materials are also delivered through Gojek's social media accounts.

"We have trained our partners on how to become active bystanders – first by recognizing the forms of sexual violence and what to do when they witness such incidents. This educational material will be very useful if more people can access them. We hope that with these initiatives public spaces will be more friendly and safe for women," said Monita.
---