Q&A: How did the anti-Ahok rally turn chaotic?
Devina Heriyanto

The Jakarta Post
Jakarta |

Sat, November 5, 2016

| 12:04 pm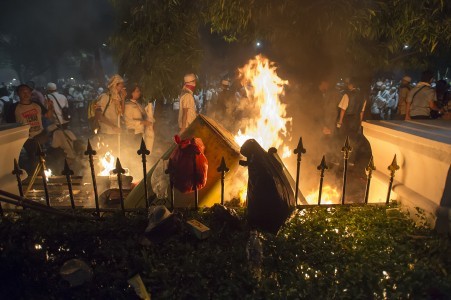 Hundreds of protesters insist to stay on Jl. Medan Merdeka Barat, Central Jakarta on Friday evening while police have tried to disperse them, while fire was seen burning a vehicle. (Antara/Widodo S. Jusuf)
As announced, protesters flooded Jakarta to demand the immediate arrest of Jakarta Governor Basuki "Ahok" Tjahaja Purnama. At more than 100,000, their number far exceeded expectations of 50,000 participants.
The rally ran peacefully until dusk, despite fears by many, particularly those from minority groups, that it might echo the May 1998 riots. Some protesters emphasized that the rally was not about religion or ethnicity. "I know Ahok is Chinese, but there's no problem with the Chinese. I know Ahok is Christian, but there's no problem with the Christians. We have a problem with big-mouthed Ahok, who has committed blasphemy against Islam," one protester said in a speech.
The day before the rally, rumors of violence and chaos were circulating. Defense Minister Ryamizard Ryacudu said his office had received information that sympathizers of the Islamic State (IS) would join the anti-Ahok demonstration. Wary of chaos and gridlock, some schools and offices were closed on Friday, and security was intensified at offices and shopping malls in Central Jakarta.
Watch the live stream on The Jakarta Post Facebook fan page.
How did the rally proceed?
The rally only began in the afternoon, although people had flocked to the city since the morning.
Istiqlal Grand Mosque in Central Jakarta was the meeting point for the protesters before the main rally in front of the Presidential Palace. At least 10,000 people flocked the mosque during Friday prayer. Grand imam Nasaruddin Umar called on Muslims not to be excessive in venting their frustrations toward those perceived to have insulted the Quran.
Before the prayer, some protesters yelled provocative phrases like "Kill Ahok". There were also banners and posters with provocative phrases, some stirring up ethnic, religious or racial issues. Not all were hostile, of course, as there were hundreds of people hoping for a peaceful rally. A seemingly endless flow of free food and drinks was provided to keep protesters happy.
Despite the closure of schools and offices due to growing wariness surrounding the rally, the economic opportunity was not missed by hundreds of street vendors across the city. Jakarta street vendors became someone famous for calmly continuing their business during the Sarinah attack back in January.
For the largely peaceful rally, Jakartans should thank the police, who too an unusual approach in dealing with protesters by deploying female officers wearing hijabs to the front lines.Police also deployed 500 officers wearing Muslim clothes under the so-called Asmaul Husna [the 99 names of God] group in front of the State Palace, shouting "Allahu Akbar [God is Great]" whenever a group of protesters passed through the area.
President Joko "Jokowi" Widodo had met with his 2014 political opponent Prabowo Subianto and several Islamic organizations to ease tensions.
(Read also: Photo Gallery: Jakarta this afternoon)
The protesters came not only from Jakarta or Java, but also from Sumatra, Kalimantan and Sulawesi. All age groups were represented at the rally, with a notable portion of female protesters.
Streams of protesters came to the city on commuter trains from Bogor. An officer at Bogor Station said people had been passing through the station since 6 a.m., adding that most of them were female.
There were also rallies in various other cities of Indonesia, such as Surakarta, Semarang, Pontianak and Medan. A television crew from Jakarta-based Metro TV was chased away by hundreds of protesters in Medan, accused of biased reporting for being 'pro-Ahok'. Metro TV is owned by ruling NasDem Party chairman Surya Paloh. A rally in Semarang involving 2,000 protesters ran peacefully.
What do they want?
The protesters insisted to meet President Jokowi in person to express their demands: Ahok's immediate imprisonment. Jokowi was perceived by some as protecting Ahok, although the President had issued an order for the National Police to probe the defamation case.
Ahok's questioning was scheduled for Monday.
At around 15:30 p.m., Coordinating Political, Legal and Security Affairs Minister Wiranto invited some of the rally leaders to the State Palace compound to discuss the protesters' demands. The meeting, however, ended briefly a few minutes later after one representative complained that they could not meet President Jokowi in person.
President Jokowi had left the State Palace early in the afternoon for a working visit to Soekarno-Hatta International Airport in Tangerang, Banten, located some 25 kilometers west of the State Palace.
Later, 25 representatives were invited to meet with Vice President Jusuf Kalla inside the State Palace. At the end of the meeting, Kalla promised that Ahok's defamation case would be processed according to the law within two weeks.
Some protesters got angry that the representatives could not meet with Jokowi and started throwing stones and bottles at police officers.
Did the rally end peacefully?
No. Tensions intensified when the permit for demonstration expired at 6 p.m. Most of the protesters refused to leave the State Palace area, since they had not met with the President. Some threw rocks, injuring at least one police officer and several other protesters.
To break up the rally, tear gas was used repeatedly. After more than an hour, the protesters still refused to leave the State Palace and threw firecrackers at the police. Two police trucks in front of the State Palace's garden were set on fire.
National Police chief Gen. Tito Karnavian personally took to the streets to persuade protesters to go home.
Nearing 9 p.m. 1,500 police and military personnel tightened security at the House of Representatives building in anticipation of the mass of protestors moving to the location from the State Palace. Before the rally, House Deputy Speaker Fadli Zon had invited participants to stay the night if their demand was not met. The mass began to arrive at the House of Representatives compound at 10 p.m., but no one could get into or out of the building.
After the situation at the State Palace had been brought under control, chaos spilled over into Penjaringan, North Jakarta. Three minimarkets were looted and at least one motorcycle was set alight. A joint force of military and police personnel secured the area, with tear gas being used to deter unidentified groups who kept provoking the police by throwing rocks. Some protesters also gathered in front of Ahok's residence in Pantai Mutiara, also in North Jakarta.
At approximately 10:30 p.m., President Jokowi was reportedly to hold an extraordinary limited meeting.
What is the final decision?
Just past midnight, President Jokowi finally held a press conference after being absent since the afternoon. He expressed regret over the events that took place after 6 p.m., when the rally took a violent turn, exploited by 'political actors'.
He echoed Kalla's promise that the legal process on Ahok's defamation case would be done quickly and asked the protesters to go home. Jokowi appreciated the persuasive approach by security forces in handling the rally.
Cabinet Secretary Pramono Anung explained Jokowi's absence since the afternoon, saying that Jokowi had intended to go back to the State Palace after his working visit, but cancelled the plan because all the roads were blocked. (dmr)
Topics :
You might also like :
Comments