Is Jokowi's political tour enough to ensure stability?
Andrew W. Mantong

Researcher in the department of politics and international relations at the Centre for Strategic and International Studies (CSIS)
Jakarta |

Fri, December 2, 2016

| 08:32 am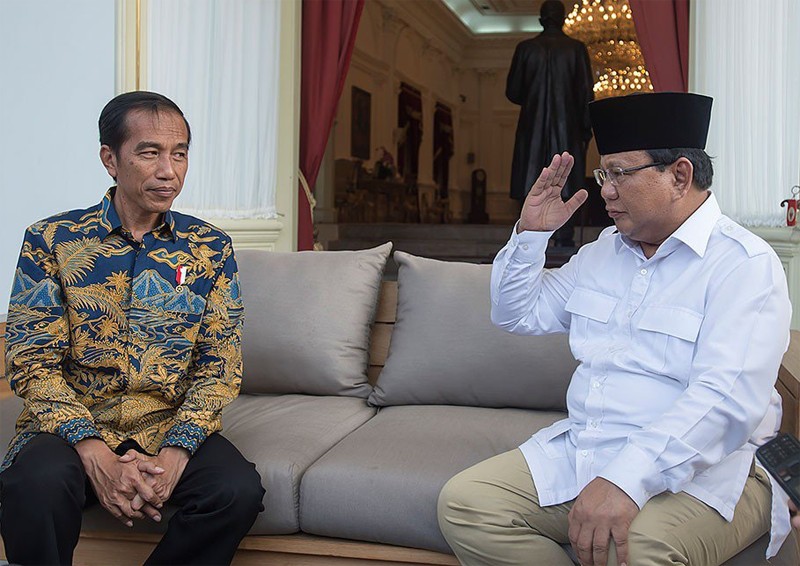 President Joko "Jokowi" Widodo (left) and Gerindra Party chairman Prabowo Subianto during a press conference in the backyard of the Presidential Palace in Jakarta on Thursday. (Antara/Widodo S. Jusuf)
Before and after the Nov. 4 protest against Jakarta Governor Basuki "Ahok" Tjahaja Purnama over alleged blasphemy, and ahead of the Dec. 2 rally, President Joko "Jokowi" Widodo has met political leaders and representatives of state instutions to make sure political stability remains intact.
Nov. 4 was clearly about contentious politics, since it occurred in public and involved claims collectively made in a rather ad hoc fashion. In that way it differed from normal politics emerging from institutional settings that involve procedures, norms and regulations.
Contentious politics is when you have people making collective claims using tools like demonstrations. This is pretty normal in a more open political system, in which individuals have the freedom to articulate their opinion.
However, with regard to democracy, contentious politics can turn into a double-edged sword. Contentious political activities may indicate that a polity is democratic, but they can also open space for movements that threaten the system, especially in a new democracy like Indonesia.
There are two consistently important aspects to contention: identity formation and polarization.
This is because in a case of contention, each side will try to draw the once moderate voices to their side, to their extreme one. When it comes to identity formation, sometimes paying attention solely to the "whodunnit" element is not enough. We also have to ask, what the discourse itself does.
I personally believe the chance of a coup remains relatively low, even if the contention escalates. However, I am worried that the Nov. 4 rally shows that we are too divided, not in a way where there are two extremes ridiculing each other, but in a way that one voice is actually getting louder while the other is lost for words in trying to mobilize the masses. It is because there are two logics involved in the contention we saw most recently. On the surface, there are collective efforts of making claims by some predictable networks and groups.
Beneath these apparent efforts are opinions expressed in social media, where competing mindsets duel in quite irreconcilable ways.
This is the level where the contention gets personal, where people continuously try to make the issue more personal and copy banal templates to add effect to what is being discussed at the surface.
Since social media can reduce the costs of communication, long established traditional networks can actually benefit from this personalized logic in what Bennett and Seberger ( 2012 ) called "connective action". This logic can potentially escalate contention to become a threat to our democracy, even our nationhood.
Such threat is likely, due to both the structural and discursive setting of politics today. At the structural level, there is an inherent flaw in our political system, where political articulation is not processed like in more liberal settings.
Dan Slater, a political scientists of the University of Chicago, has discovered an "accountability trap" (Slater, 2004) in Indonesian politics, where elites are quite disconnected from the masses. They are not horizontally differentiated in terms of political platforms. Meanwhile, accountability works only in a horizontal way among the elites.
Jokowi's recent political tour, if we assume the game is still contentious politics without connective actions, is actually the best move. It helps consolidate the regime and minimize the risk of disruption.
However, with such an accountability trap, our system is always prone to the emergence of new communal leaders who can publicly propose to reconnect society with politics.
Social media increases this possibility, especially where we can reasonably doubt that political elites maintain a strong grip on their constituents.
The pessimistic list is beginning to complete. No real policy issues have followed the campaign period in Jakarta, most likely due to hot debates over religion and ethnicity.
New populist outsiders probably have not become prominent yet, but the fact that hardline groups such as the FPI are moving to the center and starting to become normal stakeholders is pretty problematic.
This is exactly when we see that a notorious group like the FPI can utilize an issue to gain public support. When their cause overlaps with the increasingly conservative Indonesian Ulema Council (MUI), the magnitude of silencing voices is worrying.
Furthermore, we also cannot deny that, whatever the outcome of the blasphemy trial of Ahok will be, there are other issues where the public cannot find proper words to distance themselves from growing conservatism, for example the increasing criminalization of LGBT groups.
The more serious problem lies at the narrative level. It is not only what is being said at the elite level, but also in everyday conversations.
We talk about the urgency to reassert pluralist values, but we cannot even find substance, because even teachers cannot instill a sense of pluralism in their students other than suggesting to benignly neglect differences among religious groups in Indonesia.
Elites, therefore, must seek to disrupt connections made by growing conservatism in this country, especially by those who continuously reappropriate our nationhood with their own twist. We surely had a heartwarming picture circulated in social media when candidates for the Jakarta election took a wefie after their medical test.
But today we don't find anything more than memes, URL links and copy-pasted texts in WhatsApp to help us understand that our pluralism cannot be taken for granted. Diversity should not be solely guarded by a rigid implementation of regulations, when our interaction is 24-hour facilitated by connections through the internet.
Political connections like those made by Jokowi are a necessary strategy to ensure political stability, but unfortunately they are not sufficient to tackle our nationhood problem.
---------------
We are looking for information, opinions, and in-depth analysis from experts or scholars in a variety of fields. We choose articles based on facts or opinions about general news, as well as quality analysis and commentary about Indonesia or international events. Send your piece to [email protected] For more information click here.
Disclaimer: The opinions expressed in this article are those of the author and do not reflect the official stance of The Jakarta Post.
Topics :
You might also like :
Comments