Violence against women and the Janus face of social media
Jakarta |

Wed, December 14, 2016

| 12:37 pm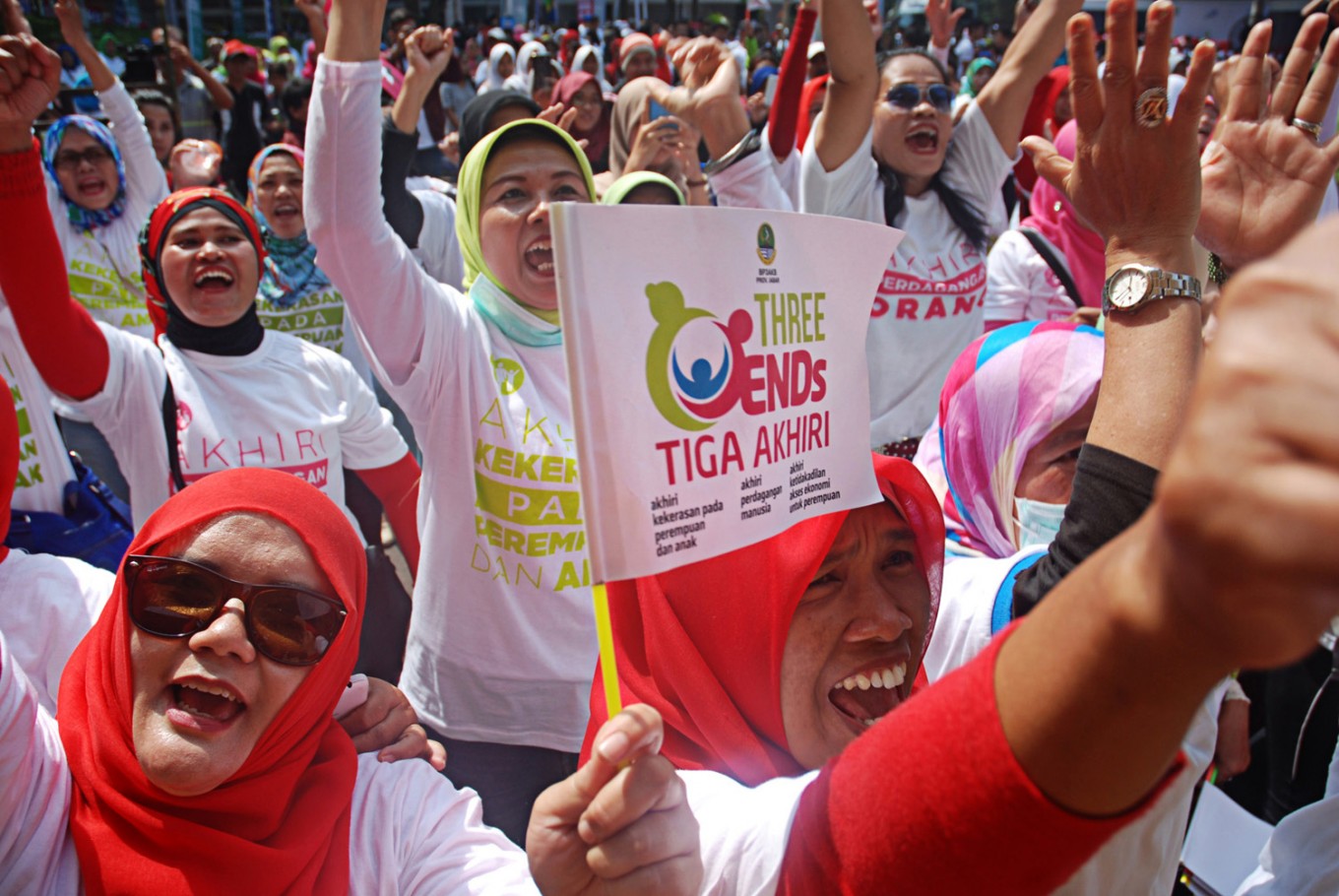 Against violence – Housewives participate in the peak celebration of Three Ends Expedition at City Hall in Bandung, West Java, on Nov.20. Initiated by the Women's Empowerment and Child Protection Ministry, the Three Ends Expedition aims to campaign the eradication of violence against women and children. (Antara/Fahrul Jayadiputra)
Imagine having to be the star of a show, and suddenly something happens just before D-day that turns your face all swollen and black and blue. Well, that's exactly what happened to me just before the Bali launch of my book Julia's Jihad in 2013. I went directly from Ngurah Rai International Airport to Biasa ArtSpace to meet up with Susanna Perini, the proprietor of the gallery, and then to her house, where I would be staying.
We left through the back of the gallery. It was evening — unfortunately the exit was not well lit, and I tripped over an iron chain strung across the path, about 30 centimeters from the ground. I fell headlong, crashing face first onto the hard gravel pavement.
The fall jarred my whole body, resulting in bruises all over, but in particular on the right cheekbone and near the eye. My face suddenly looked like I had been the victim of domestic violence.
On the day of the launch, the swelling had subsided a bit, and the blue-black on my face had turned purplish-green, so still pretty horrendous. Susanna suggested that a makeup artist do some work on it. I was skeptical, but what did I have to lose?
Turned out the make-up artist did an amazing job. No one noticed my bruises, and I could gracefully give my speech at the launch without people wondering whether my husband had battered me in the face!
So obviously, make-up artists can do great cover-up jobs. However, recently in Morocco a TV program was aired on how to conceal bruises caused by domestic violence. A model with purple bruises on her eye sockets and cheekbones had them artfully covered up by the make-up artist with concealer and thick foundation. The program was basically normalizing domestic violence, telling women to just cop it and get on with their lives. Horrific!
This attitude is by no means unique. In fact, according to UN Women, violence against women (VAW) is "a human rights violation of pandemic proportions", even in this day and age.
For this reason, UN Women ran a campaign, 16 Days of Activism against Gender-Based Violence, starting on Nov. 25 — International Day for the Elimination of VAW — and ending on Dec. 10, which is International Human Rights Day.
In Indonesia, a series of events were held at The Warehouse, Plaza Indonesia, Jakarta, during those 16 days, sponsored by UN Women and the European Union. The events were not just about eliminating VAW but also about gender equality, to achieve Planet 50-50 by 2030.
The event that caught my attention was a panel on "Women and the New Media", on Dec. 9. The lineup of speakers intrigued me. Clearly, the discussion was going to be pretty grounded, as most of the speakers were practitioners.
Desmarita Murni, communications director at change.org, a wellknown petition website, said that they received a lot of public support on various issues, including VAW. For example, a petition to save Wilfrida, a migrant worker sentenced to death in Malaysia, had been successful. Diplomacy was involved too, naturally.
Yuni Sri, from Jurnalis Warga Serikat PRT (community journalism for domestic workers union), spoke about how domestic workers were still subjected to brutal treatment — being hacked, doused with hot water or even forced to eat cat feces. Stories like this are common, yet up to now the government has not even included the bill on domestic workers in the national legislation program (Prolegnas), let alone pass it.
A single parent of three children, Yuni is also a domestic worker (PRT). That she still has time to write and even win an award for citizen journalism from the International Labor Organization is beyond me. Amazing.
Dian Septi from Radio Komunitas Buruh Marsinah FM, a community radio station in Cakung, East Jakarta, deals with issues of female workers. She recounted how women who worked at factories in Cakung making clothes for well-known brands like Zara or Gap, got salaries below the provincial minimum wage (UMP). According to the factory owners, these workers are unskilled and therefore their low pay is justified. What? The UMP is the UMP — it's there to be adhered to, skilled or unskilled. In any case, churning out 200 pieces of clothing per hour sounds pretty skilled to me!
The female workers also still suffer from bad work conditions and — you guessed it — sexual harassment. And when they get sick, instead of medication, they get the sack!
Afra Suci from Pamflet Indonesia, an NGO set up to support initiatives for social and cultural change, looks at the problems of young people: violence, early marriage, workrelated issues, etc. Obviously, the situation in the regions and in urban areas differs, which Pamflet takes into consideration.
Luviana is active on konde.co, an alternative media website that addresses issues related to women and marginalized communities. Luvi, who is also a labor activist and lecturer at Paramadina University, spoke more generally about the nature of alternative media.
On the one hand, it can counter mainstream ideas, e.g., that rape is normal. But sometimes, it just echoes mainstream media. She feels that new media should try to foster a more critical approach, e.g., to ask why women's bodies are exploited.
However, Luvi felt there was still no real debate on the internet. And considering that internet penetration in Indonesia still stands at only at 33 percent, many voices out there are unheard.
All the women at the Dec. 9 event were strongly motivated by a desire to improve their lot as well as that of others. No fake news here! The stories they write or air on the radio are clearly based on their own experiences. The various new media these women employ are also used for networking (Yuni said members of Jurnalis Warga Serikat PRT use Facebook, Instagram and Twitter), to foster solidarity, inspire confidence and urge women to engage in concrete activities to fight for better conditions and against oppression in whatever shape or form.
The discussion was really lively and interesting, furthermore, it has implications for the rest of society. Could these women's use of social media act as an example and spearhead for others to counter the brainwashing, follow-the-trend tendencies of mainstream media?
The media, alternative or not, is like make-up, or if you wish, like Janus, the two-faced god. It can serve as a progressive force for change, but it can also be used to maintain regressive values and even to bully and criminalize. Which face do we want to show?
---------------
We are looking for information, opinions, and in-depth analysis from experts or scholars in a variety of fields. We choose articles based on facts or opinions about general news, as well as quality analysis and commentary about Indonesia or international events. Send your piece to [email protected] For more information click here.
Disclaimer: The opinions expressed in this article are those of the author and do not reflect the official stance of The Jakarta Post.
Topics :
You might also like :
Comments