EDITORIAL: Forgotten Syrian children
EDITORIAL

The Jakarta Post
Jakarta |

Wed, March 15, 2017

| 08:32 am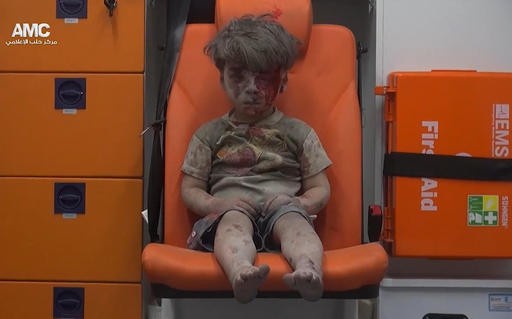 In this frame grab taken from video provided by the Syrian anti-government activist group Aleppo Media Center (AMC), 5-year-old Omran Daqneesh sits in an ambulance after being pulled out or a building hit by an airstirke, in Aleppo, Syria, Wednesday, Aug. 17, 2016. The White Helmets, were among the crowd of first responders who pulled Daqneesh and his family from the rubble of their apartment building Wednesday night. (Aleppo Media Center via AP/-)
The large-scale crimes against humanity in Syria began on March 15, 2011, and the barbaric acts will continue as the world remains ignorant to the crisis. With little power and influence in the region, Indonesia can only condemn the deteriorating humanitarian situation in Syria and appeal to the Bashar al-Assad administration to provide full and unbridled access for humanitarian aid.
The civil war began six years ago, when the Arab Spring swept across Arab countries, including Tunisia and Egypt. Syrian President Al-Assad used machine guns to disperse peaceful protests demanding his ousting. His troops reportedly gunned down hundreds of protesters and jailed hundreds of civilians.
More than half of the country's 22 million population, including children, has fled, become homeless or died, all because the president wants to maintain his dictatorship, inherited from his father, Hafez al-Assad.
There is very little indication that the war will end anytime soon. Several negotiations have collapsed before the meetings even began.
And children have had to bear the repercussions of the horror they experienced and witnessed first-hand. According to the latest report from UNICEF on Syria, entitled "Hitting Rock Bottom," 2016 was the worst year yet for Syria's children, with 6 million now totally dependent on humanitarian aid, apart from the 2.3 million children who live in refugee camps abroad and 1.7 million children who do not attend school as a third of Syria's schools have been destroyed.
"The depth of suffering is unprecedented. Millions of children in Syria are under attack on a daily basis, their lives turned upside down," UNICEF regional director for the Middle East and North Africa Geert Cappelaere stated. "Children are scared for their lives with horrific consequences to their health, well-being and future."
Millions of children have to struggle for survival because their parents were killed or because they were separated from their families. International humanitarian agencies have had difficulties delivering food, water and other basic needs for the young, as warring parties often block their deliveries to use the products for themselves or because they do not want humanitarian aid to reach enemies.
The world unfortunately pays little attention to such suffering, as major countries, including the United States, European Union nations, Russia, Arab countries and Iran prioritize their own geopolitical interests. Terrorist groups and armed Islamic groups also operate in the country, either in support of or in opposition to the Syrian leader.
Both parties have never hesitated to use weapons to ensure their victory, regardless of the consequences for civilians, including children.The butchering of civilians and the systematic demolition of the nation will continue to worsen as all warring parties heartlessly use any available method, including nerve agent sarin torture, bombing schools and hospitals — easily inviting allegations of genocide.
Syrian children have nowhere to go. They are forced to face unbearable suffering. We, the citizens of the world, have our own share in their agony. We should be ashamed of ourselves.
Join the discussions