EDITORIAL: New tobacco roadmap needed
EDITORIAL

The Jakarta Post
Jakarta |

Fri, March 17, 2017

| 08:30 am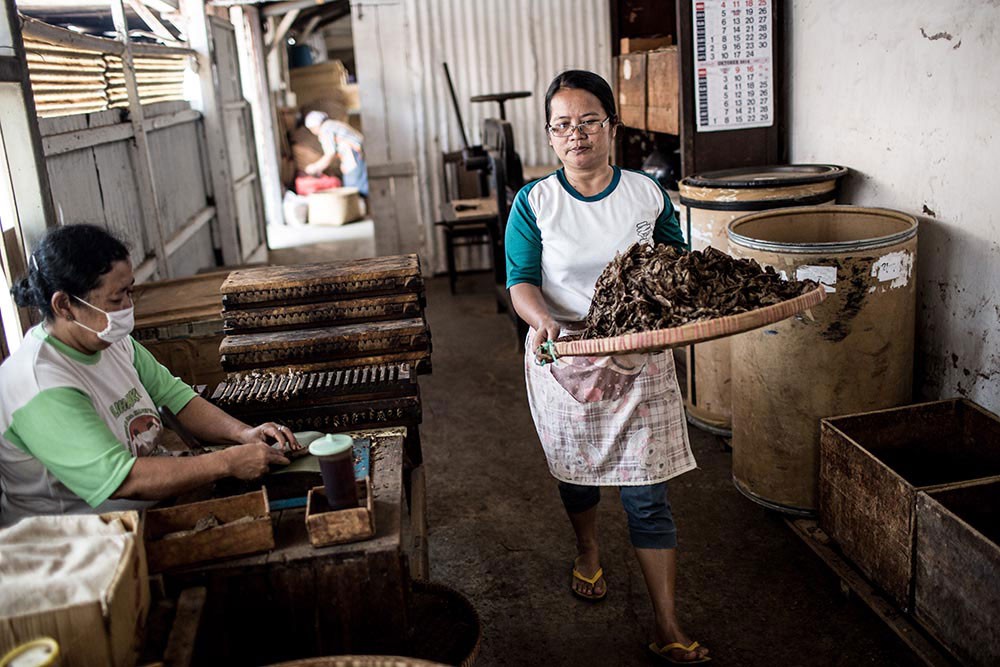 A woman carries chopped tobacco leaves at the Rizona Baru cigar factory in Temanggung, Central Java, while another worker rolls cigars. (JP/Agung Parameswara)
Finally President Joko "Jokowi" Widodo has taken the right step by rejecting a proposal from lawmakers on the tobacco bill, after he was convinced that it would contravene laws, including the Health Law. The bill aims to protect the domestic industry and farmers, which tobacco control advocates say would be at the expense of public health. Last month opponents of the bill included children — statistics from 2013 showed three out of 10 youngsters lit up before they were 19.
Lawmakers have insisted on continuing the bill's deliberation without the government and have threatened to block any bill sponsored by the government. Therefore, the President's rejection of the bill is not enough. With a boost in public support for his decision, Jokowi's government should issue a new roadmap to phase out tobacco production by shifting the dependency of farmers and cigarette factory workers to income sources other than tobacco.
It will not be easy, but the blueprint would be a concrete sign of government support for citizens' wellbeing, following last year's Supreme Court ruling that annulled a 2015 roadmap for the tobacco industry. The roadmap had targeted almost 525 billion cigarettes by 2020, triple the current production rate, while Indonesians are already among the globe's top smokers — including a number of infants.
The President must not have second thoughts, although we stand to lose state income from tobacco; as of last year it was the biggest contributor to excise with Rp 132 trillion (US$9.9 billion).
He told Tuesday's Cabinet meeting: "The money spent on tobacco products is 3.2 times more than the amount spent on eggs and milk [...] 4.4 times higher than spending on education and 3.3 times higher than health spending."
With this knowledge Jokowi can also immediately end Indonesia's record of being one of the few nations that are not party to the World Health Organization's (WHO) Framework Convention on Tobacco Control. Joining the convention would help strengthen efforts to uphold and improve our own laws and regulations on tobacco advertising, sponsorship, production, sales, distribution and taxation and avoid potentially harmful policies like the tobacco bill.
Despite the potential loss of income from Big Tobacco, we should be reminded of the costs to public health, contributed to by poor law enforcement and aggressive cigarette marketing, on top of a habit that is already hard for addicts to kick — while prices in Indonesia remain among the world's lowest at less than $2 per pack.
Jokowi's earlier excuse of "national interest" regarding the convention and the tobacco bill did not wash, given an estimated 200,000 Indonesians dying annually from tobacco-related diseases. Smokers themselves are hard-pressed to gain universal healthcare coverage if their ailments are considered related to "self-harm inflicting hobbies" as stated in the government rule on health insurance.
Lawmakers also claim they are defending part of the "national heritage" — our world-famous, sweet-smelling kretek (clove cigarettes). Tell that to the coughing people forced to sit beside puffing passengers on angkot (public minivans).
Join the discussions