Push for music law reflects rise of music activists
Jakarta |

Tue, July 11, 2017

| 04:18 pm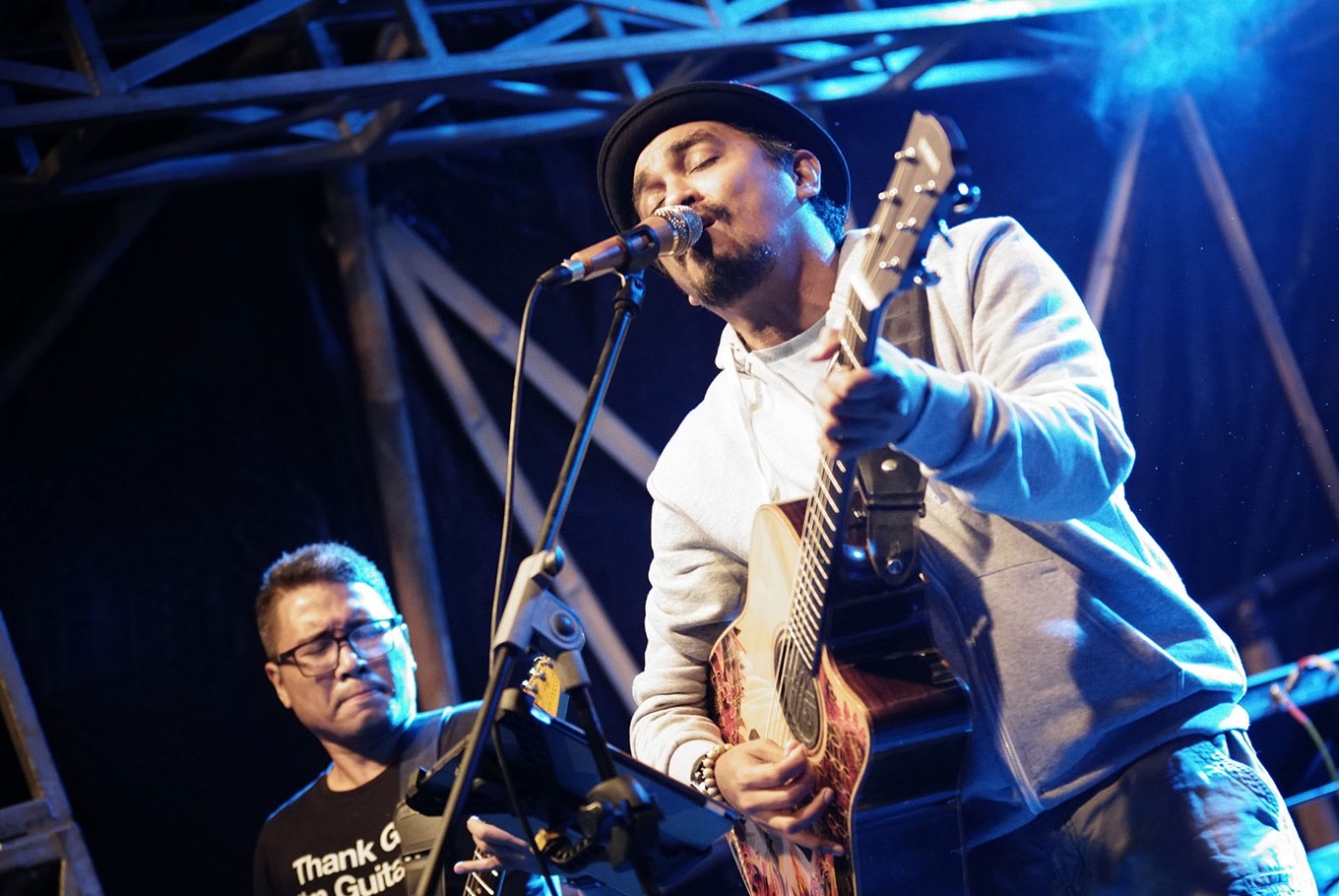 Glenn Fredly performing at Eco Music Camp 2016. (JP/I.G. Dharma J.S)
Recently, Indonesian music activists have formed a social movement through a group named Kami Musik Indonesia (KMI, We are Music of Indonesia). Led by popular Indonesian musician Glenn Fredly, the group stepped up to the House of Representatives to discuss the urgency of a law on music. Glenn noted that even though music industry only contributed not more than 1 percent to the country's gross domestic product, a set of regulations is still needed. In the end of the session, legislator cum artist Anang Hermansyah said a task force on the bill could be formed soon.
Needless to say, the landscape of the music industry has been disrupted massively by technological advancements. Sophisticated online music services have largely constrained income sources for musicians. Several historic brick-and-mortar music stores have stopped operations. In addition, the country loses at least Rp4 billion annually to online piracy. Physical distribution of albums has shifted from specialized music stores to fast food retailers. These symptoms are indeed frustrating for music activists. They raise our attention to other developments.
First, the fact that developed countries have rules and regulations for the music industry.
The United Kingdom pays serious attention towards strengthening policies in the music industry over the next five years . They are aware of the importance of continued prosperity in music industry as well as its ability to absorb employment in various fields. In the last four years, the UK music industry has shown 17 percent growth and has contributed roughly £2.2 billion in exports, reports said. Australia also has a set of corridors and rules in producing, buying, broadcasting music in the country.
Secondly, there have been efforts to revamp Indonesia's music industry. Both the Creative Economy Agency (Bekraf)and Central Statistics Agency (BPS) have issued a joint report which reveals that music in Indonesia accounted for 7.26 percent growth by 2015 and is judged to be highly potential in the future times.
The report also identifies five primary challenges faced by the creative industry, which are efforts in domestic marketing, followed by research and development, physical infrastructure, education and regulation.
Lastly, we should always remember that our distinct cultural music has always been highly potential in the global music market. Indigenous music such as the Karawitan Sunda of West Java, Uning-uningan Batak of North Sumatra or the Balinese gamelan also demands monitoring. Without proper organization local music could become extinct amid the massive ever-spreading influence of foreign pop music.
In short, the effort from the Kami Musik Indonesia movement deserves full support from the nation – not only main stakeholders in the music industry.
Our creative sector should expand its wings not only domestically but also to the outside world. This can be achieved by strong collaboration among the industry, government, and academics. Bridging the gaps between the three entities is crucial in the music industry.
Just as Bars and Melody expresses in their lyrics, "Cause I'm hopeful for today; take this music and use it … I know it ain't easy but that's okay… Just be hopeful".
***
The writer is a PhD Student at the School of Business and Management, Bandung Institute of Technology. He currently serves as a Faculty Member in Business School, Pelita Harapan University in Tangerang, Banten. Aside from being a lecturer, he is also actively engaged with an independent music group in Bandung that has produced two albums available on online platforms such as iTunes and Spotify. He has been published in the Asia Pacific Journal of Marketing and Logistics.
---------------
We are looking for information, opinions, and in-depth analysis from experts or scholars in a variety of fields. We choose articles based on facts or opinions about general news, as well as quality analysis and commentary about Indonesia or international events. Send your piece to [email protected] For more information click here.
Disclaimer: The opinions expressed in this article are those of the author and do not reflect the official stance of The Jakarta Post.
Join the discussions