Q&A: Is the e-ID mega-scandal the end for slick House Speaker Setya?
Devina Heriyanto

The Jakarta Post
Jakarta |

Wed, July 19, 2017

| 08:31 am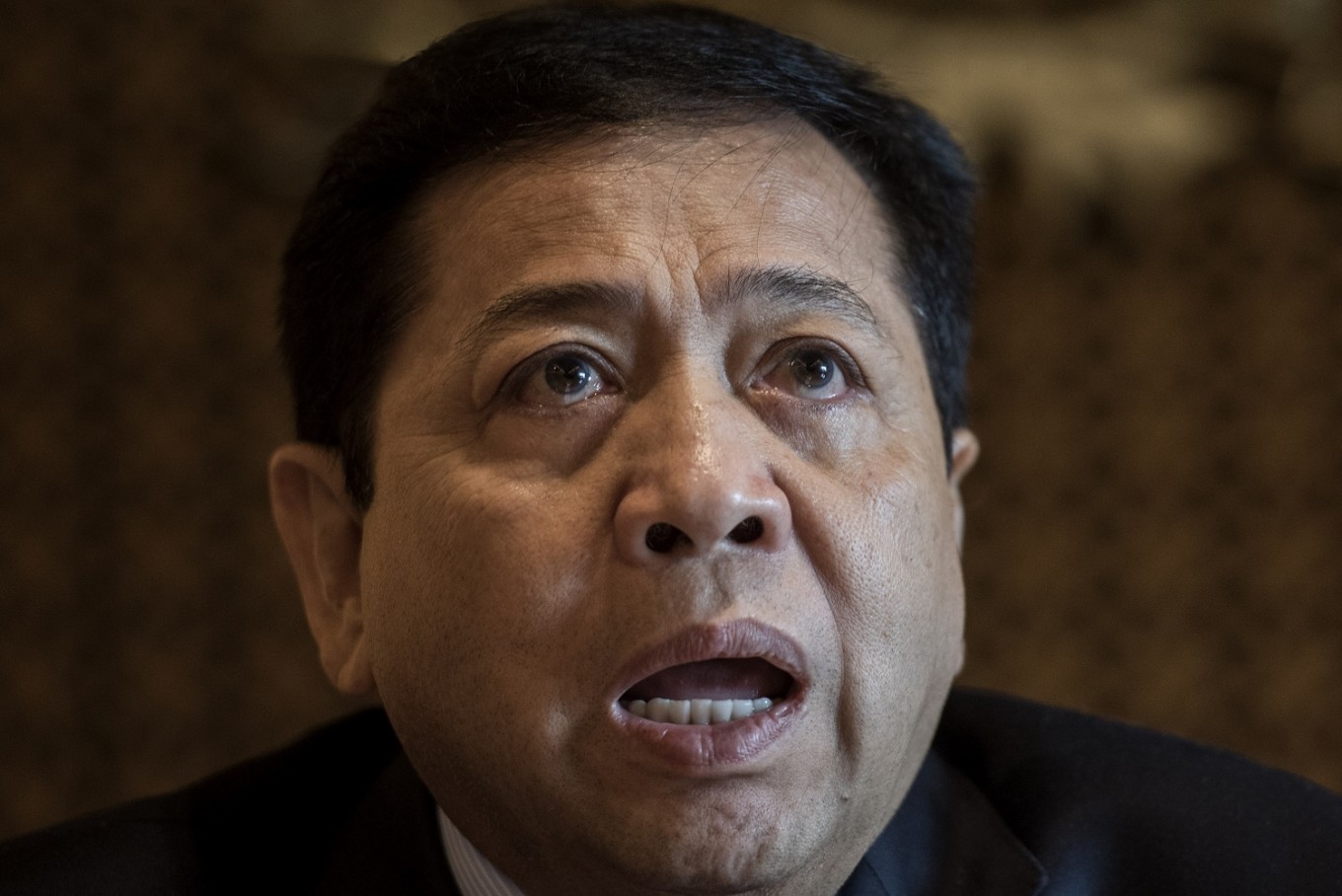 Disgraced: House of Representatives Speaker Setya Novanto gives a press statement on the Corruption Eradication Commission's (KPK) decision to name him a graft suspect in a press conference at the House complex in Senayan, Central Jakarta, on July 18. (Antara/M.Agung Rajasa)
On Monday, the Corruption Eradication Commission (KPK) named House of Representatives Speaker Setya Novanto a suspect in a case of alleged embezzlement involving an electronic identity card (e-ID) program. The e-ID case sparked has public outrage since it is apparently the largest example of corruption ever investigated in the country, reportedly costing the state Rp 2.3 trillion (US$172.8 million) and implicating dozens of House members.
"The KPK names SN, a House member for the 2009 to 2014 session, as the new suspect in the case," KPK chairman Agus Rahardjo said, referring to Setya by his initials.
The surprise is not that he was implicated, but rather that Setya was actually named a suspect. Setya is no stranger to high-profile graft cases. Since 1999, he has been linked to various cases that have forced him to appear frequently for questioning at the Corruption Eradication Commission (KPK) headquarters.
Setya Novanto's involvement was mentioned as early as 2013 by Nazaruddin, during a hearing in which he was a whistleblower.
What is the e-ID case?
The e-ID graft case refers to the alleged embezzlement involving a massive mark-up of costs for the procurement of e-ID cards, a program rolled out during the administration of then president Susilo Bambang Yudhoyono in 2010.
As opposed to normal paper and ink cards, the e-ID cards also have chips that contain each citizen's basic information. They were being introduced as an effort to integrate citizens' data and information for banking, taxation and other civil purposes. The e-ID cards are also aimed at solving population registration issues that have for years been hampered by hard-to-fix problems, such as a person having more than one ID, or fake IDs.
It was alleged during the first hearing of the graft case on March 9 that nearly half of the Rp 5.9 trillion (US$441 million) budged for the e-ID cards was embezzled by government officials, lawmakers and businesspeople.
Before the case was revealed, people had complained about difficulties in obtaining e-ID cards despite the government continuously pushing citizens to register for them. Many complained they had to wait for a long time before they could get a card. Among the issues hampering the e-ID card distribution was a shortage of blank biometric cards.
The KPK's indictment in March alleged that as many as 37 lawmakers of Commission II, which oversees home affairs, received portions of the embezzled funds in return for helping to get the budget approved.
So far, the KPK has named four individuals suspects in the e-ID case: two senior officials at the Home Ministry, Irman and Sugiharto, a member of the House of Representatives, Miryam S. Haryani, and businessman Andi Agustinus aka Andi Narogong.
What is Setya's role in the e-ID graft case?
Setya's alleged role in the case was revealed in an indictment read out at a hearing at the Jakarta Corruption Court related to former Home Ministry officials Irman and Sugiharto.
The documents claim that Setya, who was a Golkar Party chairman when the case occurred, allegedly helped Andi secure the House's approval to disburse Rp 5.9 trillion from the state budget for the project between 2010 and 2013. In return, Setya allegedly received Rp 574 billion.
Setya allegedly held a key role in arranging the money distribution among involved lawmakers. According to KPK chairman Agus Rahardjo, Setya was also involved in planning and procuring items for the project.
However, on previous occasions, Setya has claimed he was innocent of any misdeeds, claiming the allegations were simply "rumors."
How will this affect his position in Golkar and the House?
In March, after the indictment, Golkar advisory board chief Aburizal Bakrie called for unity in the party and requested that another an extraordinary national congress (Munaslub) not be held to find Setya's replacement.
Under Setya's leadership, Golkar had just finished consolidating after a long leadership dispute between Agung Laksono and Aburizal. Tycoon Aburizal has usually taken an opposing political stance to Agung and Setya.
In May, Golkar Party executive chief Nurdin Halid once again made assurances that another Munaslub would not take place.
After Setya was named a suspect, House Deputy Speaker Fadli Zon said he would initiate a leadership meeting to discuss Setya's position.
Antigraft campaigners called on Setya to step down from his post. "It is important for him to leave his post in order to ensure that he will not abuse his power to disrupt the KPK's investigation," Indonesia Corruption Watch (ICW) researcher Donal Fariz said. As a House Speaker, Setya will have control over the House's efforts to push its inquiry into the KPK.
In May, Setya has called on lawmakers to accelerate the establishment of an inquiry team amid a rift among House factions.
Five of the 10 political factions at the House of Representatives have called on Setya to resign from his post after being named suspect.
According to the Legislative Institutions ( MD3 ) Law, the Golkar Party, which is led by Setya, has the final say on whether to replace Setya.
How significant is Setya in Indonesia's politics?
Setya has been known as a supporter of Jokowi's administration since he was sworn in as Golkar's chairman last year. The party previously supported Gerindra Party chairman Prabowo Subianto, Jokowi's rival during the 2014 presidential election.
With the Indonesian Democratic Party of Struggle (PDI-P), Golkar secures a majority for Jokowi in the legislature. Golkar has even reaffirmed its support for Jokowi's re-election bid in 2019, which the President desperately needs since his party's champion, then incumbent Basuki "Ahok" Tjahaja Purnama, lost Jakarta's gubernatorial election.
Setya is not only helpful for Jokowi in Senayan, he also serves as a link to United States President Donald Trump. Setya's appearance in a Trump campaign event in September 2015 sparked controversy and raised questions about ethical conduct, but proved to be useful once Trump was elected president – against all odds.
Jokowi reportedly asked for Setya's help to contact the new American leader. Setya initially had planned to attend Trump's inauguration. The New York Times reported that Setya requested a meeting before the inauguration to discuss a possible business deal.
One possibility is that was about PT Freeport Indonesia, as Trump has enlisted the company's top shareholder Carl Icahn as his special adviser on business regulations. Setya was allegedly involved in a backroom deal in 2015 regarding Freeport's contract extension.
Topics :
Join the discussions