'Democratic Policing': Tito's book on Polri and democracy
Muhamad Haripin

Researcher at the Center for Political Studies at the Indonesian Institute of Sciences (LIPI)
Jakarta |

Mon, December 4, 2017

| 12:17 pm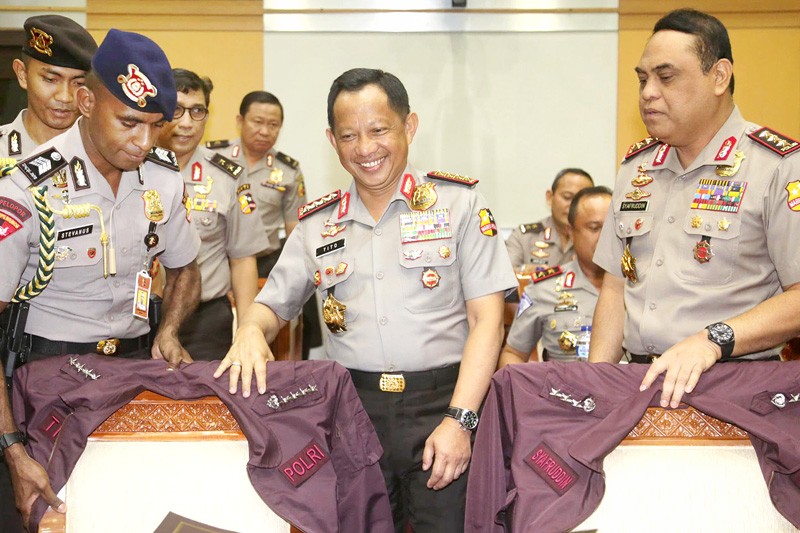 Tough job ahead: National Police chief Gen. Tito Karnavian (center), accompanied by his deputy Comr. Gen. Syafruddin (right), smiles as he takes his seat for a hearing with lawmakers at the House of Representatives in Jakarta. (JP/Wendra Ajistyatama)
Indonesia's police force has been frequently condemned and depicted as a notorious security agency. Violence against unarmed demonstrators, extortion by traffic management personnel, corruption and bribery involving high ranking officers are some of the pressing cases surrounding the National Police (Polri) today.
Against this background, it's important to reflect on recent efforts of Polri chief Gen. Tito Karnavian to promote democratic policing.
Tito has been known not only as a highly accomplished officer, among others as the former counter-terrorism chief, but is also emerging as a writer. His dissertation, published in 2015, has contributed to the analysis about the nature of terrorist networks. Prior to that, his book on Poso, the location of a long manhunt against terrorists in Central Sulawesi, provides useful information about the dynamics of horizontal conflict in Indonesia.
Recently, Gen. Tito published a new book entitled Democratic Policing, a result of collaboration with Hermawan Sulistyo, a research professor at the Indonesian Institute of Sciences (LIPI.
What does Tito's new book tell us about Polri and democracy? How should police and community relations be developed?
The book primarily asserts Polri's commitment to the nation's democratic system. Tito contends this position has never been easy to maintain. Democracy is complex and challenging, enabling myriad social and political expressions manifested through different means, including violence. As law enforcers, police have had to seek a balance between public order and protecting human rights of, for instance, various groups protesting the government.
Indeed, democracy presents both opportunity and challenges for Polri. On one hand, political liberalization in the post-Soeharto era forced the separation of police from the military; thus, Polri could manage their own affairs without army intervention. Nevertheless, greater autonomy for the police also comes with a broader mission, from regulating traffic to tackling cyber crimes. As a consequence, Polri has become a regular target of criticism for their shortcomings in handling a wide range of cases, besides their involvement in graft.
Democratic Policing offers a detailed account of the problems Indonesian police encountered throughout the post New Order era and efforts taken to solve them. Tito notes notions such as o democratic policing, smart policing and community policing circulated even since the early years of reformasi.
Among others, there is the Polri Grand Strategy, a crucial document describing for the first time Polri's medium and long-term development plan after they separated from the military in 1999.The police aim to undertake structural, instrumental, and cultural reform. Polri also tried to rebuild police and community relations through concerted effort of trust- and partnership-building. In this regard, democratic policing should be a complementary agenda to further speed up police reform.
This book also highlights the role of Indonesian police in protecting human rights and nurturing economic, social and cultural rights. More than 420,000 personnel all over the country must protect and serve the public professionally. Excessive force and violent measures against citizens, as frequently mobilized during New Order authoritarian period, has become obsolete and must be replaced with dialogue and persuasive approaches. Therefore, police officers should also be armed with deep understanding of peaceful conflict resolution and negotiation skills.
Internally, Tito also argues that different generations within the force represent varying understanding about democracy and how Polri should be positioned in an increasingly transparent society. Younger generations or those who entered the Police Academy and were trained after the reform movement of1998, have been exposed to democratic ideals and good governance more than their seniors. His generation therefore, Tito asserts, must build better police management for upcoming officers.
Contents aside, this book could be seen as a reminder about the unfinished police reform. We might disagree with the glowing picture of Polri presented by Gen. Tito. Nonetheless, such publication remains significant as a means of communication with wider audiences beyond the traditional parties considered to be stakeholders in security issues.
The community must be given appropriate opportunity to learn about and criticize the internal condition of Indonesian police; therefore, police should also open their institution for public scrutiny. The publication of Democratic Policing – and probably more on the police in the near future- - helps to invite public interest and scrutiny of the police, a small step forward to improve police-community relations.
***
The writer is a researcher at the Center for Political Studies at the Indonesian Institute of Sciences (LIPI), Jakarta.
---------------
We are looking for information, opinions, and in-depth analysis from experts or scholars in a variety of fields. We choose articles based on facts or opinions about general news, as well as quality analysis and commentary about Indonesia or international events. Send your piece to [email protected]
Disclaimer: The opinions expressed in this article are those of the author and do not reflect the official stance of The Jakarta Post.
Join the discussions