Commentary: What local elections tells us about political party recruitment failures
M. Taufiqurrahman

The Jakarta Post
Jakarta |

Tue, January 9, 2018

| 08:05 am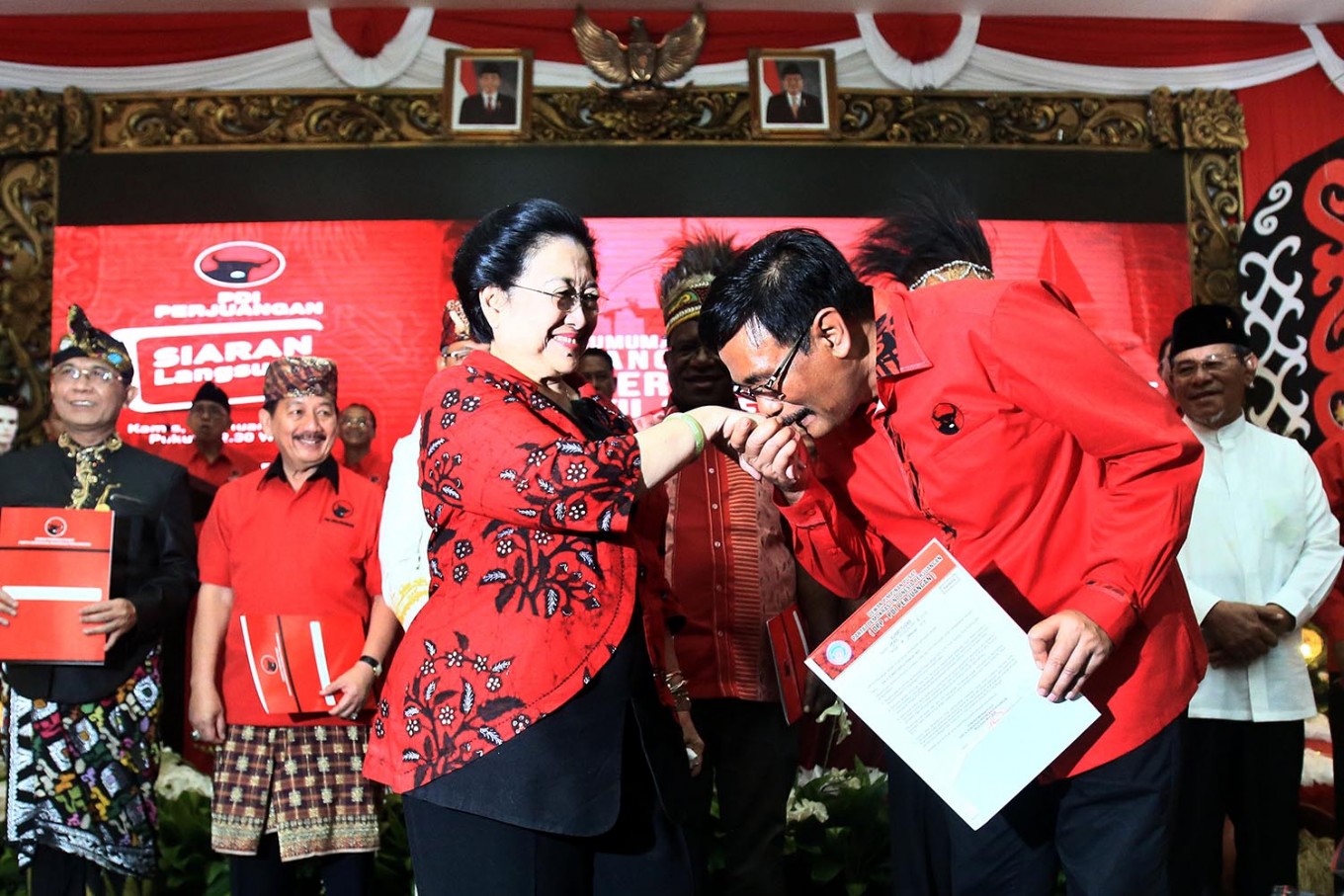 For some time now, political parties in Indonesia have been run like a family business. Megawati has been in charge of the PDI-P for more than two decades and she has groomed her daughter to take over the party when the time is right. (JP/Dhoni Setiawan)
For every political science student who is taught that among the primary roles of modern political parties is recruiting and training candidates for public office, conditions in Indonesia will certainly qualify as a disappointment and there is no better time to find evidence of political parties' failure to train political candidates than right now.
As political parties scramble to find candidates to contest the 2018 gubernatorial elections, we can see that a significant number of candidates are individuals who neither come from political parties nor have a background in the Indonesian Military (TNI) or National Police.
In North Sumatra, a coalition comprising the Gerindra Party, Prosperous Justice Party (PKS) and the National Mandate Party (PAN) have agreed to back the candidacy of Army Strategic Reserves Command (Kostrad) chief Lt. Gen. Edy Rahmayadi. In West Java, Gerindra also picked a military figure to be put at the top of the ticket.
For this highly contested province, Gerindra has fielded retired two-star general Sudrajat, who served as TNI spokesman in the late 1990s.
Before withdrawing from the race last week, North Sumatra Police chief Insp. Gen. Paulus Waterpauw was Golkar Party's last best hope to challenge the powerful incumbent Lukas Enembe. Should Paulus press ahead with his candidacy, he would join three other high-ranking police officers who had to leave their jobs to run in the poll.
Another symptom that may point to the failure of parties in carrying out proper recruitment is their penchant for nominating members of families who hold the reins of party structures, both at the national and regional level. In South Sumatra, the Indonesian Democratic Party of Struggle (PDI-P) nominated the ticket of Dodi Rieza Alex Noerdin and Giri Ramanda Nazaputra Kiemas for the 2018 gubernatorial election. From their last names, we know that Dodi is the son of incumbent Governor Alex Noerdin, who chairs the Golkar Party provincial branch, while Giri is related to Taufiq Kiemas, the late husband of PDI-P chairperson Megawati Soekarnoputri.
In West Kalimantan, the PDI-P has also turned the gubernatorial election into a family affair. Sitting at the top of the ticket is former lawmaker Karolin Margret Natasha, the daughter of incumbent Governor Cornelis.
However, such an aberration should not come as a surprise. Democracy begins at home and these parties don't appear to abide by the basic rules of democracy within their own organizations. In their internal structure, these political parties have failed to carry out the basic function of electing professional politicians — if there's such a thing — to be their chief executives.
For some time now, political parties in Indonesia have been run like a family business. Megawati has been in charge of the PDI-P for more than two decades and she has groomed her daughter to take over the party when the time is right.
Former president Susilo Bambang Yudhoyono took over leadership of the Democratic Party in 2013 and maintained a tight grip ever since. He is likely to pass the baton to his eldest son, Agus Harimurti Yudhoyono. It is also very difficult to imagine that Surya Paloh will voluntarily hand over the leadership of his NasDem Party to other politicians within the party or that the leadership of PAN will ever be controlled by someone who does not have ties to one the party's founding members, Amien Rais.
Golkar may be an exception to the rule, but one could certainly make the argument that instead of a powerful clan controlling the party, in charge of the party is a revolving door of oligarchs who seek to benefit from the party's access to political power.
The failure to build a credible mechanism to train individuals to fill positions within the parties themselves and assign them to run for public office could be blamed on political parties' laser focus on winning the election and gaining access to political power, the ultimate prize in politics.
If parties in mature democracies take on the job of governing after winning office, in new democracies, such access would only encourage corruption and this is where the vicious cycle begins. Political parties exist mostly to win an election at any cost, including by nominating candidates whom they think would have the best chance of winning and guarantee access to financial resources.
Without a reliable source of legitimate funding, both from government assistance or contributions from members, political parties would only focus on winning an election and lose sight of other crucial roles such as political education and crafting public policies.
At first glance, the government's decision to increase funding for political parties may sound like a bad idea, but giving more money to them while pushing them to be transparent on how money is spent, could be among ways to improve the quality of democracy within political parties. Even if the money does not give them enough incentive to stay away from corruption, it could at least be used to train their members, so that they don't have to rely on pools of talent provided by outside organizations.
Join the discussions