Commentary: Name of Jokowi's South Asian mission is 'Rohingya plus'
Kornelius Purba

The Jakarta Post
Jakarta |

Tue, January 30, 2018

| 08:31 am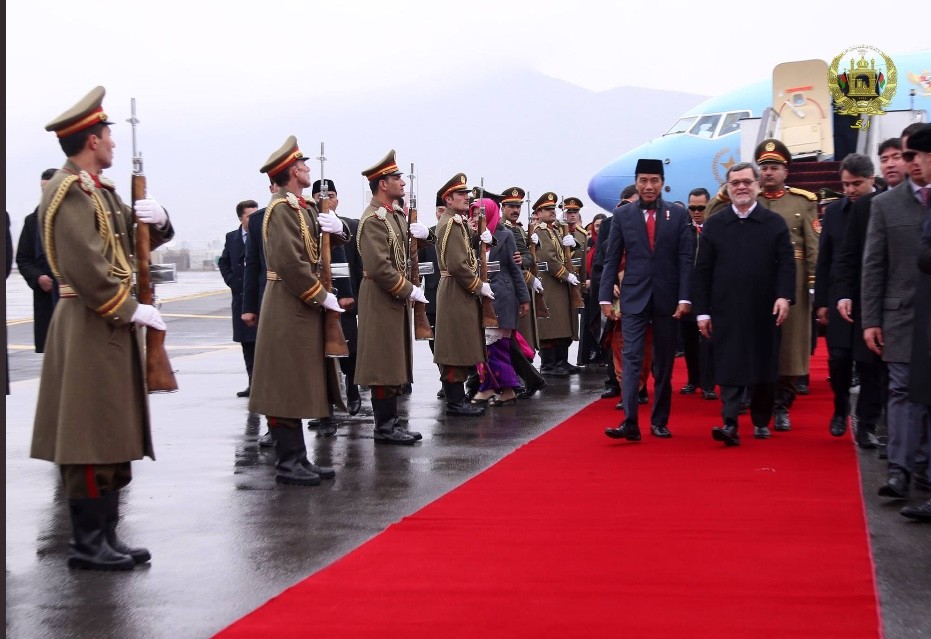 President Joko "Jokowi" Widodo arrives in the capital city of Afghanistan, Kabul, for a state visit on Jan. 29. (The Jakarta Post/Pajhowk Afghan News)
Few would notice that President Joko "Jokowi" Widodo launched his biggest ever diplomatic offensive when he departed last Wednesday for a six-day visit to the South Asian region, with stops in Sri Lanka, India, Pakistan, Bangladesh and Afghanistan (which is often regarded as belonging to Central Asia), which lasted until Monday.
The lack of awareness is understandable because many do not view Jokowi as a foreign policy leader, particularly when compared with his predecessor, Susilo Bambang Yudhoyono, who was known for his active diplomacy and role in global affairs.
If there is attention from the public toward Jokowi, it is more on his choice of strife-torn Afghanistan as one of his destinations. Why should he visit Kabul and risk his own life? Just a few days before his arrival, bombs exploded near the Indonesian Embassy in the Afghan capital. Did he want to demonstrate his valor for nothing?
It's actually easy to understand Jokowi's vision on foreign policy. Known as a very inward-looking person, he often tells journalists that as a former businessman he simply seeks concrete results from his diplomacy, including from the bilateral and multilateral meetings he attended.
This time around Jokowi maintained his pragmatic goals: To satisfy his domestic audience while at the same time boost his international posture. Such an approach, however, will also generate a medium and long-term impact on Indonesian diplomacy.
First, through his visits the President expected to explore the new initiative of the Indo-Pacific as a new and powerful trade, and to a certain extent security, bloc.
Originally, Jokowi had embarked on his first outing of the year after an invitation from the Indian Prime Minister Narendra Modi to attend the ASEAN-India Commemorative Summit and the Republic Day in New Delhi. The summit marked the 25th year of partnership between ASEAN and India.
During his South Asian tour, Jokowi promoted the Indo-Pacific maritime geopolitical concept, which emphasizes Indonesia's push for regionalism in the Indian and Pacific oceans. The concept suits his bid to embed Indonesia as a global maritime fulcrum.
Prime Minister Modi initiated the Indo-Pacific strategy shortly after he came to power in 2014.
Last November, the proposal won a huge boost when United States President Donald Trump spoke about his interest in the new trade bloc, to the surprise of China. The US, like China and Indonesia, has been very active in Asia-Pacific Economic Cooperation (APEC) meetings.
Second, Jokowi's visit to the Rohingya refugee camp in Cox's Bazaar in Bangladesh and his meeting with Prime Minister Sheikh Hasina testified his concern on the plight of hundreds of thousands of Rohingya Muslims, who have been expelled from their homes in Rakhine state in predominantly Buddhist Myanmar and are unwanted in Bangladesh, which is internationally perceived as their country of origin.
Jokowi praised PM Hasina for sheltering over one million Rohingya and assured her of Indonesia's continuing effort in helping end the decades-long human tragedy. Indonesia has previously shipped humanitarian relief to the Rohingya.
Neither the President nor Foreign Minister Retno Marsudi disclosed details of the meeting with the Bangaladeshi leader.
During the summit in New Delhi, the President met Myanmar's de-facto leader Aung San Suu Kyi, who was also PM Modi's guest. There was no official arrangement of Jokowi-Suu Kyi talks on the sidelines of the summit, but the President realized he could not push the Nobel Peace Prize laureate too hard for an immediate solution on the Rohingya issue.
Suu Kyi, known as an icon of democracy in the past, is enduring complicated relations with the powerful military that have prevented her from accommodating international pressures on the Rohingya issue.
While Jokowi, as well as Indonesia, could not expect much from his Rohingya diplomacy in particular and his South Asian tour in general, the real benefits await him at home where the presidential election is only one year away.
One of Jokowi's biggest achievements that his adversaries can hardly deny is his persistent involvement in defending the rights of the Palestinians for self-determination and independence from Israeli occupation. The plight of the Rohingya is another issue of great interest for predominantly Muslim Indonesia, although the crimes against humanity in Myanmar have become a global concern.
It may be too naïve to conclude that Jokowi's painstaking efforts to defend the Rohingya are merely driven by his bid for reelection next year. But history has shown Indonesia's track record as a peacemaker. Indonesia succeeded in negotiating peace in Cambodia and in the southern Philippines, albeit partially, while contributing to peace keeping missions in the Middle East and Africa under the United Nations.
Consistency, caution and perseverance will be required from Jokowi in helping the Rohingya emerge from their desperation, otherwise his initiative could backfire on him.
Anyway, foreign diplomacy rarely bears fruit in the short term. We cannot help the Rohingya regain their rights when our intention is to take advantage of their suffering.
Topics :
Join the discussions