EDITORIAL: Thank you for 35 years
EDITORIAL

The Jakarta Post
Jakarta |

Wed, April 25, 2018

| 08:15 am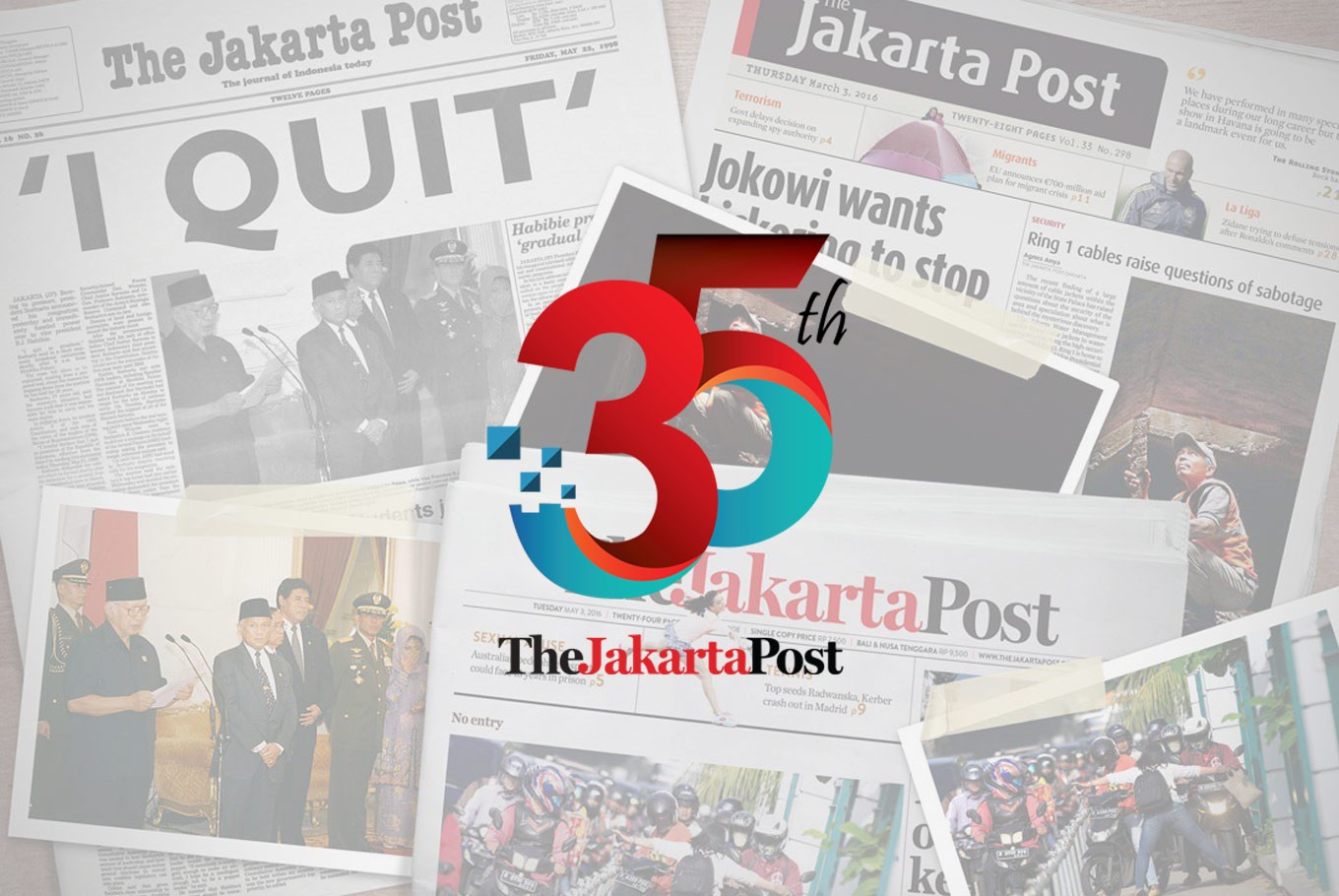 Reporting Indonesia has been an honor and a labor of love. On today's 35th anniversary, we would like to briefly share with you where we came from and where we are today, with a new generation of journalists tasked with continuing our mission. (JP/File)
Reporting Indonesia has been an honor and a labor of love. On today's 35th anniversary, we would like to briefly share with you where we came from and where we are today, with a new generation of journalists tasked with continuing our mission.

Our founders in 1983 included those who experienced and even influenced the emergence of the New Order under Soeharto. At the time, the staff shared the nervousness of Indonesian media over the invisible government axe that could slam down at any time. But readers spurred us to push the envelope ever onward — and they became skilled at reading between the lines. Staying submissive and safe as the government's mouthpiece was not an option.

We reported the fall of Soeharto with the iconic "I quit" headline, following days of rioting and bloodshed. In the next few years, we reported terrifying communal conflicts as best as possible despite the glaring lack of staff.

Today, for all its grave shortcomings and with much work to do, Indonesia is nevertheless recognized as Southeast Asia's largest democracy. A critical part of that contribution was the struggle for press freedom, in which we also participated despite the risks.

Now, with that freedom and facing a new digital era, our challenges are much greater than reporting under authoritarianism. Constant online access — with Indonesia's internet penetration at 137 million people from a population of more than 250 million — has not entirely contributed to a much more critical readership.

In this "post-truth" age, we compete daily with information that may neither be important, relevant, nor even true. While instilling journalistic ethics into our younger staff, these digital natives help us secure the best of today's technology to serve our readers' need for credible journalism through multiple platforms. Filtering hoaxes and irrelevant noise from real news requires us to step up our skills — especially as Indonesia prepares for local elections in June and next year's general and presidential elections.

Instead of authoritarian rule, today's great challenge is the age of digital politics, with readers struggling to distinguish truth from lies and spins — making the skills of conventional media ever more urgent.

The discipline of verification and zero compromise for accuracy can only be achieved with the honest reporting of facts that is free from non-journalistic interests. These principles remain essential to a newspaper that attempts to remain bold and independent in an ever-changing media environment.

Good journalism doesn't come easy and cheap, but it is the support — including criticism — of loyal readers and stakeholders that encourages us to improve ourselves as the voice of Indonesia in Southeast Asia and in the world in this exciting era.

Thank you all for these 35 years and beyond.
Topics :
Join the discussions