Indonesia's 'water pump' democracy
Wimar Witoelar

Founder of Intermatrix Communications, which advises the civil society group Indigenous Peoples Alliance of the Archipelago (AMAN)
Jakarta |

Wed, July 25, 2018

| 09:45 am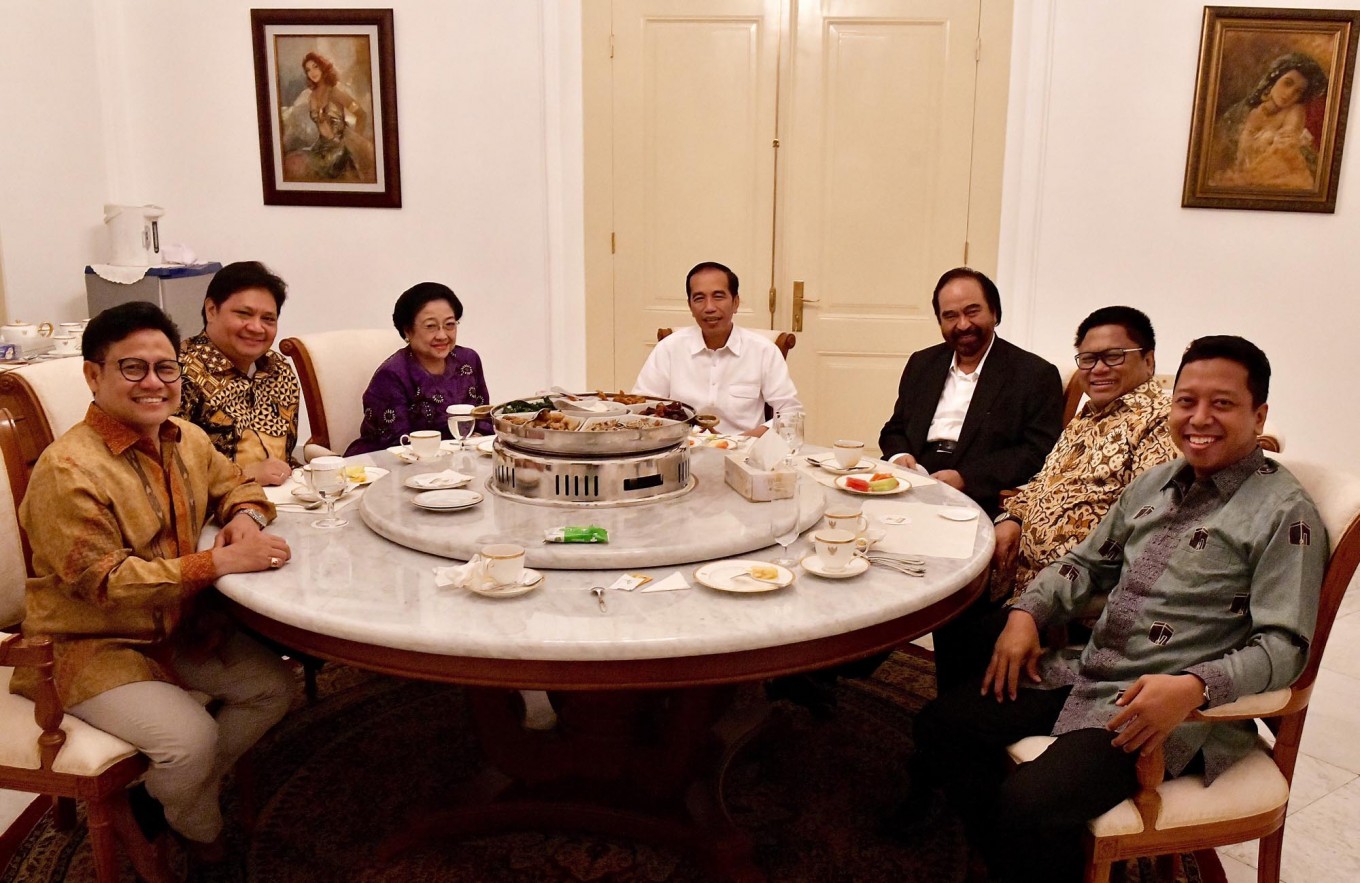 Political dinner: President Joko "Jokowi" Widodo (center) meet his coalition party leaders: United Development Partychairman Muhammad Romahurmuziy (from right to left), Hanura Party chairman Oesman Sapta Odang, Nasdem Party chairman Surya Paloh, Indonesian Democratic Party of Struggle (PDI-P) chairwoman Megawati Soekarnoputri, Golkar Party chairman Airlangga Hartarto and the National Awakening Party chairman Muhaimin Iskandar at Bogor Palace in Bogor, West Java on Monday, July 23, 2018. (Courtesy of/Agus Suparto/ Presidential Palace)
It was an odd event that was held at Bogor Palace. President Joko "Jokowi" Widodo and heads of six political parties held a four-hour meeting, apparently to solidify their consensus on a running mate for the upcoming presidential election.

As curious reporters swarmed the departing participants, they received a newsworthy answer from several party leaders that the President and the six coalition parties had decided on a single candidate for vice president.

Under prevailing regulations, the candidates for president and vice president must appear on a single ticket for a party or party coalition that holds a minimum number of seats in the House of Representatives.

This is the electoral threshold. The candidates do not necessarily have to be party members, but they must have official party endorsement.

Jokowi and his six-party coalitions are well above the electoral threshold, but the opposition candidate, Prabowo Subianto, still has to form a coalition to fulfill the electoral threshold. Voters cast their ballots for a person, so individual candidates often prove to be a stronger draw than party loyalty. Candidates are traded across party lines except for those with strong party identities. Parties have become borderless, like professional soccer teams.

Now, for the big picture. More than 112 million Indonesians headed to the polls on June 27 to elect 17 governors, 39 mayors and 115 regents. The results of the initial vote count were encouraging and interesting.

First, there were no reports of any serious physical conflicts. Next, candidates that are known to be moderate and professional won in the three Javanese provinces that comprise 48 percent of national votes. So fears were allayed that the 2017 Jakarta gubernatorial election — won through identity politics and religious divisiveness — was an indication of things to come. The negative impact of the Jakarta election did not snowball into a national trend.

On the other hand, one must recognize that just because reasonable people are being elected does not mean that unreasonable people have disappeared from the political ranks.

Lurking under the topmost layer of elected officials you will find many politicians who are offering themselves as electoral options for other positions or for the seats up for grabs in 2019. There is not enough money to buy the presidential election, but there is plenty for pursuing identity politics.

The 2018 regional elections sparked an escalation in political activities with regard to the 2019 legislative and presidential elections. Politicians are taking a new look at their projected legislative strength so they can focus on the party or coalition ticket for the presidential election.

If this were the World Cup, we would still be in the group stages. We do not know which candidates from which parties will progress to the next round. That knowledge will come on Sept. 20, when the General Elections Commission (KPU) formally announces all party candidates.

Supporters of the two presidential candidates, Jokowi and Prabowo, are still jostling for the vice presidential nomination. The tricky part about this process is that once the choice has been made, there is a possibility that some of the parties whose candidates were not nominated might switch their loyalty.

This is a real problem in the Prabowo camp. Many have expressed their interest in and conditions for the vice presidential candidacy. For instance. the National Mandate Party (PAN) says they will support Prabowo if he picked their candidate for vice president. In other words, PAN is not even sure they will be in the Prabowo coalition. The Prosperous Justice Party (PKS) says they will support Prabowo if he can promise ministerial posts to the PKS. So we cannot be sure that the Islamic party will nominate Prabowo.

If these parties do not back Prabowo for president, and they will probably not back Jokowi either, which means they are leaning toward a third contestant. They will have to juggle the electoral votes between them to see if they are indeed capable of meeting the electoral threshold.

It all sounds complicated, but it is actually not, if you look at it in terms of the political culture in which no party holds to a firm ideology and no party has a loyal base except in return for promised positions. And most individuals — practically all, except for Jokowi and Prabowo — are in the race primarily for personal ambitions.

It will become interesting when all this jells. Then we can find a place for people like former president Susilo Bambang Yudhoyono's golden boy, Agus Harimurti Yudhoyono, who is being groomed as a running for either presidential candidate.

It reminds me of my younger years, when I was frequently breaking in new water pumps as we moved from house to house. No matter how brand-new your water pump, the first jet always churns out mud, dirt and worse. But as you pump out more water day after day, there is less dirt and more clean water until you get clean fresh water year after year. Ultimately, you forget about the water pump and take the fresh water for granted.

This is Indonesia's "water pump" democracy: Parties are nothing but vehicles for divvying up the presidency, vice presidency and Cabinet seats. It is not exactly healthy for the political party system because no political party possesses strength unless they back individuals from wherever they may hail.

The good news is that it is not that bad for democracy, because water pumps do work eventually if they are used often enough. And when the water flows freely, when democracy has become reality, then they will stabilize into real political parties.
***
The writer was presidential spokesman under fourth president Abdurrahman Wahid (1999-2001).
Disclaimer: The opinions expressed in this article are those of the author and do not reflect the official stance of The Jakarta Post.
Topics :

Join the discussions